Dreaming Big - Aaron's Story
How Aaron Skye's fitness journey is leading him to elite-level lacrosse
About Aaron
Aaron Skye has a big dream: To make it into the National Lacrosse League and play professionally. He started playing lacrosse at the age of four.  Now 20, he plays with the Langley Thunder in his final year of Junior A Box Lacrosse. 
Aaron has great lacrosse heroes to draw from and big family footsteps to follow. His family lacrosse legacy started in 1928 when his maternal great grandfather was one of the first lacrosse players to play with the North Shore Indians. Aaron's father and cousins played professional lacrosse and his dad was on the 1992 Minto Cup championship team and earned four championship rings. His cousin Sid earned 12 championship rings and continues to inspire Aaron to train harder. With Aaron, his two brothers and several cousins also in the sport, it's safe to say lacrosse is a proud part of Aaron's family legacy.
Sports in Aaron's life
Sports have always played a big role in Aaron's life. He grew up swimming and skating at Karen Magnussen and Harry Jerome Community Recreation Centres. He started playing lacrosse as a small boy and went on to other sports as well. He was on the football team at Carson Graham Secondary throughout high school. In his senior year, his team won the provincial championships and Aaron was named a provincial all-star.
After high school, Aaron got into Junior A Box Lacrosse. He struggled during his first two training camps because he was "kind of out of shape." He decided he needed to take the sport more seriously, to be "in shape, able to run and keep up with the fast guys…just working hard every, every shift." He started running around Mahon Park, but that wasn't enough. Then he started working out at the John Braithwaite Community Centre (JBCC) fitness centre. 
Enjoying working out
Aaron enjoys working out at the JBCC fitness centre, which he finds a welcoming place with great equipment and friendly staff. He says, "JBCC feels like home".
He often works out with his friends both old and new. His competitive streak is not confined to sports. He jokes about having the best hair. "I probably have the best flow at John Braithwaite Centre," he laughs, "I don't think anyone's going to compete with this mane."  
How fitness changed his life
Aaron is dedicated to his sport and fitness currently and works out at the fitness centre five times a week, 1.5 to 2 hours each time. This keeps him fit off-season, especially in the winter months, and gets him ready for the annual training camp in January and the tryout season January to March. 
Grateful to the staff at John Braithwaite gym, he credits Bryan for improving his form and Connie for helping him with his diet. In three months, Aaron managed to drop from 275 to 226 pounds (he ate a lot of quinoa, kale and chicken). He feels the resulting improvement to his speed and agility. Aaron is determined that training hard leads to positive change and says, "Working out makes you think like 'wow, I can do this. I can keep going and live a healthy lifestyle.'"
Fitness has given Aaron the ability and confidence to play lacrosse at the elite level. "It really built my confidence off the floor. And made me think I can go beyond what I'm trying to do in life." Lacrosse has also opened up Aaron's world.  It's led to him travelling to tournaments and making life-long friends.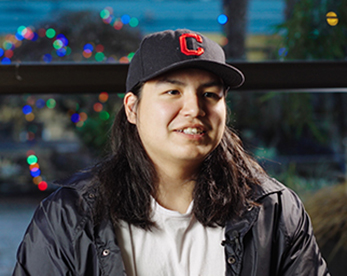 A proud heritage
Part Squamish and part Iroquois, Aaron is a proud to be part of two great lacrosse communities. Aaron's father, his greatest inspiration, hails from Ontario. A great rivalry exists between North Shore and Six Nations in national lacrosse. Aaron admires how seriously the Six Nations take their lacrosse, citing the 24-hour Iroquois Lacrosse Arena, the kind of facility he would love to see the Squamish Nation build some day. 
Aaron says, "Lacrosse really keeps me going…you know my people treat it as medicine…I want to get to the top. It's my last year of Junior Lacrosse so I'm trying to get to that national championship to join my cousins and my dad with that family legacy."
Aaron would like to pass the legacy down to the next generation as well. He has coached kids, including his younger brother, and watched three members from the Midget North Shore Lacrosse Team get drafted up. He says, "That's pretty special."
Advice to others
"I think young people should get into fitness, get active, see the progress and keep going," Aaron says, adding that going to the fitness centre with friends is a great way to stay socially connected. "It's fun down there."
Next for Aaron
Aaron is focused on his final season in the Junior A League, "to have a great time and really make this last year special…We really want to go home with the Minto (Cup)."
Looking farther down the road, he hopes to follow in his father's footsteps and make it to the National Lacrosse League, which now has twelve teams across North America. Since most professional players are over 21, Aaron has a bit more time to work on his game and grow as a player. 
The staff at NVRC are greatly inspired by Aaron's dedication to sport, and proud to be a partner in his fitness journey. The NVRC wishes Aaron continued success and satisfaction with his lacrosse legacy. Go, Aaron!