Meet Ali Motallebi – Local promoter of Persian culture and community builder
Bringing cultures together at Centennial Theatre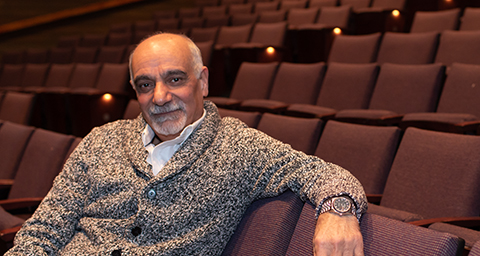 Ali Motallebi loves his North Shore community. Originally from Iran, he has built a successful business and raised a family here. He says, "Here, I've experienced the best quality of life for me and my family."  
Community in a store
Twenty-three years ago, Ali bought a grocery store on Lonsdale Avenue that specialized in international foods. It quickly became a gathering place for the Persian community on the North Shore who were nostalgic for tastes from their homeland. Ali would also help them find services in the community and ways to connect to others. 
Over the years, Ali has watched his clientele grow increasingly diverse. Ali estimates that over 40% of his customers are non-Persian today, a fact he's proud of. He enjoys the cultural diversity he encounters in his store and on his daily walks on the seawall. "That's why I love the North Shore."
Celebrating Persian culture on the North Shore
A number of years ago, Ali had the idea to promote his rich heritage and bring Persian cultural events to the community he loves.
Ali started booking musical acts at the Centennial Theatre. Over the years he's worked tirelessly with entertainment promoters to bring shows and performers that would appeal to his friends and customers. He wished to bring the vibrancy of Persian culture – the singing, the music and rich history – to the North Shore, for newcomers from Iran as well as for the greater community.  He's very proud of the thriving Persian cultural and musical scene that exists on the North Shore today.
Grateful for Centennial Theatre 
Ali booked the first Persian musical acts at Centennial Theatre and promoted and sold tickets for the shows. He believes the Centennial Theatre, operated by North Vancouver Recreation & Culture, has brought his community closer and is grateful for the space. He has come to know the theatre's staff well, praising everyone who works there, from the greeters and ticket takers to the theatre manager. He is grateful for their help and says, "We are a team!"
Ali can't imagine his community without Centennial Theatre. He knows how much it means for people to be able to enjoy live music and cultural events at a reasonable cost. He says, "Centennial will always be my home."
Continuing to build community 
With Ali's help, Persian music, arts and culture are alive and well in our community. Increasingly, the shows are being attended by people from many cultural backgrounds - a triumph for cultural diversity in our community.  
Ali says, "I hope we can keep making our community a better place – we all have to work on it together." The NVRC couldn't agree more!