Growing up at Parkgate Community Centre
Finding friends, fitness and future opportunities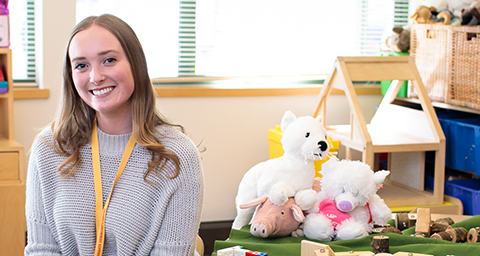 Ali Vickers can't remember a time when the Parkgate Community Centre wasn't part of her life.  She was three years old when she started at the daycare and over the next 17 years, Parkgate became her second home.  Ali transitioned through childcare programs, enjoyed summer day camps, and learned new skills through many Parkgate programs and activities.  Today, this dedicated and dynamic 21 year-old university student remains an active Parkgate volunteer and fitness enthusiast who credits her confidence and future career as a speech pathologist to her time "growing up" at Parkgate.
"I love how intergenerational Parkgate is," Ali explained.  "When I was younger, I loved volunteering with kids.  Now, I love going to Parkgate Break and helping seniors.  It's opened my eyes and given me more ideas for my career.  Instead of working with children, I'm now interested helping stroke and dementia clients."
At the suggestion of a family friend, Ali started volunteering with Parkgate Break in May 2018.  She thought it would be good experience for becoming a speech pathologist.  MyParkgate BREAK is a social-recreational program for seniors living with the effects of early to moderate dementia. A Parkgate Community Services Society (PCSS) program, it offers twice weekly care and a range of activities and socialization opportunities with respite time and support for family caregivers. 
"It has been such a positive experience," She said.  "I have meaningful conversations and connections with participants and other volunteers."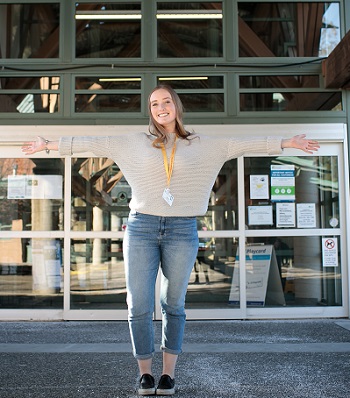 Opening doors and gaining experience
Parkgate Break is the most recent in Ali's long and varied volunteer career.  At 13 she started volunteering in the infant childcare – the program that first introduced her to Parkgate as a toddler.  Ali was thrilled to work with the same two teachers who taught her.  Her other volunteer activities included Parkgate Dances, which she attended as a tween, and the summer camps that she enjoyed in her younger years.    
"I remember what it meant to have older kids to play with and take an interest in you," Ali said.  "I had a lot of volunteers and leaders in Parkgate Programs that I really looked up to.  Now I can be that volunteer.  I feel like I've come full circle."
With almost two decades of Parkgate experience, as a participant and a volunteer, Ali has unique insight into the important role a community centre plays.  Her volunteer activities have helped her overcome shyness and provided new experiences and opportunities.
"It's a place where you can meet like-minded people and make new connections," she said.  "Volunteer training gave me confidence and I've learned some really valuable skills.  I feel volunteering builds character and opens doors to opportunities you never knew existed.  Everyone should do it." 
A place to belong
As an only child, Ali appreciated the opportunity to connect with other families through community centre activities.  She and her mom attend a fitness class with her best friend and her mom.  The two mother/daughter teams met at Parkgate and have been friends for years.  
"Friends I made in daycare are still my best friends today," Ali said.  "My parents made friends with their parents and our families have all grown-up together."
Currently, Ali spends 3-4 days a week at Parkgate, working out and volunteering.  As she pursues her goal of becoming a speech pathologist, Ali loves staying connected to the centre and the people who have known her most of her life.  
"The word "community" comes to mind a lot when I think about Parkgate," she said.  "I feel like I belong here.  It feels like home."  
North Vancouver Recreation & Culture & Parkgate Community Services Society
This story highlights the important and valued partnership we, the NVRC have with Parkgate Community Services Society at Parkgate Community Centre. Together, NVRC and Parkgate Society are working to create a healthy, caring and connected community.
Parkgate Community Services Socitey is a registered charity that has been serving the community since 1983.  It currently provides a broad range of child, youth, family and seniors programs and services out of Parkgate Community Centre, the Seymour Youth Centre, and other community locations. Visit their website or more information.