For Love of Art and Community
A passion for teaching art
Andrea Bruhns is passionate about the power of the arts to bring self-awareness and personal healing to anyone and everyone. As a visual artist, photographer, interior designer and healing arts practitioner, Andrea is a champion for making creativity an essential part of everyday well-being. She started teaching expressive art classes at Parkgate Community Centre in 2015 to give back to the community and to inspire people of all ages to explore their creative spirit in a new, empowering way.
"Playground for creativity"
Born in Germany, Andrea has been creating art since she was a child.  She graduated in Communication Design and established a rewarding career as an art director in graphic design.  She also travelled the world and together these experiences have inspired much of her art. She's worked in clay, drawing, painting, photography, quilting, and sewing, "anything that gives me a playground for creativity."  She has long believed in the healing power of the arts and that creating art is a joyful way to connect to your heart. "Any art form will work," she says, "when you feel happy and peaceful, that is a very healing feeling."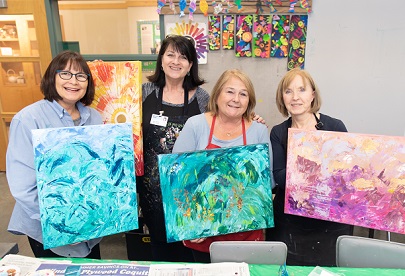 The art of letting go
"Learning to let go is the first step," says Andrea. She hears all the time from adults and even youth that they can't do art because they're not very artistic. Yet, the ability to imagine and create is innate in all of us. We play and create unconsciously as children but, somewhere along the way, we become self-conscious and concerned about the judgement of others. It is the fear of being judged not good enough that stops most people from engaging in art. 
Andrea believes her mission is help people let go. She wants to "help students break free." Andrea loves the transformation she sees in her classes, from timidity at the beginning to greater and greater self-expression and freedom. She delights in being part of her students' journeys as they discover "art is a tool to help them find their own voice." 
Why making art is so good for all ages
Andrea teaches art exploration and mixed media to kids and adults of all ages. In her classes, she helps people open up through art, have fun and "love themselves through what they make."
To help students, Andrea begins her classes with meditation "to calm down and be in the moment." She also gets her students to repeat mantras, such as, "Art is very personal. No one can judge what you do.  Own your art, be proud of it." 
Andrea believes art teaches all of us to:
Find our own voice and self-confidence
Not worry about other people's opinions 
Express our feelings
Be socially connected. Andrea fosters her classes as a community where "we are all helping, encouraging and acknowledging each other."
Appreciate that "the creative process is not tied to a result." Once students learn this, Andrea says, "the benefits are just so great because you feel so much better about yourself."
Community art space is so important
Andrea is a strong proponent of having art in community centres where "art classes give everyone the opportunity to try art…without restrictions."  She appreciates how many people start or return to creating art in community centre where they are comfortable and where the fees are more affordable.  
Andrea encourages everyone to make art, saying, "There is so much pleasure in the childish excitement that comes from creating art."