A Hero For All Ages
Meet 12-year old Arta – aspiring lifeguard and community champion
Arta Zakhireh may be just finishing elementary school, but she has already learned how to take risks, contribute to community and pursue what makes her heart happy. Besides enjoying her favourite activities at North Vancouver Recreation & Culture's (NVRC) community recreation centres, last summer she raised funds for the Lions Gate Hospital's $100 million campaign to build a new medical and surgical centre. 
About Arta
Arta is a seventh grader at Westcot Elementary School. She loves swimming, skating, gymnastics and art. She learned to swim and skate through NVRC's programs. 
"I adore swimming a lot," she says and credits her passion to the great NVRC instructors she had. "They were very helpful because when I was scared, they encouraged me, 'It's okay, just take baby steps, baby steps.' Eventually I got better and lost some fear. They inspired me."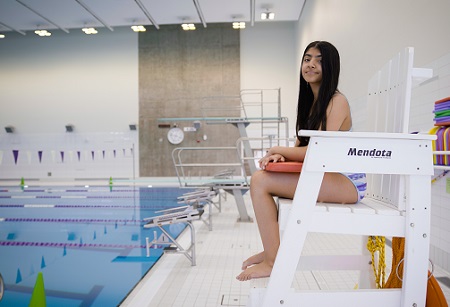 An NVRC fan
Arta jokes that she lives at NVRC's centres having taken so many courses, including babysitting, gymnastics, swimming and skating. 
She laughs, "Well, basically, I've been going to the recreation centres for years." She claims the various programs taught her "how to be more confident (as well as) overall fundamental skills". 
Arta admits that when she first started swimming and skating at 7 or 8, she liked neither sport. She was afraid of the water and scared of falling on the hard ice. She worried she wouldn't be good enough. "Because I started everything off negative, I was scared and I really didn't want to be a part of the sport." 
But she stuck with her lessons and was encouraged by her NVRC instructors, she says: "They inspired me. They (said) 'It's okay, not everyone gets good at a sport right away. It takes time and it's just not the same for everyone.' That really gave me a boost."
Not only did her athletic skills grow, so did her love for sports. Today she is passionate about swimming and looks up to Olympian competitive swimmer Katie Ledecky.
When asked to imagine her life without the NVRC, Arta replied, "Oh, my life would be very boring. I wouldn't know how to do any sports. I wouldn't know the fundamentals (of physical activity."
Arta's community initiative
Last summer Arta discovered that learning sports was not the only thing that gladdened her heart. Then 11, Arta decided to make use of her free time and lend a helping hand to the community. 
"I saw the Lions Gate Hospital campaign and I really wanted to help out." She got creative and crafted handmade candles, notebooks and cards, which she sold to friends. She also sold items on North Vancouver streets with a sign that read "All money raised will be donated to Lions Gate Hospital". In four days, she raised over a hundred dollars, which she donated to the hospital. She says, "Even though it wasn't a lot of money… I was just very happy about it and proud."
She hopes that more people will give back to their community. "Maybe in the future it could be a better place…it could have more opportunities for others."
Inspirations 
Arta's greatest inspiration, she says, "is probably my mom because she is very resilient…and I want to be just like her because she's very optimistic."
Additionally, Arta is greatly inspired by a staff member at Harry Jerome whose encouragement helped Arta work towards her swimming goals. "She told me not everyone is going straight to the Olympics. They're just going to have to continuously work hard to eventually reach their ambitions. That one sentence has just changed my life."
Future ambitions
Arta currently skates at Karen Magnussen and swims at Harry Jerome, where she is at level 4, the highest. After that she will be participate in swim academy. Her goal is to train to become a lifeguard and hopes to be one by the time she's 16. Arta also enjoys drawing and painting and would love to explore watercolour and pastels soon. 
Arta's example
Everyone can draw inspiration from Arta, her courage to fight through her fears, find support from the encouragement from others, and be open-minded to change. 
"Even if you're not the best at it at the start…continue working towards your goal…If you continue…putting effort into it, you can end up somewhere happy and somewhere successful. And that could just make your heart happy."
Indeed.