Culture Days 2022 | Sep 23 - Oct 16
Image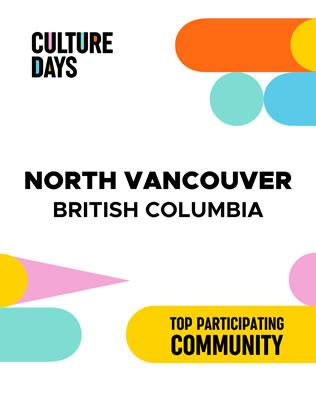 We are very pleased to share that North Vancouver has been recognized as one of the top participating communities in Canada for Culture Days 2022! The community ranked seventh nationally among mid-size cities, with local arts, culture and heritage organizations offering 27 free events. You can see the other top participating communities in the attached infographic.
NVRC hosted 13 free community workshops highlighting the artists we work with and some of the programming we offer. We had 181 people participating in Culture Days activities in our facilities – 128 in dance workshops and 53 in visual art workshops. A full listing of North Vancouver activities and participants is available on the Culture Days website.
NVRC also is the coordinator of Culture Days across the North Shore on behalf of the Culture Days provincial office. This involves sharing information about Culture Days with other local arts, culture and heritage organizations, and encouraging participation. 
This recognition highlights that our community is an active champion for arts and culture. NVRC is proud to take part in and help facilitate this fun, interactive and meaningful celebration of arts and culture in North Vancouver. We are grateful to all the artists, organizations, volunteers and partners who contributed to our community's success.
About Culture Days
Culture Days is the largest cultural event in Canada. It attracts millions of annual attendees to thousands of free activities hosted by artists, cultural organizations and municipalities in hundreds of communities across the country. Culture Days programs invite the public to get hands-on and behind-the-scenes to highlight the importance of arts and culture by connecting communities and creators. 
Culture Days 2022 was held from September 23 to October 16 attracting a record national participation estimated at 3.8 million people. Read more about the reach and success of this year's Culture Days on the 2022 Highlights page.
Visit CultureDays.ca for more information.