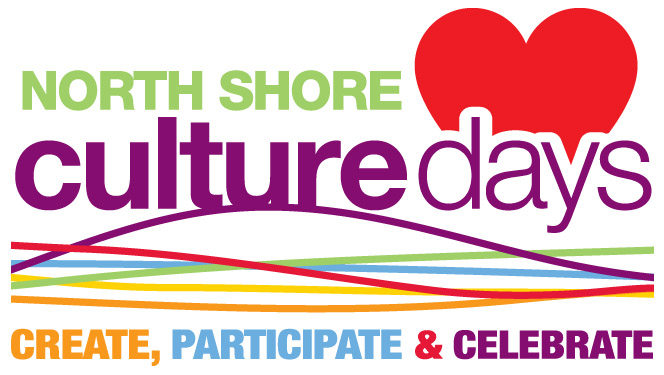 North Shore Culture Days returns on September 29, 30, October 1, 2017.  Since 2009, artists and cultural organizations in cities and towns across Canada have come together and invited the public to participate in free interactive and behind-the-scenes activities to discover their cultural spirit and passion.  Culture Days activity organizers in North Vancouver and West Vancouver are offering a variety of creative experiences in community activity hubs all across the North Shore. 
Plan your Culture Days Weekend Now!
View all the events and activities happening by clicking on the accordians below or visit the national Culture Days website and plan your Culture Days experience.
NEW - 2017 Culture Days Event Registration NOW OPEN!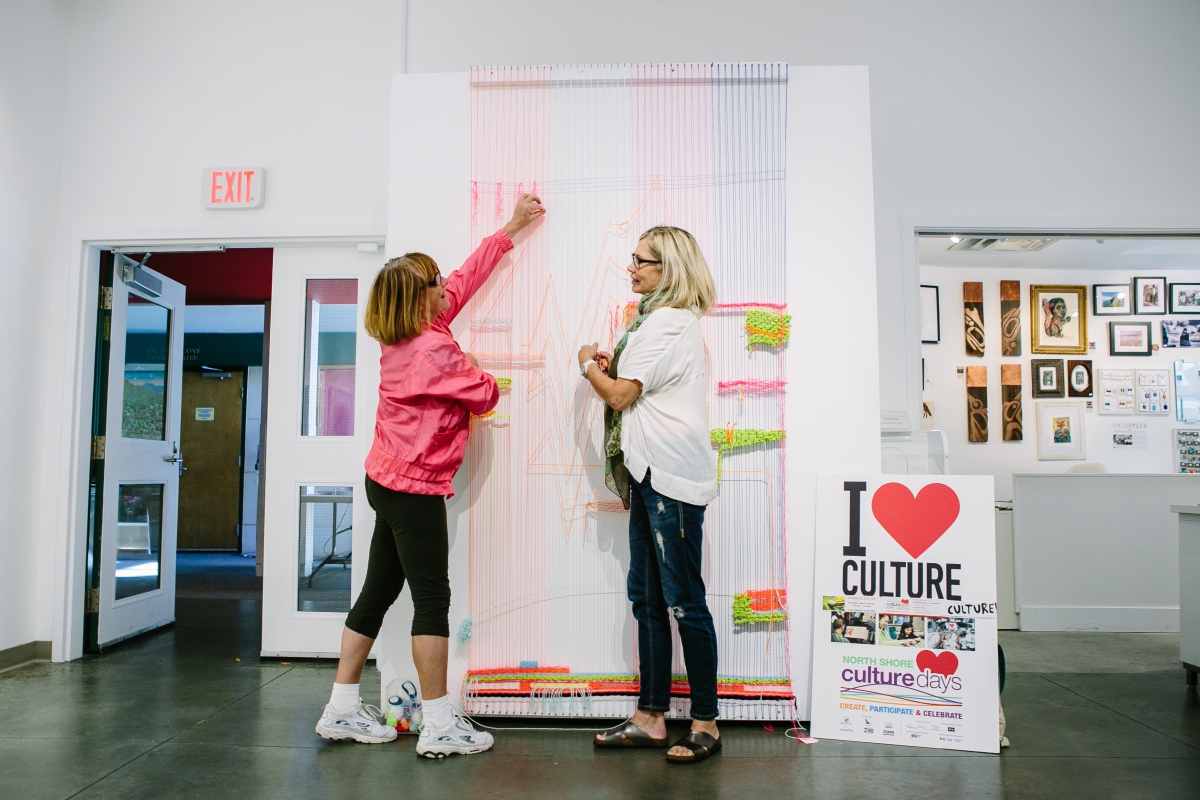 Hosting an event during the 2017 North Shore Culture Days weekend is a wonderful way to engage with community by offering 'hands-on' activities, lectures, demo's, or 'behind-the-scenes' experiences. Use the opportunity to promote your regular activities, nurture existing audiences, and develop new supporters.
Here's what you need to do to get involved.
BASIC CRITERIA
Your activity is FREE to the public.
The activity takes place September 29. 30, October 1, 2017.
The activity is registered at www.culturedays.ca.
You secure a venue, plan and assume all costs to deliver the activity.
You promote your activity through your own regular channels.
For everything you need to know about presenting an activity, visit the Present an Activity page.
Culture Days Video - Get Inspired!
Turn your volume up and check out Culture Days' Highlight Reel for inspiration and creative ideas on how to get involved! You'll find even more inspiration for North Shore Culture Days.
Consider these great benefits of hosting an activity:
Make worthwhile connections, gain supporters, develop new audiences
Develop your promotional and organizational skills
Highlight the cultural vibrancy of your community
2017 NORTH SHORE CULTURE DAYS BROCHURE - ALL HUBS - Coming Soon!
The 2017  North Shore Culture Days brochure will be available mid-September.  Check back to view all the event details.  
2017 HUB 1: MID-LONSDALE - Smith Gallery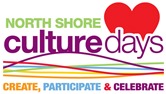 MID-L0NSDALE HUB: Gordon Smith Gallery of Canadian Art
FRIDAY, SEPTEMBER 29
SNEAK PEAK TOUR: OPENING OF AFK CANADIAN FIRST PEOPLE EXHIBIT
Join us at the Gordon Smith Gallery of Canadian Art for an informative gallery tour.
WHERE: 2121 Lonsdale Avenue, Gordon Smith Gallery of Canadian Art
WHEN: 12:00PM-4:00PM
SATURDAY, SEPTEMBER 30
LAUDATE SINGERS GALLERY SINGALONG!
Join us at the Gordon Smith Gallery of Canadian Art, where you will have the chance to meet the choir and local composers in a Question & Answer format.
WHERE: 2121 Lonsdale Avenue, Gordon Smith Gallery of Canadian Art
WHEN: 2:00PM-3:00PM
SUNDAY, OCTOBER 1
2017 HUB 2: LOWER LONSDALE + LONSDALE QUAY - CityScape, JBCC, Presentation House, Shipbuilders' Square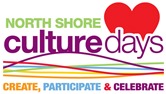 LOWER LONSDALE + LONSDALE QUAY HUB:  Presentation House, CityScape Community Art Space, JBCC, Lonsdale Quay market stages,
FRIDAY, SEPTEMBER 29
CHIEF DAN GEORGE: ACTOR AND ACTIVIST 
The inspiration for this exhibit started with Tsleil-Waututh Chief Dan George's Lament for Confederation speech which he delivered on July 1, 1967 at the City of Vancouver's celebration of Canada's Centennial.
WHERE: 209 West 4th Street, Presentation House Theatre 
WHEN: 12:00PM-5:00PM 
CURATOR'S TALK AND TOUR 
Join curator Karen Dearlove for a tour & discussion of the exhibit: "Chief Dan George: Actor & Activist".
WHERE: 209 West 4th Street, Presentation House Theatre
WHEN: 2:00PM-3:00PM 
 
SATURDAY, SEPTEMBER 30
CURATOR'S TALK AND TOUR 
Join curator Karen Dearlove for a tour & discussion of the exhibit: "Chief Dan George: Actor & Activist".
WHERE: 209 West 4th Street, Presentation House Theatre
WHEN: 10:30AM-11:30AM 
FIRST WELCOME HYCH`KA- OUTDOOR THEATRE EVENT 
Vancouver's Presentation House Theatre and Mortal Coil Performance Society have partnered to create FIRST WELCOME – HYCH'KA this summer. Part of Canada's 150+ Celebrations, FIRST WELCOME –HYCH'KA explores and celebrates first contacts and welcome between people, cultures, and species.
WHERE: Block, 200 Esplanade W, Waterfront Park 
WHEN: 11:00AM-5:00PM
CREATE YOUR OWN 8``x 8`` ART
It's time to get creative with your very own 8" x 8" art piece. Learn tips and techniques on how to make the most out of a small canvas.
WHERE: 335 Lonsdale Avenue, CityScape Community Art Space 
WHEN: 12:00PM-5:00PM 
CHIEF DAN GEORGE: ACTOR AND ACTIVIST 
The inspiration for this exhibit started with Tsleil-Waututh Chief Dan George's Lament for Confederation speech which he delivered on July 1, 1967 at the City of Vancouver's celebration of Canada's Centennial.
WHERE: 209 West 4th Street, Presentation House Theatre 
WHEN: 12:00PM-5:00PM 
SUNDAY, OCTOBER 1
CHIEF DAN GEORGE: ACTOR AND ACTIVIST 
The inspiration for this exhibit started with Tsleil-Waututh Chief Dan George's Lament for Confederation speech which he delivered on July 1, 1967 at the City of Vancouver's celebration of Canada's Centennial.
WHERE: 209 West 4th Street, Presentation House Theatre 
WHEN: 12:00PM-5:00PM 
MIDDLE EASTERN DANCE WORKSHOP 
Feel fresh and fantastic with our FREE and FUN dance workshops.
WHERE: Lonsdale Quay Market 
WHEN: 3:00PM-4:00PM
2017 HUB 3: LYNN VALLEY - LVVillage, NVMA History Centre, Lynn Valley Library Culture Cram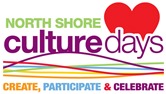 LYNN VALLEY HUB:  LV Library, LV Village Square, NV Museum & Archives
FRIDAY, SEPTEMBER 29
FRIDAY NIGHT LIVE
Come see one of the North Shore's "Best-Kept-Secrets" ...Friday Night Live is a blend of community social gathering and awesome artisitc performance, and for Culture Days for 2017 brings guitarist and storyteller Don Alder to the stage in a beautiful new facility.
WHERE: 3201 Mountain Highway Lynn Valley United Church
WHEN: 8:00PM-9:00PM
SATURDAY, SEPTEMBER 30 
THERE FOR THANKS GIVING- LABYRINTH WALK 
There for Thanksgiving is an opportunity to prepare for the upcoming holiday by counting your blessings using the labyrinth at Lynn Valley United Church. Step onto a path of positivity to reflect on and acknowledge the delight, joy and pleasure that is your life... then return to the world feeling connected to a place of gratitude and gratefulness in time to truly give thanks on October 9th. All are welcome!
WHERE: 3201 Mountain Highway Lynn Valley United Church
WHEN: 11:00AM-3:00PM
SUNDAY, OCTOBER 1
CULTURE CRAM AT THE NORTH VANCOUVER DISTRICT PUBLIC LIBRARY 
The Library is hosting a CULTURE CRAM to see how much culture we can cram into our Lynn Valley branch!
WHERE: 1277 Lynn Valley Road, North Vancouver District Public Library
WHEN: 1:00PM-4:00PM
POLYNESIAN DANCE- SEE AND LEARN AT LYNN VALLEY VILLAGE 
We will demo a short program of the "islands" and invite the audience to join us. We will bring implements/sound instruments that you can try Poi Balls.
WHERE: 1277 Lynn Valley Road, Lynn Valley Village 
WHEN: 2:00PM-3:00PM 
2017 HUB 4: DEEP COVE + PARKGATE - Seymour Art Gallery, Parkgate Community Centre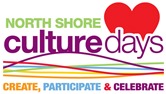 DEEP COVE + PARKGATE + SEYMOUR HUB:  Seymour Art Gallery, Deep Cove Cultural Centre, Parkgate Community Centre, Parkgate Library
FRIDAY, SEPTEMBER 29
HISTORY OF DEEP COVE FIRE AND COMMUNITY HALL
Wendy will facilitate a discussion based on some photographs reflecting the various activities held the community hall mainly from the mid 1940s to the mid 1960s, and will welcome hearing the memories of others—what the participants did in the community hall or know about the community hall.
WHERE: 4300 Gallant avenue, Deep Cove Theatre
WHEN: 1:00PM-2:30PM
DEEP COVE HERITAGE OPEN HOUSE
Discover local history and see how much the Deep Cove area has changed by looking at pictures from our archives.
WHERE: 4300 Gallant avenue, Deep Cove Theatre
WHEN: 1:00PM-4:00PM
SATURDAY, SEPTEMBER 30 
DEEP COVE HERITAGE OPEN HOUSE
Discover local history and see how much the Deep Cove area has changed by looking at pictures from our archives.
WHERE: 4300 Gallant avenue, Deep Cove Theatre
WHEN: 1:00PM-4:00PM
SUNDAY, OCTOBER 1
DEEP COVE HERITAGE OPEN HOUSE
Discover local history and see how much the Deep Cove area has changed by looking at pictures from our archives.
WHERE: 4300 Gallant avenue, Deep Cove Theatre
WHEN: 1:00PM-4:00PM
ARTIST TALK WITH REBECCA CHAPERON 
Rebecca Chaperon will speak about her latest work and how her paintings act as a means of storytelling, where surreal landscapes populated by mysterious figures meet flat geometry, with emotive undercurrents.
WHERE: 4360 Gallant Ave, Seymour Art Gallery 
WHEN: 2:00PM-3:00PM
2017 HUB 5: WEST VANCOUVER - WV Community Centre, WV Memorial Library, Ferry Building Gallery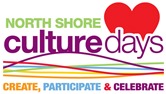 WEST VANCOUVER HUB: WV Community Centre, Ferry Building, Kay Meek Centre, West Vancouver Museum 
FRIDAY, SEPTEMBER 29
WATER'S EDGE: PAINTINGS BY PETER MANNING & LORI MORRIS 
Acrylic painters Loris Morris and Peter Manning share their unique interpretations of landscapes by the water's edge in bold and colourful depictions of the ever-changing aspects of reflection, light and movement of bodies of water and their majestic shorelines.
WHERE: 1570 Argyle Avenue, Silk Purse Arts Centre 
WHEN: 12:00PM-5:00PM 
SATURDAY, SEPTEMBER 30
WATER'S EDGE: PAINTINGS BY PETER MANNING & LORI MORRIS 
Acrylic painters Loris Morris and Peter Manning share their unique interpretations of landscapes by the water's edge in bold and colourful depictions of the ever-changing aspects of reflection, light and movement of bodies of water and their majestic shorelines.
WHERE: 1570 Argyle Avenue, Silk Purse Arts Centre 
WHEN: 12:00PM-5:00PM 
ARTIST TALK: ERIC METCALF AT THE WEST VANCOUVER MUSEUM 
Please join Eric Metcalfe in the gallery for a tour about his exhibition, Gargoyles and Improvisations, on view at the West Vancouver Museum until October 28. Admission is by donation.
WHERE: 680 17th Street, West Vancouver Museum 
WHEN: 2:00PM-3:00PM
SUNDAY, OCTOBER 1
WATER'S EDGE: PAINTINGS BY PETER MANNING & LORI MORRIS 
Acrylic painters Loris Morris and Peter Manning share their unique interpretations of landscapes by the water's edge in bold and colourful depictions of the ever-changing aspects of reflection, light and movement of bodies of water and their majestic shorelines.
WHERE: 1570 Argyle Avenue, Silk Purse Arts Centre 
WHEN: 12:00PM-5:00PM 
RAIN QUEEN OF AFRICA AT THE FERRY BUILDING GALLERY
Ceramic artist Liz DeBeer will spin tales of the Rain Queen of Africa and explain some of the techniques she used in producing the work for her solo exhibition at the Ferry Building Gallery.
WHERE: 1414 Argyle Avenue 
WHEN: 2:00PM-4:00PM
OPEN REHERSAL WITH AMBLESIDE ORCHESTRA
Come to help celebrate 25 years of music making on the North Shore. Ambleside Orchestra invites you to an open rehearsal of opera overtures. See how a musical performance is created with a backstage view of the rehearsal process. A celebration cake and coffee will be served.
WHERE: Kay Meek Centre Studio Space 
WHEN: 2:30PM-4:00PM 
 
2017 HUB 6: A LITTLE OUTSIDE THE HUBS - Edgemont Village, Pemberton Ave, Welch St, Garden Ave, Capilano University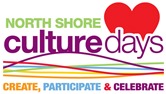 A LITTLE OUTSIDE THE HUBS:  Edgemont Village, Pemberton Ave, Welch Street, Garden Ave, 
FRIDAY, SEPTEMBER 29
STEIN VALLEY NLAKA'PAMUX HERITAGE PARK: A LIVING MUSEUM 
Join us for a keynote presentation by Ruby Dunstan who will share historical and oral narratives of the Lytton Nlaka'pamux in the Stein watershed.
WHERE: Capilano University 2055 Purcell Way, Library Building Room 321
WHEN: 10:00AM-1:00PM 
PAINTING WITH A PURPOSE 
Painting with a Purpose-Monthly Painting Events to Help Canadians in Need!
WHERE: 1335 Pemberton Avenue 
WHEN: 5:00PM-8:00PM 
SATURDAY, SEPTEMBER 30 
TIE-DYE IN EDGEMONT VILLAGE 
You are invited to our Edgemont Village t-shirt or towel tie-dye event. Just drop off your t-shirt or towel with your name on it - (remember to use a permanent marker) on Friday, Sept 29 at BC Playthings, Edgemont Village Jeweller or Trims. We will soak and prep it for you.
WHERE: Peter Rabbit Parklet (located at 3055 Woodbine right beside Trims)
WHEN: 10:00AM-1:00PM
THE BIG PICTURE: COLLECTIVE ART PROJECT 
The big picture is a collective art project where people in our local area and around the world are collaborating to create a big mosaic picture from thousands of drawings
WHERE: 125 Garden Avenue 
WHEN: 10:00AM-4:00PM
PAINTING WITH A PURPOSE 
Painting with a Purpose-Monthly Painting Events to Help Canadians in Need!
WHERE: 1335 Pemberton Avenue,  MAB Art Studio & Boutique Gallery  
WHEN: 11:00AM-6:00PM  
STAND UP COMEDY SHOW
Laugh Your Head Off and Support Mental Health!
WHERE: #106 - 850 Harbourside Drive North Vancouver, The Yoga Root 
WHEN: 7:00PM-8:00PM
SUNDAY, OCTOBER 1
THE BIG PICTURE: COLLECTIVE ART PROJECT 
The big picture is a collective art project where people in our local area and around the world are collaborating to create a big mosaic picture from thousands of drawings
WHERE: 125 Garden Avenue, MAB Art Studio & Boutique Gallery  
WHEN: 10:00AM-4:00PM
PAINTING WITH A PURPOSE 
Painting with a Purpose-Monthly Painting Events to Help Canadians in Need!
WHERE: 1335 Pemberton Avenue, MAB Art Studio & Boutique Gallery  
WHEN: 12:00PM-4:00PM