By placing artwork in our everyday environment public art encourages citizens to take pride in cultural expression and it can create a forum to address relevant themes and issues.  In addition, public art has the ability to attract tourists and to stimulate investment in the community.
The North Vancouver Public Art Program is comprised of three main program streams: civic, community and developer-generated public art. While all three programs operate within the broader goal of building a sense of community identity through public art, each program has different objectives and funding mechanisms.
The Civic Public Art Program sets out a process for incorporating public art into municipal buildings, parks and infrastructure projects.  Guided by Council endorsed policies and procedures, civic public art projects are undertaken through a collaborative process that includes: municipal staff, artists, engineers, design professionals and a citizen-based North Vancouver Public Art Advisory Committee.
Artists are commissioned for Civic Public Art projects through an open or limited Call to Artists. A selection panel is put together for each project to review and select from the submissions generated through the Call to Artists. Each selection panel is comprised of a mix of artists, stakeholders, design professionals along with one member of the North Vancouver Public Art Advisory Committee.  
Artist wishing to receive notifications for upcoming project opportunities should sign up for the Public Art e-News. 
The main objective of the Developer Public Art Program is to provide a framework for developers to commission site-specific works of art that are integrated into exterior architectural features, landscape elements and/or public spaces adjacent to or part of a development project.  Provided as a negotiated community amenity, the value and design of the public art piece are determined during the rezoning and  permitting process.
The Public Art Officer works with the developer and planning staff to administer the public art project in accordance with the Developer Public Art Policy, summarized as follows:
During Preliminary Rezoning the developer:
Explores public art opportunities with members of their design team, Planning Staff and the Public Art Officer. The applicant then prepares a summary paragraph outlining intentions for public art, as part of the project's "Written Outline" submitted with the Detailed Rezoning Application.
During Detailed Rezoning the developer:
Confirms the value of the public art contribution and art consultant;
Appears before the NV Public Art Advisory Committee (NVPAAC) with a detailed Public Art Plan addressing (locations; concepts; artist selection process; budget & schedule).
Submits the committee supported Public Art Plan to the municipal planner for inclusion in the Council Report;
Engages in the artist selection process prior to application for Development Permit. 
Confirms selected artwork and design plans for public art prior to application for Building Permit.
The Community Public Art Program seeks to spark community participation in the animation of public spaces.  The program provides support for small-scale permanent or temporary public art projects proposed jointly by community groups and artists. Typically this program supports one or two community-initiated projects per year and engages numerous community members in the creation and installation of art in the public realm. 
Applications for project support are submitted through the Arts & Culture Grant process.  An arm's length grants jury, in consultation with the Public Art Officer reviews and makes recommendations for support.  Information about deadlines and application forms click here.
Sample projects:
Tag You're Knit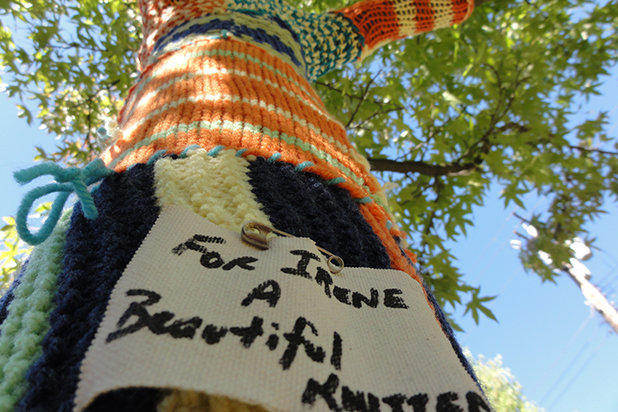 Mt Seymour Wildlife