The North Vancouver Public Art Program has a variety of programs, opportunities and events that are open to the general public. If you're an artist, learn more about the different public art programs in North Vancouver and get information about Artist Calls and other opportunities to get involved. 
Subscribe to the Public Art eNews to receive information on upcoming Public Art Calls and current activities.
NEW! Public Art Map & Guide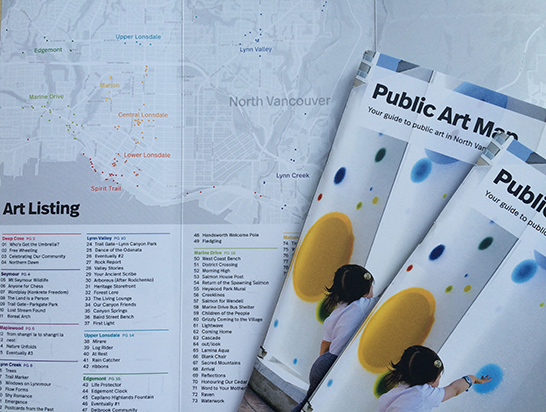 Hot off the presses! 
The new Public Art Map & Guide includes over 150 artworks located in the City and District of North Vancouver. Public artworks can be found along nature trails and public walkways, in parks, plazas and civic buildings throughout North Vancouver.
Pick up a copy of the Public Art Guide at the following locations: Lonsdale Quay Visitor Info Centre, North Vancouver Recreation & Culture community centres, City of North Vancouver Municipal Hall, District of North Vancouver Municipal Hall, North Shore libraries, the Ferry Building Gallery and Silk Purse in West Vancouver. Free and easy to use, make your next outing a public art discovery tour.  
Organized by neighbourhood, the Public Art Guide contains 12 self-guided tours for easy exploration:
Deep Cove
Seymour
Maplewood Village
Lynn Creek Town Centre
Upper Lonsdale
Edgemont
Marine Drive
Mahon
Central Lonsdale
Lower Lonsdale
Spirit Trail
Public Art Street Banner Design Contest Winners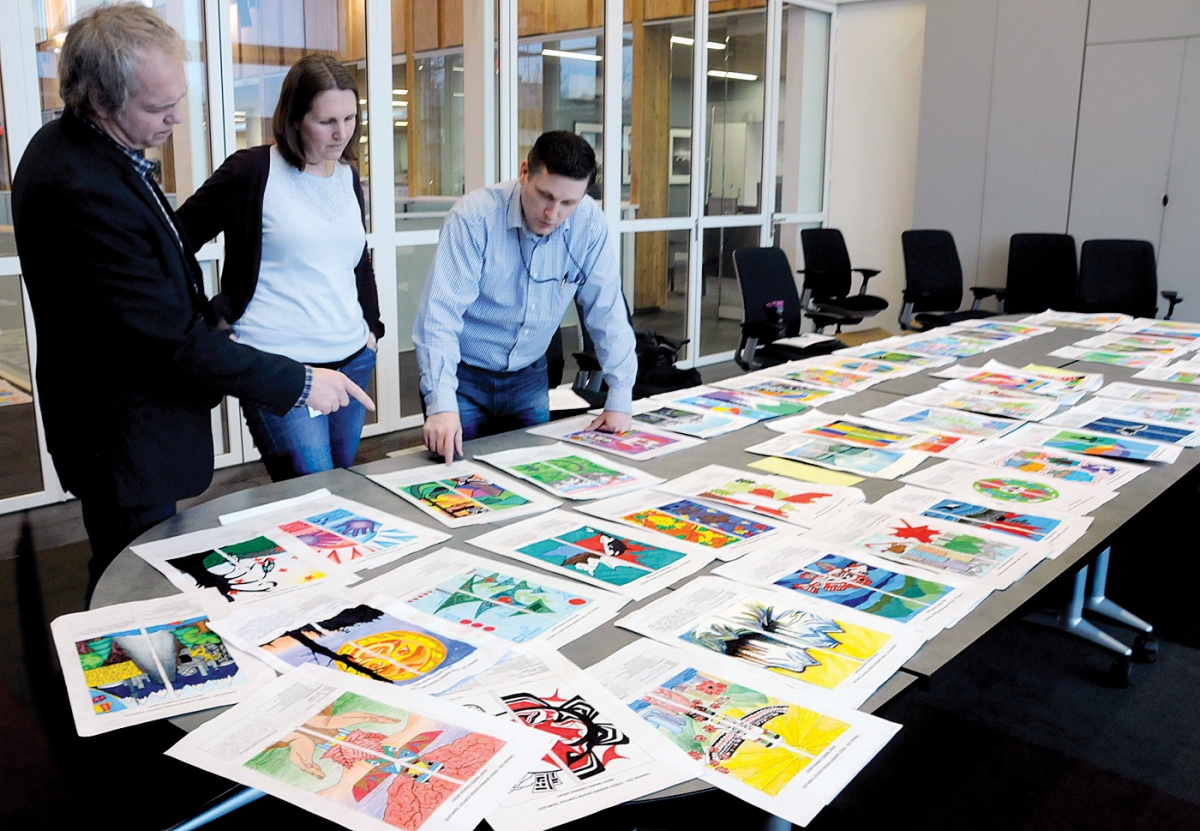 May 2016 - Over 400 North Vancouver K-12 students submitted street banner designs that reflect the theme "Canada 150 - What Makes Canada Great" as part of the City of North Vancouver street banner program. Thrilled by the quality and diversity of all of the submissions, the judges selected four winning designs and eight honourable mentions.
An initiative of North Vancouver Recreation & Culture's Public Art Program, the winning designs were selected by a panel of judges made up of representatives from the North Vancouver Public Art Advisory Comittee, the City of North Vancouver and a local artist. 
The colourful banners will fly high along Lonsdale and Esplanade Avenues from mid-2016 through 2017. The street banner initiative is part of the City of North Vancouver's Public Art Program coordinated by North Vancouver Recreation & Culture.
Winners:
Charley Watson, Grade 2, L'ecole Boundary Elementary
Mychael Winkler-Hart, Grade 4, Alcuin College
Isobel Korres, Grade 11, Sutherland Secondary School
Paloma Iglesias Gonzalez, Grade 12, Bodwell School
Honourable Mentions:
Anna Arkiletian, Gr. 4, Queensbury Elementary
Claire & Esme Finley, Gr. 6 & 4, Boundary & Ross Road
Hana Bigelow, Gr. 5,Boundary Elementary
Jordan Leland, Gr. 7, Ridgeway Elementary
Angel Dorothy Sion, Gr. 9, Sutherland Secondary
Fay Newton-Mason, Gr. 9, Sutherland Secondary
Kate Choi, Gr. 11, Argyle Secondary
Karl Hipol, Gr. 12, Carson Graham Secondary
"We thank all of the young artists that participated in the street banner contest. Public art initiatives like this contribute to North Vancouver's unique identity and distinction as a place of creativity, discovery and learning."
Mayor Darrell Mussatto, City of North Vancouver
   
Pianos on the Street in North Vancouver
Pianos on the Street is a community engagement initiative spearheaded by Pacey's Pianos and the Piano Teachers Federation and coordinated by North Vancouver Recreation & Culture.  As part of the program, the pianos are painted by a local community group under the direction of a lead artist.  A focal point at popular gathering places, the colourful pianos are a catalyst for drawing people together and sparking conversations between strangers. They provide a friendly performance platform for pianists of all ages and abilities - inspiring some to pursue a new, or renewed, passion for the piano.
Pianos are located in the following North Vancouver locations during the summer months.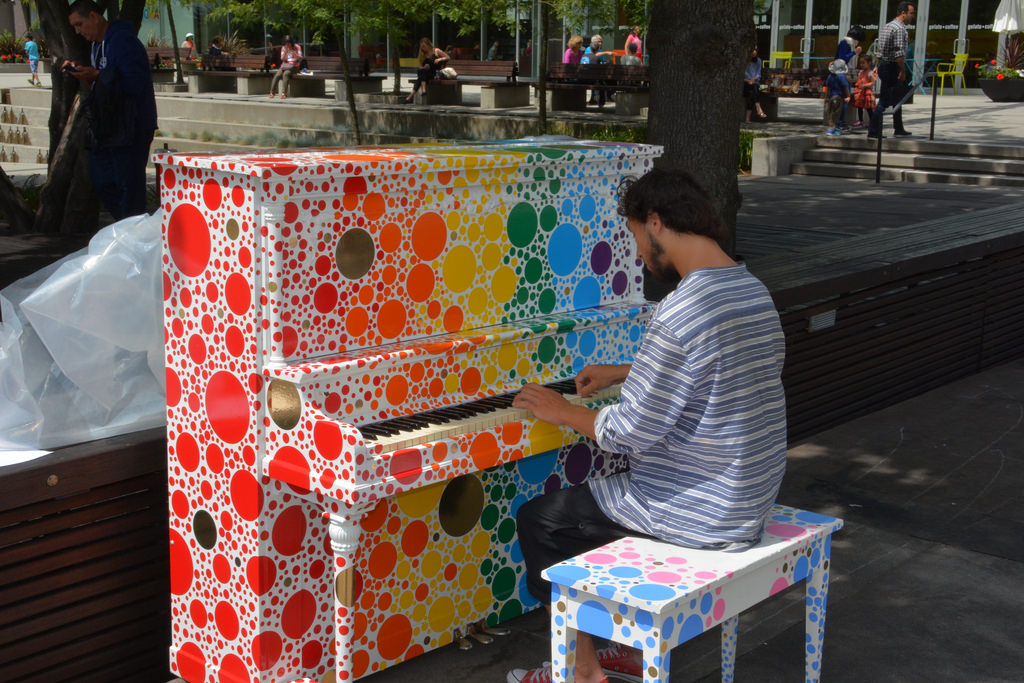 City of North Vancouver, Civic Plaza in partnership with the City of North Vancouver. The Civic Plaza piano located outside City of North Vancouver Municipal Hall was painted by members of the Sutherland SchoolDiverCity Club and CNV's Studio in the City program with lead artists Sam Nygard and Sierra Tasi Baker. The artists saw the piano project as an opportunity to build awareness for LGBTQ+ issues through art.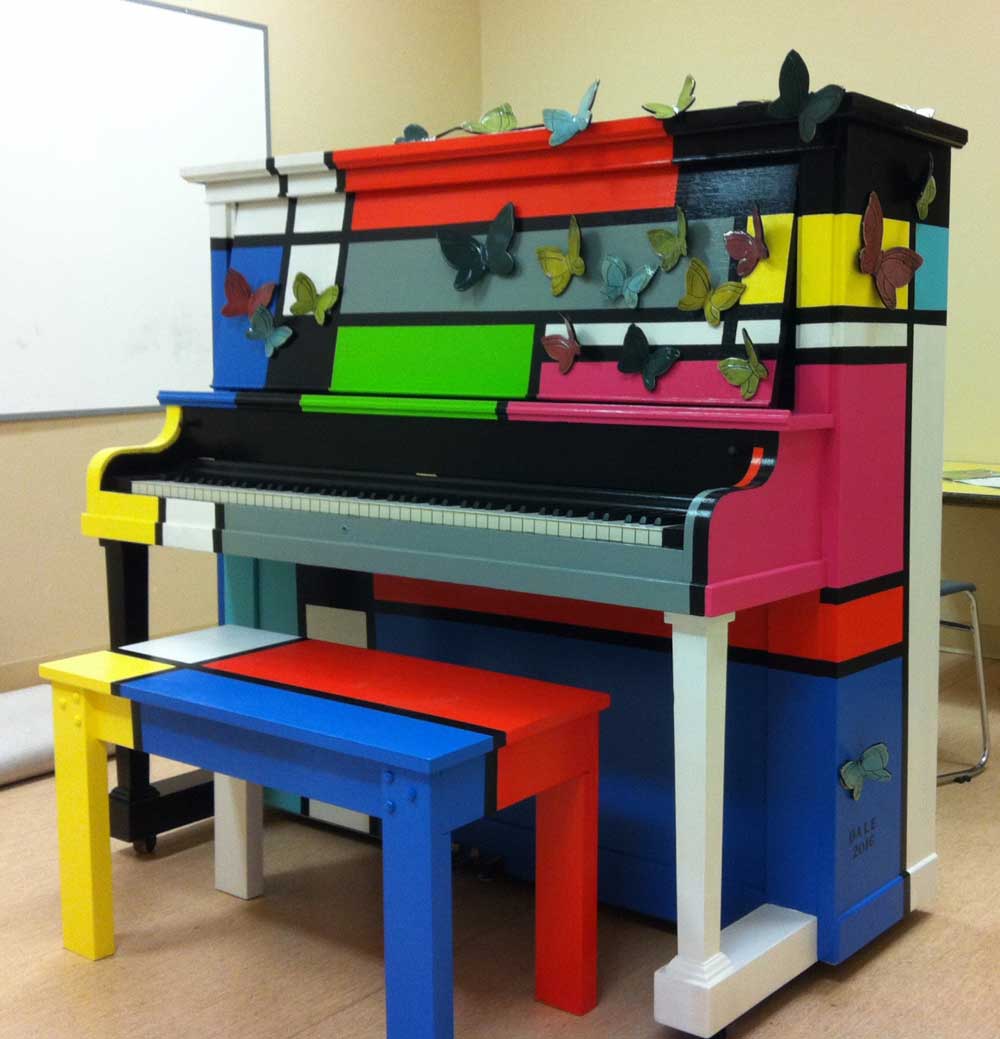 HOpe Centre Blenz Cafe, Lions Gate Hospital, 1337 St. Andrews Avenue in partnership with the Canadian Mental Health Association, North and West Vancouver Region. The HOpe Centre was painted by participants in the Vancouver Coastal Health art and pottery class lead by NVRC art instructor Sharon Grieg. The HOpe Café is a welcoming gathering place for all people, including people living with a mental health condition. A social enterprise that employs people with "lived experience" of mental illness, the Hope Blenz Café is the first of its kind in British Columbia.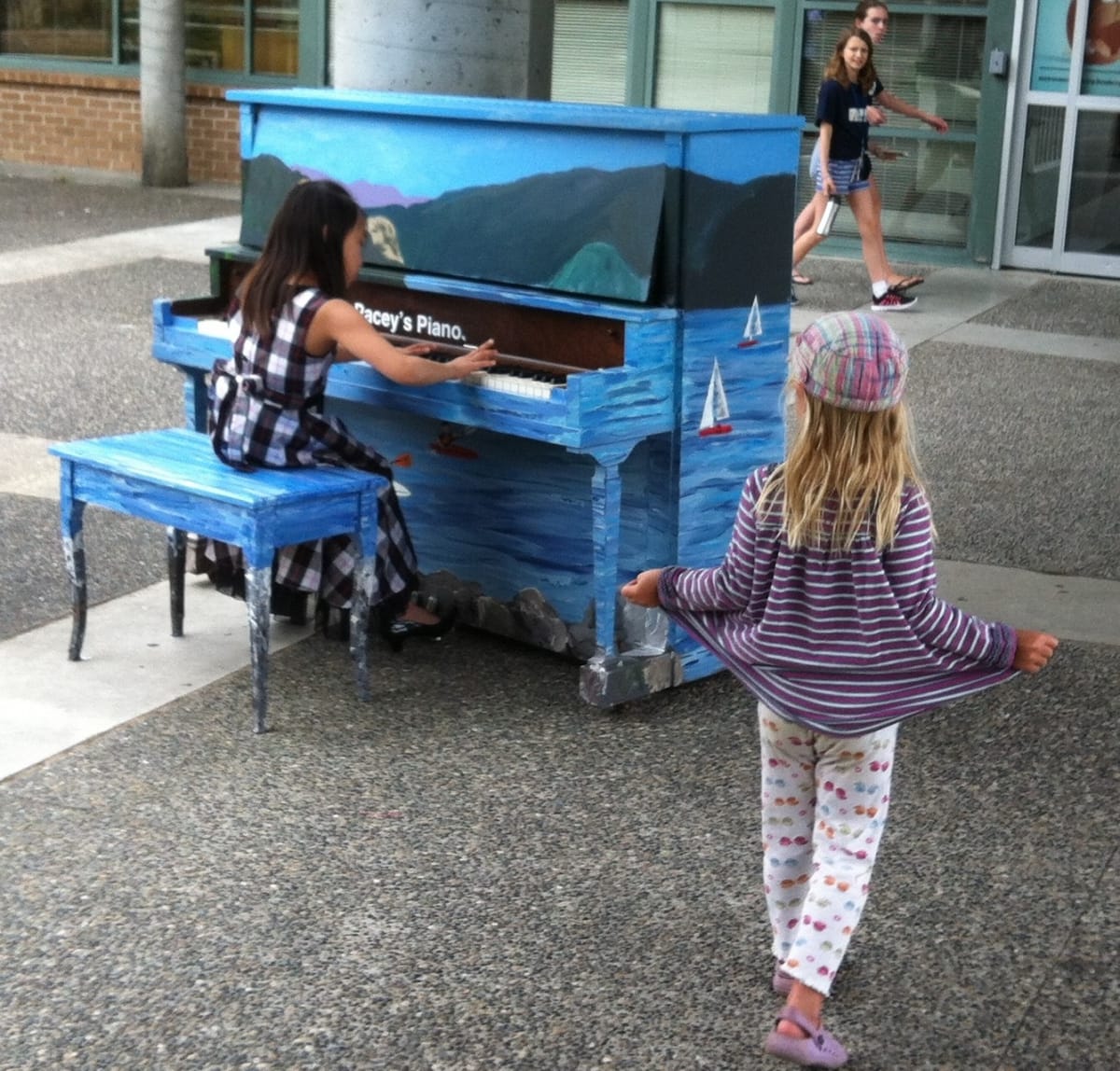 Parkgate Community Centre, 3625 Banff Court in partnership with the Parkgate Community Services Society. At Parkgate Community Centre, the piano painting was led by local artist and NVRC art instructor Maureen Coles with members of My Parkgate Break, a program for individuals experiencing changes associated with mild to moderate dementia. The program offers fellowship, fitness, learning and creative opportunities to support and enhance the lives of each individual and their family caregivers.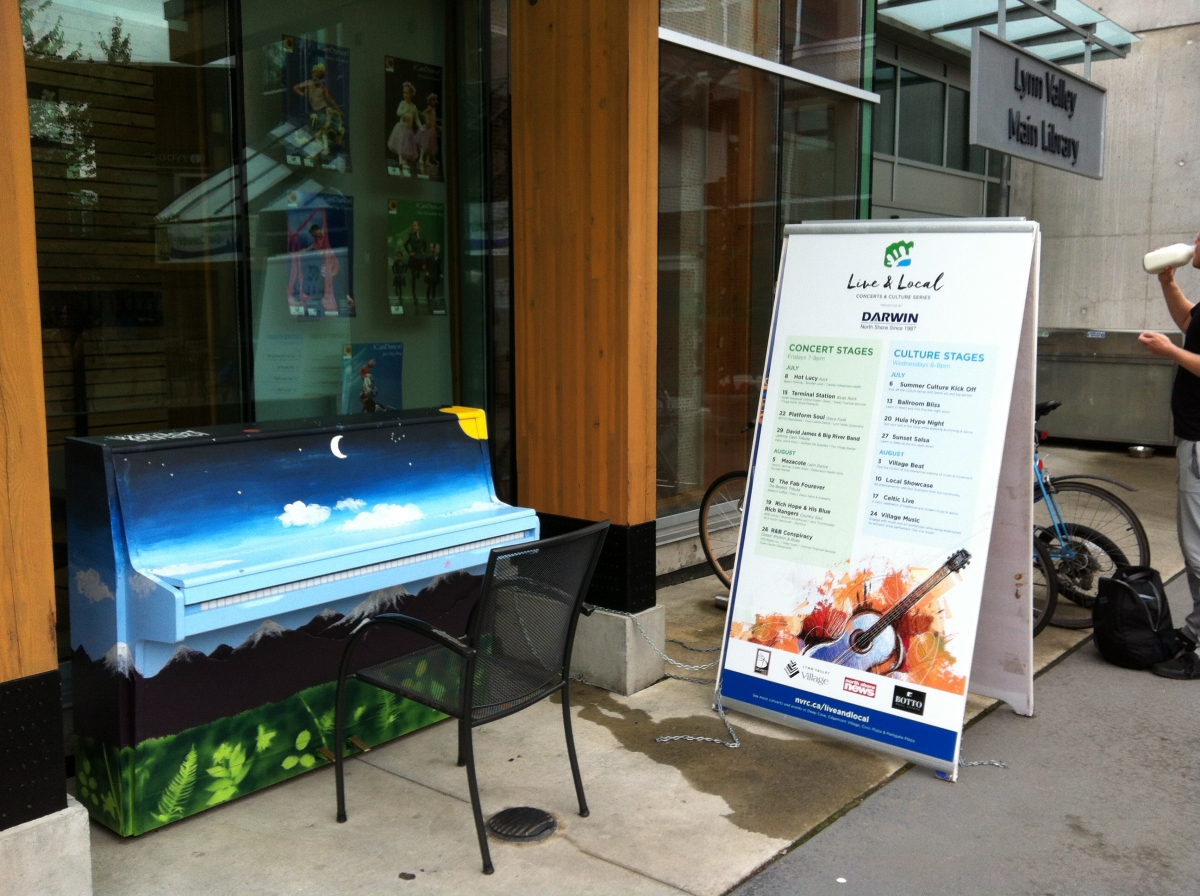 Located in Lynn Valley Village at 1277 Lynn Valley Road, the Village piano was painted by Grade 8 students from the Waldorf School in North Vancouver with direction from their teacher Lori Johnston. The students were thrilled to participate in a project that has great community benefit. The piano is a wonderful accompaniment to the Live & Local activities happening in the Village all summer long.