Induction Year: 1968
Sport: Athletics
Category: Athlete
Biography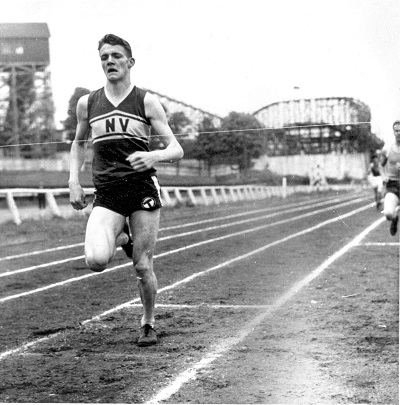 Bill Parnell's fame as a runner began when he won the senior 880 yards event in front of his screaming North Vancouver High classmates at the prestigious Vancouver & District Inter-High School track meet – then held at Hastings Park Stadium on the P.N.E grounds – in both 1945 and 1946 in meet record time. His 1946 clocking of 1:59.0 was the first time the event had been run in under two minutes at the meet and was bettered only twice over the following 18 years. He also won the mile in 1945. All this led to a track scholarship to Washington State where he became an All-American (1951).
He represented Canada in the 1948 and 1952 Olympics, carrying our nation's then-Red Ensign Flag in the opening ceremonies of the latter Games in Helsinki, one of the highlights of his track career.
His most famous accomplishment was winning the gold medal in the mile (and bronze in the 880 yards) at the 1950 British Empire and Commonwealth Games in Auckland in what was then the Games' mile record before Roger Bannister and John Landy bettered it four years later in Vancouver. Bill captained the Canadian team in 1954, taking the athletes' oath in the BE&CG's opening ceremonies at the then-brand-new Empire Stadium.
Bill taught physical education and coached football (1969 BC champions), basketball and track and field at Delbrook High from the day it opened in 1957 until the day it closed in 1977 due to a major fire, followed by 10 years at Handsworth Secondary. He continued to coach at Handsworth after retiring from the classroom, completing a remarkable 50 years of coaching in 2007. 
He was inducted into the North Shore Sports Hall of Fame in its initial year (1968), the BC Sports Hall of Fame (1969) and the Canadian Amateur Athletic Hall of Fame (1977).   
* Photo supplied North Shore Citizen, Len Corben collection