Inspiring by Example
Meet Carolyne – NVRC volunteer and leader
Carolyne understood the power of inspiring role models from a young age. She remembers looking up to her instructors and the volunteers in the skating, swimming and ballet classes she took at North Vancouver Recreation & Culture (NVRC). Now she is giving back to the community by being a role model herself as a NVRC volunteer.
About Carolyne 
Growing up, NVRC was a regular part of Carolyne's life. She took skating lessons at a young age, followed by swimming and ballet classes. Her early exposure to movement and sports helped develop her active lifestyle today and her love of sports. "Besides work and school…I love to play a lot of school sports. I definitely like whatever gets me moving." 
Remembering back to when she used to take lessons, she says she "always looked up to (the) leaders and the volunteers. I always thought they were the coolest." It seemed natural for Carolyne to consider becoming a role model herself when she got older. "I knew I wanted to give the same for others." 
Carolyne has fun memories of her sports classes and lessons and she developed numerous friends at the community recreation centres. "It definitely helped me build a sense of community…and it's definitely a place I still come to see others and spend time enjoying the facilities." 
Giving back to the community 
Last summer Carolyne decided to volunteer with NVRC's summer day camps with children. "We did a lot of day trips (and) we had a great time." She also learned a great deal working with pre-teens, including the need for patience and to "always have a positive attitude and be there for the ones that aren't as happy to be there."
Carolyne enjoys completing the circle of giving and receiving. "It's really cool for me," she says, "to be the one (now) providing the activities and the support and the leadership."
As a busy student at Sutherland School, Carolyne makes volunteering a priority and has clocked around 100 hours of volunteer hours to date. She currently provides one-on-one skating support every Sunday to an eight-year old boy on the autism spectrum. She helps him focus in class so he can pay attention to instruction while having fun. It's been a challenging role for Carolyne as she's developed the nuanced skills of working with children with special needs. "I let him know that I'm there for when he needs the support, but I'm not there to take him away from the class or single him out in front of the other children." She says she has a lot of fun helping out. "He's always excited and motivates me to bring the same energy."
Volunteering is inspiring 
Volunteering at the NVRC has been both challenging and rewarding for Carolyne. She says the varied experiences have allowed her to acquire new skills to adapt to different situations, environments and personalities. In addition, she has been inspired by what she calls the "little moments" when "I see progress in the people that I work with. Seeing them respond to my support and reach beyond their comfort level has probably been the best thing for me."
"What motivates me to continue volunteering is my passion for working with others and knowing that I can help make someone's day a little brighter."
Image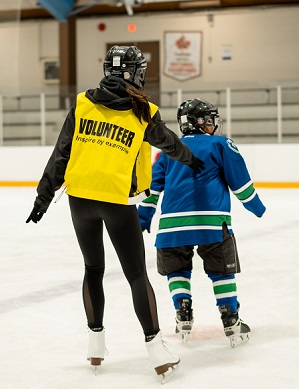 Making a difference in our community
Carolyne encourages other young people to try volunteering. She says it's a great way to meet new people, engage with the community and help others. 
She finds it rewarding to see the kids she helps having fun and enjoys being a "good role model". "I always keep that in mind when I'm interacting with the kids, knowing that they do look up to me." Carolyne has discovered that volunteering not only helps others but also ourselves. "My interactions with everyone around me have helped create the person that I am. I'm learning and growing every day."
Carolyne believes volunteering can create huge impact in the community. "Even the smallest contributions make the biggest differences." 
The NVRC couldn't agree more and is grateful for the wonderful contributions of all its volunteers.