The Ryce Family 
Finding belonging and family fun at community recreation centres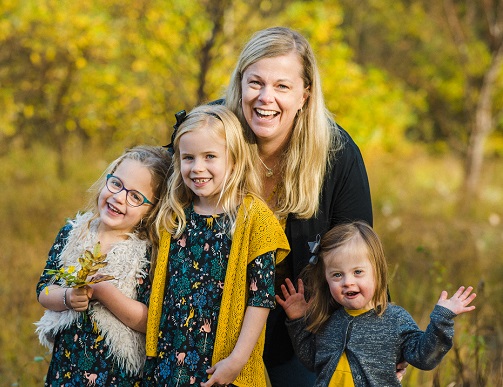 With four kids under ten, Cassandra Ryce is a veteran of North Vancouver Recreation & Culture (NVRC) programs and services.  Together and individually the Ryce family has participated in a wide range of lessons and activities over the past ten years, and the Delbrook and Harry Jerome Community Centres have become like second homes.
Building relationships and inclusion
These days, Cassandra spends most of her time at the pool, as all her children are in swimming lessons.  Over the years, she has built a strong relationship with the Aquatics team and her advice to anyone with kids in NVRC programs is to get to know the staff.
"The staff are so receptive and responsive," she said.  "I feel the aquatic staff genuinely care about my kids and want them to do well. I have such trust in the programs and people."
In particular, Cassandra appreciated the careful support that was provided to her youngest child, Eleanor, when she enrolled her in swimming lessons at Karen Magnussen Pool when she was three.  Eleanor has Down syndrome and other health issues.  Cassandra was concerned she would have to take private lessons.
"As a parent you just want your kids to belong.  It's hard to find programs that are truly inclusive," she explained.  "The staff and volunteers have been amazing, they treat her as just another kid wanting to learn to swim.  This has enabled her to be with her peers and make friends. Swimming has been good for her in so many ways."
All four of the Ryce children, including Thomas, 9; Lila, 8; Audrey, 6 and Eleanor, 5, have enjoyed a range of activities provided through NVRC facilities.  The added benefit of participation has been the opportunity to connect with other families in the community.
"We've met so many amazing people," Cassandra said.  "The kids have made friends, it's been a great experience for all of us."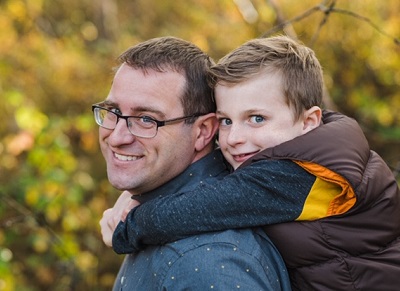 A family tradition
Cassandra and her husband Tim consider NVRC their "go-to place" for family activities. Tim was born and raised in North Vancouver and his relationship with the "Rec Centre" goes back to his own childhood, when he learned to swim and skate at the Harry Jerome Community Centre.  It was natural to bring his own kids to the NVRC facilities.
"We've been involved with NVRC from the beginning," Cassandra said.  "I took my prenatal classes there, I did the Mother and Tot drop-in at Mickey McDougall, my husband works-out at Delbrook, and all four of my kids do programs at the various facilities.  We plan our schedules around the NVRC calendar." 
The Ryce's repertoire of activities includes martial arts, swimming, summer camps, art classes, Pink Petal Ballet and Girls with Grit.  These are just the organized events.  They also take advantage of family programs, going to the weekend public skate and swim sessions.  The summer and holiday Pool & Play Passes, give the kids unlimited access to swimming, skating and open gym time and motivates the entire family to do activities together.   It helps that they live within walking distance of Delbrook Centre.
"It's our place," Cassandra laughs.  "We exercise there, we have activities there, and we spend so much time there. Last summer I had the kids in lessons and we would make a whole day of fun around that.  We walk to Delbrook, then they have lessons.  Afterwards, we have lunch sitting outside on the steps, then walk down the Mosquito Creek Trail.  It's a great day for all of us."
The NVRC has provided the Ryce family a way to connect with each other and with the community they love.  Cassandra looks forward to planning her schedule around NVRC programs and activities for many more years to come.