Current Lobby Gallery Exhibit 
Paintings by Catherine Fields
Catherine Fields Bio
Artist Web Site

Untitled Abstract Tryptich - Acrylic - 90" x 36"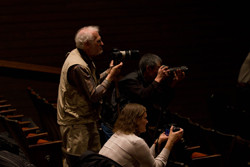 Lobby Gallery - Ongoing Exhibit
Members of the North Shore Photographic Society
exhibit a variety of work by different members in
an ongoing rotating exhibit in the west lobby.
Calls for Artists - See the listings below for Visual and Performing Artist opportunities at Centennial Theatre.
Call for Visual Artists - Theatre Lobby Gallery
Lobby Gallery Exhibit Space
Centennial Theatre invites artists to apply to exhibit two-dimensional works of art in the theatre lobby.  Artwork should be appropriate for all audiences.  Depending on the size of the work, space is available for up to 15 pieces.  Artwork must be stretched with finished sides and properly wired for hanging by theatre staff. Exhibits are generally in place for three to four months. Centennial Theatre will retain a 15% commission on all sales.
To be considered for exhibition please submit the following:
15 jpgs images or a link to an online portfolio and/or website that includes examples of your work.
A list of the artwork to be exhibited indicating: title, medium, size, and price.
Artist's statement and CV, with current contact information.
Please email your submission to Kristin Fraser. kristin.fraser@nvrc.ca
Call for Performing Artists - 'Play, Pie & Pint' and 'Tunes for Tots'
'Play, Pie & Pint' 
Centennial Theatre's popular lunchtime series, 'Play, Pie & Pint', is always seeking new talent. We are looking for 'ready-to-present' shows with spirited and lighthearted themes that will appeal to a general audience of up to 200 people. The shows are approximately 45-minutes in length and can be drawn from a variety of performing arts disciplines including music, dance and theatre. All performances are on Wednesdays at noon. Following each performance, audience and artists meet in the lobby to enjoy a delicious hot pie and beverage.
'Tunes for Tots'
Tunes for Tots is a fun and interactive introduction to music and dance for preschoolers in the Centennial Theatre Performance Studio. We are looking for children's performers from a variety of cultural backgrounds to engage and inspire a very young audience. The audience capacity is up to 70 pre-schoolers and their caregivers. All performances are on Tuesdays at 10:00 am in the Centennial Theatre Performance Studio.
Seasonal performances run in September, October, November and January, February, March and April. 
Important Information:
Your performance should be ready to present. Pre-show sound/lighting check is available on the morning of the performance.  Advance rehearsal time is not available.
Sound and lighting technical support is provided.
A modest honorarium is offered to the artist or group.
Only those artists selected will be contacted, however all applications will be kept on file for future consideration.
Please email your submission to kristin.fraser@nvrc.ca and include the following information:
Contact information: name/organization (if applicable)/website/facebook/email/phone.
Artist biography or organizational profile (100 words max).
Show title and description (provide a brief description and include links to online video clips of past performances -100 words max).
Availability - please indicate preferred month(s) and specifically availability on Tuesdays and Wednesdays.
Has this show been performed previously? If so, please provide dates and locations.
What are the technical requirements? (sound/lighting) Does the show have scenery, props or backdrops? Number of performers/crew? Anticipated set up/take down/load out time?
Centennial Theatre contact:  Kristin Fraser  604 983-6450, kristin.fraser@nvrc.ca