Current Lobby Gallery Exhibit 
Paintings by Catherine Fields
Catherine Fields Bio
Artist Web Site

Untitled Abstract Tryptich - Acrylic - 90" x 36"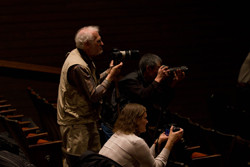 Lobby Gallery - Ongoing Exhibit
Members of the North Shore Photographic Society
exhibit a variety of work by different members in
an ongoing rotating exhibit in the west lobby.
Calls for Artists - See the listings below for Visual and Performing Artist opportunities at Centennial Theatre.
Call for Visual Artists - Theatre Lobby Gallery
The North Vancouver Recreation and Culture Art Display Program is designed to encourage emerging artists, solo and groups, to exhibit their artwork within public facilities.  Preference is given to North Shore based artists, yet all artists are encouraged to apply. Our goals are to:
Encourage the pursuit of lifelong learning
Create opportunity for artist to connect with their community
Promote cultural awareness and dialogue
Showcase the wealth of creative talent in North Vancouver
North Vancouver Recreation and Culture Facility Art Display Opportunities are located at 4 facilities throughout North Vancouver: Delbrook Community Recreation Centre, Parkgate Community Centre, Ron Andrews Recreation Centre and Centennial Theatre. The current Theatre  exhibit runs through through January, 2022. We welcome submissions requests for displaying your artwork. 
NVRC will be overseeing the program which is free of charge. The work will be adjudicated by the NVRC Cultural Services Staff and selected artists will be notified. Selected displaying artists will be directly responsible for any purchasing inquiries and sales. For more information, artists are welcome to email: art-display@nvrc.ca 
Artists are welcome to apply using the Application Form and/or email information to include your name, address, up to 5 images (max size 1 mb .jpg format) of your artwork, or link to an online portfolio and/or website that includes examples of your work. Please indicate where you have previously exhibited. 
For more information email: art-display@nvrc.ca.  
Further Questions
Please reach out to Neil Scott, NVRC Centennial Theatre and Arts Supervisor, 604-983-6455 or email neil.scott@nvrc.ca