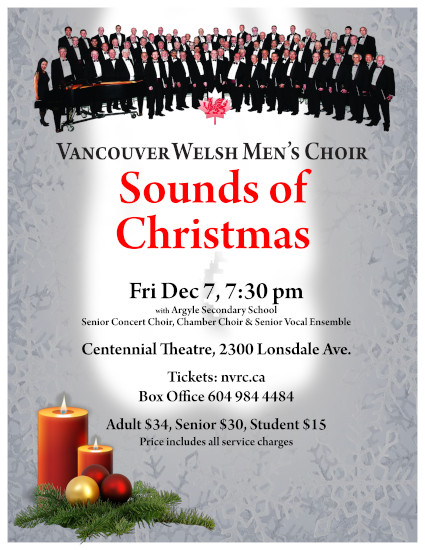 The Vancouver Welsh Men's Choir was formed in 1980 by Welsh singing enthusiasts, and is now one of Canada's largest non-profit male choirs with close to a hundred singers of diverse ethnic backgrounds. 
Its signature concerts each Christmas season take its uniquely thoughtful musical repertoire to audiences throughout the Greater Vancouver area and Fraser Valley. The mature male voices of the choir bring a deeply emotional resonance to how we think about Christmas, and they can't resist having a bit of fun while they're at it.
The choir tours provincially each year; internationally about every three years. The choir maintains a Welsh singing tradition within a varied repertoire of folk songs, spirituals, show tunes, and Canadiana.
VWMC has toured Europe, the U.S., United Kingdom, Russia, Australia and New Zealand. It represented Canada at Canada's Expo 86, Australia's Expo 88, Holland's End of WWII Liberation Day Celebration in 1995, the founding of St.Petersburg 300th Anniversary celebrations in Russia, and a Millennium gala concert at Royal Albert Hall, London.
It returned to UK in 2012, touring England, Wales and Scotland with a mass choir finish in London to celebrate the Olympiad. In 2017 it toured France, Belgium and Netherlands to honour the fallen, performing at Vimy Ridge, Menin Gate, Juneau Beach, delivering memorable charitable concerts along the route. Memories of this tour were vividly refreshed in this year's Remembrance 2018 concerts with the 15th Field Artillery Band, RCA.
Consummate professionals Music Director Jonathan Quick and Accompanist/Assistant Music Director Karen Lee Morlang ensure that VWMCs male amateur vocalists experience and deliver the joy of singing, from the heart.
The choir produces CDs of its music, available at concerts and online at vwmc.ca