Recreation and culture are vital to North Vancouver becoming the most vibrant, diverse, active, creative and connected community.
 
Living Our Vision
This is our NVRC story...  told through the voices of our participants, volunteers and staff.
It is the story of how we help residents reach their personal goals, pursue their passion and live a healthier, more inspired and connected life.
It is a story about our community and how together, we're changing lives.
Improving Health & Wellness
The Transformation of Stuart Cameron
Better health, better fitness, better life!
When Stuart Cameron retired at the age of 60 he was 300 pounds and dodging his doctor who wanted to put him on medication for high blood pressure and cholesterol.  As he ran out of breath walking a block to the bus, Stuart knew he needed to take action.  Sixteen months and almost 150 pounds lighter, he's training for a triathlon and feeling better than ever. 
Inspiring Creativity
Finding Joy in Art & Active Living
Meet NVRC blogger and potter Wiley Ho
"Right now I'm a little bit obsessed with clay. I've been playing with clay at the Delbrook pottery studio for a number of months, taking beginner classes and working on my pieces. The pottery studio manager welcomes everybody, beginners and experts alike, and we get to play with clay and make cool things.  I think creativity is very natural for all of us. For me, art is about self-discovery that happens when you do something new or difficult. At the end of it you you feel a sense of accomplishment and you've made something."
Connecting Our Community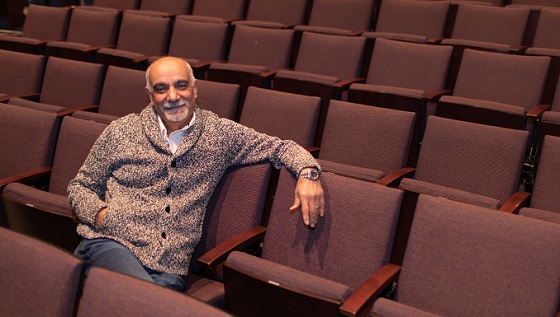 Community Builder Ali Motallebi
Bringing cultures together at Centennial Theatre
Ali Motallebii is a community leader who has brought the richness of Persian culture to life on the North Shore, by promoting Persian musical acts and cultural events at Centennial Theatre. He believes the theatre has brought his community closer and is grateful to have this large performance space right here in North Vancouver. He loves the cultural diversity of his community and says, "Here, I've experienced the best quality of life for me and my family." 
Creating Inclusion
Karen Harmon's Fitness Journey 
Reaching the hard to reach
Karen Harmon has a passion for fitness.  It helped her overcome her own struggles and led to a career teaching fitness to thousands of people in North Vancouver including many residents who didn't feel comfortable in a fitness class at first.  In this video, Karen shares stories about the transformative power of fitness as she recounts her own journey and the changes she sees in her fitness class participants.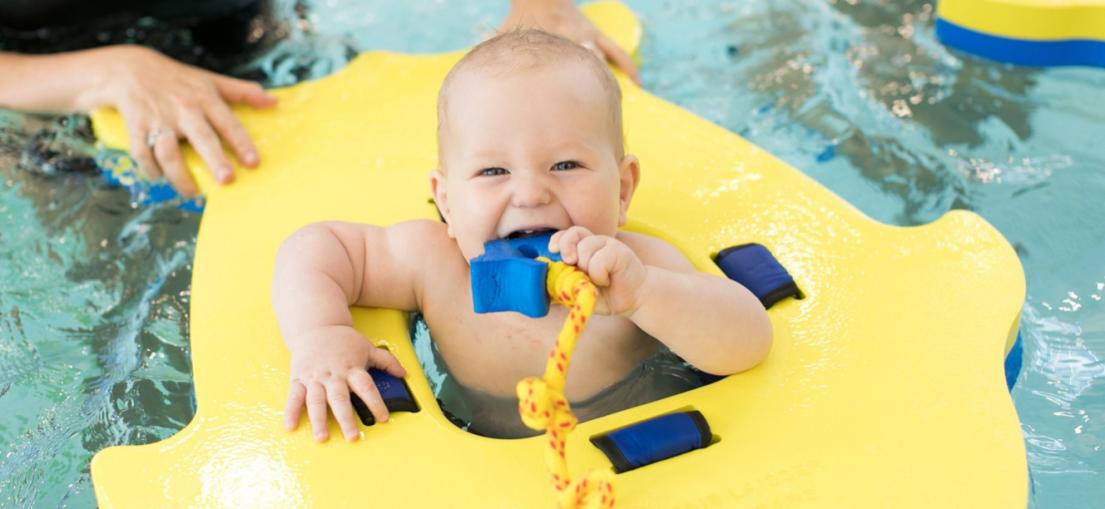 A Lifetime of Participation
We support the community's health, wellness and creativity through every stage of life. From prenatal fitness to painting for seniors, our aim is to ensure everyone in the community has access to quality recreation and culture opportunities.
For young children, we provide opportunities to grow, learn, move and create, first with their families and then on their own.  Once they enter school, we teach and encourage our kids to improve their physical literacy and arts appreciation through many learn-to and play programs.  Our teens are welcome in our youth centres and youth programs to connect with others and be supported as they navigate their way to young adulthood. 
For adults and families, we offer a wide range of programs, services and events for pursuing their health, wellness and creativity and connecting with community.  And for older adults, we, together with our service partners Parkgate Community Services Society and North Shore Neighbourhood House deliver programs and activities to support their active aging, arts and culture interests and social connections.
Teaching and Encouraging our Kids
A Hero For All Ages
Meet 12-year old Arta – aspiring lifeguard and community champion
Once scared of the water and ice, Arta  overcame her fears and learned to swim and skate with the help of NVRC instructors. Now at 12 years old she loves sports, "adores" swimming and can't wait to train to become a lifeguard.  She understands it takes a positive mindset, hard work and perseverance to achieve her goals.  An excellent student, Arta also values community and giving back.  Arta is an inspiration to all those around her, including NVRC staff who are proud to be part of her journey.
Building a Dream
Fit to Dream Big
How Aaron Skye's fitness journey is leading him to elite-level lacrosse
Aaron Skye has a dream: To play professional lacrosse in the National Lacrosse League. It's a dream inspired by a long family legacy. He has dedicated himself to being the best player he can be, by training hard at John Braithwaite Community Centre and taking his fitness seriously.   Aaron encourages others to follow his lead. "I think young people should get into fitness, get active, see their progress and keep going."
Finding Belonging and Family Time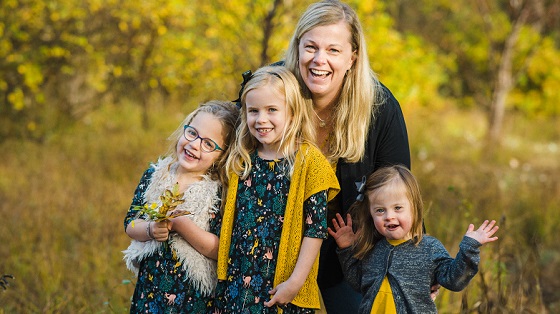 The Ryce Family 
Active together at community recreation centres
With four kids under ten, Cassandra Ryce and her husband Tim are veterans of North Vancouver Recreation & Culture (NVRC) programs and services.  Together and individually the Ryce family has participated in a wide range of lessons and activities over the past ten years, and the Delbrook and Harry Jerome Community Centres have become like second homes. The NVRC has provided the Ryce family a way to connect with each other and with the community they love.  
Staying Active and Connected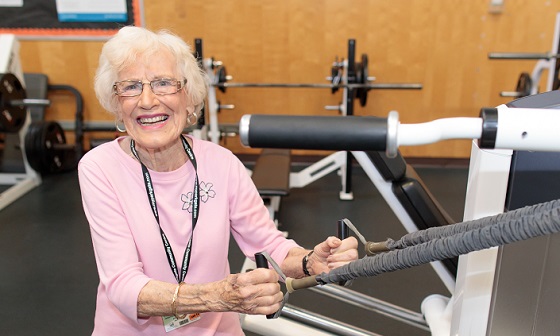 Meet 96 year-old Violet Jordan
Advice on leading an active and happy life 
Vi has been attending a Circuit Training Class twice a week at Parkgate Community Centre since it opened 19 years ago. The class has kept her strong and mobile. She believes the centre also helps people stay more socially connected. "It's wonderful to be able to come here to meet people and participate in activities.  Everyone likes it here."