Dedicated to helping others
David's story
Image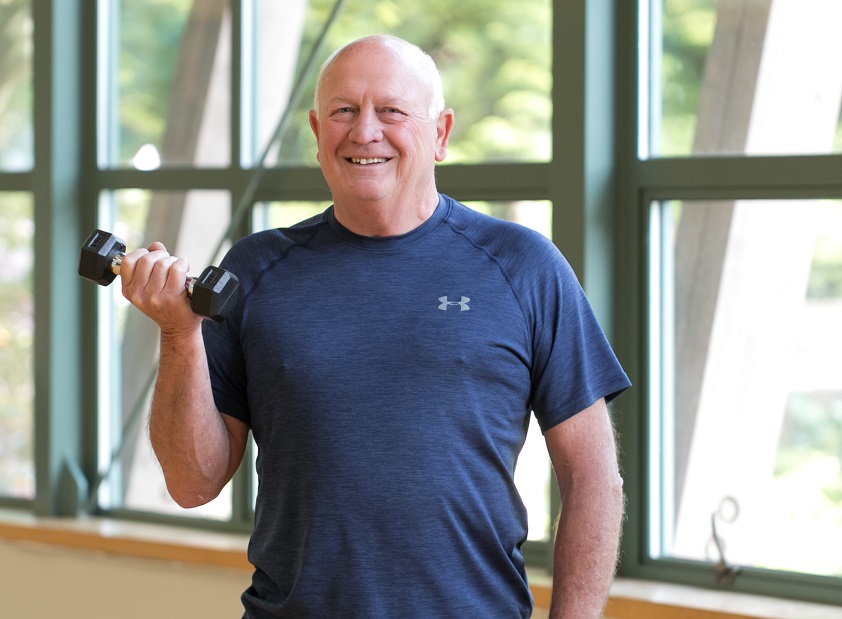 David Warren is an active senior and a committed volunteer dedicated to helping others and promoting the benefits of NVRC's Cardiac Rehab Program.   He knows first-hand how regular supervised exercise in a supportive environment can help improve your health and quality of life after a cardiac incident or illness.
David's Story
As a fit person and avid hiker, David was surprised to find out 10 years ago that he had a number of blocked arteries. It happened one day when in his garden, he was suddenly out of breath and not feeling well.  A trip to the doctor quickly led to surgery to open up the blockages.  After undergoing bypass surgery he joined the Cardiac Rehab Phase 1 & 2 program at Lions Gate Hospital to aide his recovery.  He later 'graduated' to the community based Cardiac Rehab Program Phase 3 & 4 offered by North Vancouver Recreation & Culture and he's been a committed participant and volunteer leader of the group ever since.   
David's Inspiration
As a young 70 year old, David's inspired by the older people who participate in Cardiac Rehab.  One couple in particular are his role models. "They're 85 and 82 years old and they are very active with sports and exercise 5 days a week as well as busy with their grandchildren – I hope to be that active when I'm their age."
David's Invitation 
"It's the best program on the North Shore by far and the only one that is specifically for the heart," said David.  The physical and social benefits are why he is a community champion for Cardiac Rehab.  He appreciates the class schedule that keeps him focussed and accountable and has made many lifelong friends. David wants to invite community members who are dealing with heart disease and/or cardiac incidents to check out NVRC's Cardiac Rehab Program and discover the benefits!
How Cardiac Rehab Works
The Cardiac Rehab Program Phase 3-4 is a maintenance program designed for graduates from a clinic based program, those with a history of heart disease who are currently stable, or for those at high risk for heart disease. It focuses on building cardiovascular endurance, strength and flexibility.  Cardiac Rehab provides a regular exercise program and routine through its class format plus time in the weight room for individual exercise.  And it's supervised by an exercise physiologist.  Participants purchase a special NVRC Specialty Membership that covers the cost of the classes while still providing all the benefits included in a NVRC fitness membership (unlimited access to 6 major community recreation centres weight rooms, pool and rinks plus drop-in fitness classes).  Participants can participate in classes and supervised weight room times at Parkgate Community Centre, John Braithwaite Community Centre Ron Andrews Community Recreation Centre and Harry Jerome Community Recreation Centre.