Meet Dawn Wimbles
Building relationships for 30 years at NVRC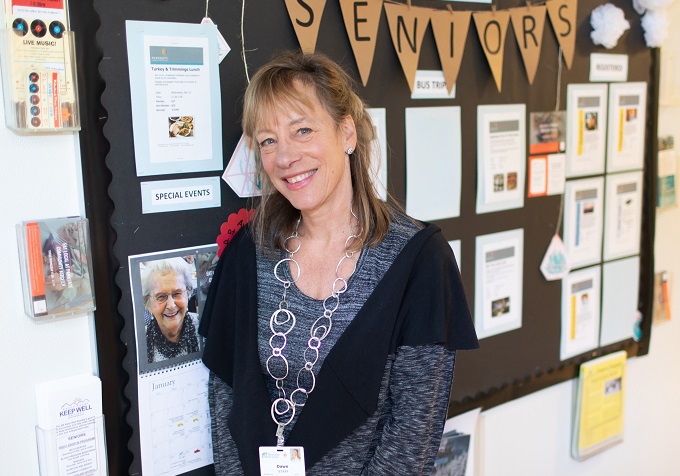 After almost 30 years of working with North Vancouver Recreation & Culture (NVRC), Dawn Wimbles still loves her job.  Currently the Recreation Facility Clerk at Parkgate Community Centre, she enjoys coming to work every day, connecting with customers and listening to their stories.  
Dawn started her career with NVRC as an instructor and lifeguard at William Griffin pool.  It was a part time job that changed the trajectory of her life.
"I was working at a bank, but moved back home to look after my mother who was ill," Dawn explained.  "We lived close to William Griffin, so it was easy to work there, spend time with my mother and then go back to school to study recreation.  At 29 I was the oldest instructor/lifeguard at the pool!"
And now, years later, Dawn is a much valued team leader providing service, support and encouragement to community members at the centre.  
Embracing a healthy lifestyle
"Exercise is so important to the mind and body," she explained.  "We live in an age where technology is moving so fast.  We forget to focus on our physical and mental health.  They go together.  I try to be an example and show people that it works."
In addition to being a road cyclist and swimmer, Dawn has done half marathons.  She loves running the local mountain trails with her running group, the NS Lemmings.  Dawn realizes that not everyone embraces a healthy lifestyle the way she does.  That's why she pays attention and listens to the people who come into the centre, making sure they feel welcome and encouraged to come back again and participate.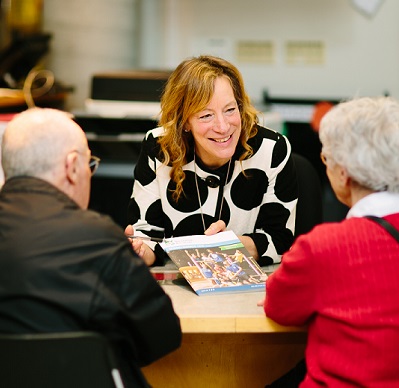 Amazing transformations
"I've seen some amazing transformations over my time here," she said.  "I've seen many teenagers who may be misfits and have behaviour issues. They come here to hang out or maybe go to the youth centre.  I gravitate to these youth because I know how valuable our facilities and programs can be for them.  Over the years, I've seen them come back.  Later, to work out in the gym and get fit, then with their girlfriend or boyfriends and eventually with their partners and young children.  It has been wonderful to be part of their journey."
Seniors have a special place in Dawn's heart, especially now that she's at Parkgate where there is such a large senior's population.  "This centre serves as a community hub," she explains.  "There is a real sense of family here.  People come for a program and make new friends, then they start going for coffee.  I love watching these connections happen."
There is one special couple she met when she worked at Ron Andrews Pool.  Bruce, now 89 and Shirley, 88 went to Ron Andrews five days a week to swim.  Dawn would greet them each morning at 7:30am, Bruce would joke about the irony of her name and the time of day.  They became friends and are now like family.  
"I met them when they were in their sixties," Dawn said.  "They swam, hiked and cross country skied. They are like adopted parents to me now.  Shirley still swims at Ron Andrews five days a week and I still see her and Bruce regularly."
It's about respect and caring
Dawn is really committed to making every customer's experience a great one. "This is what I strive for on a daily basis.  Being reliable, building relationships and being responsible," she said.  "It just boils down to being respectful of one another.  I was raised to respect my elders, family, and friends and to care about my community."
With a job that aligns with her values and lifestyle, it's no wonder Dawn makes such a great staff and community member.