In the Spring of 2014, an open Call to Public Artists was widely circulated inviting artists to submit proposals for artworks to be included in the new Delbrook Community Centre.  In response to the Call, 64 artists from across Canada and the USA submitted expressions of interest.  As per the District of North Vancouver's Public Art Program protocols, an official Public Art Selection Panel was formed to evaluate the submissions based on established criteria. 
After careful deliberations,  the following artists and artworks were selected:
Artwork: Close to Nature's Heart
Artist: Mia Weinberg
Location: Interior Main Floor & Exterior Entrance Plaza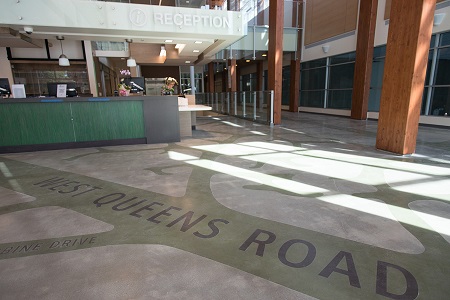 Mia Weinberg's Close to Nature's Heart transforms the floor surface of the main lobby level and adjoining exterior plaza into a giant canvas for her artwork. A unique cement skimming process was used to embed the image of a magnified leaf skeleton complete with stem and veins across the polished cement floors. The artwork literally invites visitors to "come in and play" as many of the leaf veins display the names of local streets. For newcomers to the facility, the street names provide a subtle and beautiful visual prompt to navigate through the space. The artist hopes that visitors will see the streets where they live as vitally connected and part of a living thriving organism that draws its strength from each of its individual parts.
About the Artist
As an artist specializing in site-specific public art projects, Mia Weinberg is driven by the belief that art has the potential to make us more present and engaged in our world. Born in London, England, she moved to Vancouver in 1987 and graduated from Emily Carr University in 1994. Since that time her work has been exhibited across Canada and internationally. Her art practice explores the interplay between the natural environment and the places where we live, our personal memories, and our collective civic and cultural stories. 
"My hope is that my work will help the viewer become re-enchanted by the truly marvelous in the everyday."
Artwork: Hydrosphere
Artist: Michele Gutlove
Location: Entrance Atrium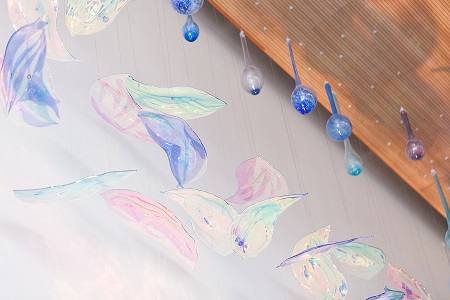 Hydrosphere, from Greek ὕδωρ - hydōr, "water" and σφαῖρα - sphaira, "sphere," describes all the water found on, under, and over the surface of a planet.
Michele Gutlove's "Hydrosphere" is a sculptural celebration of the water cycle and light in the Pacific Northwest.  Pure rain water, flowing rivers and harbors, are illuminated by the sky that changes from daytime azure-cyan to violet twilight afterglow.
The raindrops are blown glass, formed from 2100ºF molten glass, which was manipulated with human breath and gravity as it cooled.  The river glass pieces were kiln-formed from cold glass which was manipulated as it was heated to 1500ºF.  In a vacuum chamber, microscopically thin layers of mineral oxides were grown on surfaces of the glass to create the optical phenomenon called thin film interference.
Glass Art and Concept by Michele R Gutlove of Design StudioGH, with Christina Altieri, Glass Blower
About the artist
American artist Michele Gutlove has been working with glass for over 20 years. Her formal education in architecture provides her with a strong foundation in structural engineering, solar energy and day lighting.  As a visual artist, Gutlove possesses a passion for the interplay of colour and light and she uses her abilities and experience to communicate design intent into her glass installations. She believes that one of the chief functions of public art is to engender a deeper interaction with a place by the people who visit, work and play there.
"I make art to celebrate light – glass sculpts light as light sculpts space."
Artwork: Salmon Cycle
Artist: Bruce Voyce
Location: Entrance Landscape  
Bruce Voyce's Salmon Cycle is an interactive water sculpture that celebrates the extensive salmon habitat restoration work that has rejuvenated nearby Mosquito Creek.   Aware that salmon have learned to use fish ladders, the artist playfully envisions what it would be like if they could ride bicycles.  Visitors are invited to turn the sculpture's steering wheel and see how its connected to the facility's sustainable water collection system that directs runoff water to the surrounding garden landscape. By whimsically combining nature with humanity, Salmon Cycle reminds us of the interconnectivity of all living systems.
About the artist
For Vancouver-based artist Bruce Voyce, visual arts and ecology have been an integral part of his life since childhood. He recognized the transformative power of art when he began sculpting during an extended stay in the hospital. His early studies in Italy and later at Capilano University allowed him to develop processes for creating large scale works. His artistic practice has evolved to embrace public art and the creation of works of art that enrich our common spaces. 
"By exploring the interface between nature and humanity, public art can shape our shared spaces into places of inspiration and connection."
Daniel Stratten was the lead fabricator for this project and the founder of Think Industrial. He is a Red Seal Millwright with over 2 decades of experience building machines for factories and kinetic art sculptures for the public.