Meet Gail Roxburgh
What's good for your health is good for your brain
Image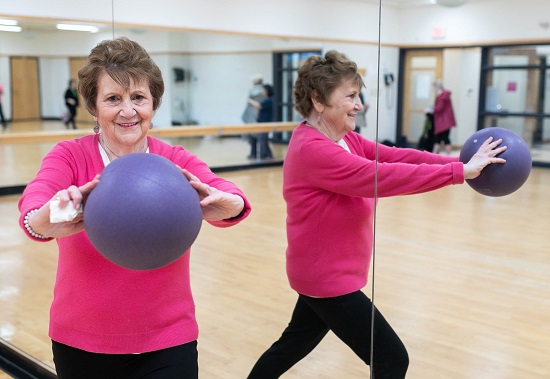 Meet Gail Roxburgh, a local leader and educator on brain health who is making a difference on the North Shore.  At 77 years young, she is a busy fitness instructor and tireless advocate for active aging and brain fitness.  
A passion for fitness and helping people
When Gail was in her fifties, she needed to make some changes in her life.  She wanted to get back in the workforce and wasn't sure where or how to start.  She began taking fitness and boxing classes at North Shore Neighbourhood House (NSNH) where her passion for fitness and helping others emerged.   She credits NSNH with helping her start a new and more rewarding life, "I felt like Neighbourhood House was my home away from home. It was there that I discovered my confidence, first as a volunteer and later as a staff program worker."  
At the same time, Gail was inspired by North Shore Keep Well's fitness instructor Andy Demeule.  He was teaching at NSNH and became Gail's mentor, encouraging her to learn to teach fitness.  She became a certified group fitness instructor, weight training instructor and then later a personal trainer and has been teaching fitness with North Vancouver Recreation & Culture for over 16 years.  
The path to brain fitness
When a close friend developed dementia, Gail realized there were no programs for people dealing with memory impairment. So she learned everything she could about Alzheimer's and dementia and the role exercise and activities play in helping to preserve and sharpen mental function.  
"When I started, I had no idea about dementia or Alzheimer's and then I began really figuring out where I could take courses and start working with people with dementia. Also, I'm a fitness instructor so both of them kind of work together because fitness is such a big part of everybody's life with dementia," said Gail.
Her journey led to her become certified as a Cognitive Fitness Facilitator and develop and lead special classes for brain health and exercise at a number of community centres across the North Shore. Gail has taught Memory Games for Body, Balance and Brain through North Shore Neighbourhood House at John Braithwaite Community Centre; Alzheimer Society B.C.'s Minds in Motion at Mollie Nye House and West Vancouver Seniors' Activity Centre; and led fitness activities in the My Parkgate Break Program run by Parkgate Community Services Society. Additionally, she has led a number of educational workshops for other instructors and professionals working with seniors.
Image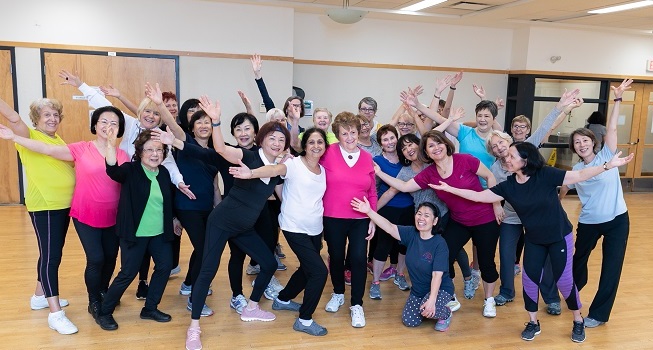 "In all of my classes, I encourage people to become aware of their brain health and how exercising is one of the best things they can do for both their physical and mental health. Studies are now showing risk factors that can lead to heart disease and stroke can also contribute to some forms of dementia. We never hear people saying: "I am going to take my brain for a walk," but hopefully one day people will realize how important that is," said Gail.
Mind & body fitness
Gail stays up to date on research into brain health and incorporates the latest strategies into the Mind & Body Fitness class she teaches through North Shore Neighbourhood House at John Braithwaite Community Centre. The interactive class is specifically designed for people living with early stage dementia and their caregivers and includes mild exercise, fun games and creative activities. The main goal of the program is to focus on and strengthen the physical and mental abilities that the participants with early stage dementia already have. Participants can attend on their own or with a caregiver.  The intake process for the program includes a short screening interview to ensure a good fit for the individual.
In 2015 Gail published a book titled, Memory and the Aging Brain. It includes valuable information and resources for preserving and improving physical and cognitive health and memory.  In it she writes, "It's never too late to make changes, even if you are living with an age related disease.  Exercise can improve your physical and mental health and what's good for your heart, is good for your brain."
Gail's recipe for a healthy and "memorable" life
When dealing with life's challenges, Gail's advice is to never give up. She knows first-hand that changing our lives can be hard to do on our own.  She encourages people to visit their local community centre or neighbourhood house and volunteer as a great way to build skills and connect with others.  Finally, when it comes to brain health and memory, Gail is the first to invite people to get moving and get active with one of the many programs that promote and support brain fitness.
For more on the Mind & Body Fitness class at John Braithwaite Community Centre, call 604-987-PLAY(7529).