Commitment to Sport and Community
A winning combination for Special Olympian George Doykov
Image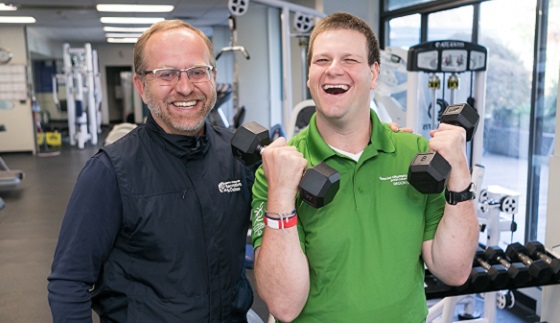 With multiple medals and countless hours of community service, George Doykov fills his life with friendship, fitness and adventure.  The 34 year-old Special Olympian and community volunteer has benefited from and contributed to many NVRC services and supports over the past 15 years, and even received the Duke of Edinburgh Award, recognizing community service, personal skill development, physical recreation and an adventurous journey.
A passion for running and jumping
George's adventures began in Bulgaria, where he was born, but his love of sport and community took off when he moved to Canada 14 years later.  He and his mother, Tanya, felt fortunate to have access to so many programs and services in North Vancouver.  George started competing in the Special Olympics when he discovered his passion for running and jumping, and turned to NVRC Fitness Centre Supervisor, Rob Wynen to help him build strength and shave time off his runs.  "I feel stronger since doing the personal training with Rob," said George.  
Image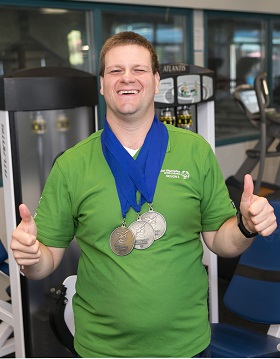 His training and commitment paid off.  George has three gold medals from the 2017 Special Olympic Games in Kamloops along with one silver and one bronze medal from the 2018 Special Olympics Canada 2018 Summer Games in Antigonish, Nova Scotia. While he is proud of his medals, George emphasizes the biggest win is the many friendships he's made with people from all over Canada.  "I love meeting all the nice people and making so many friends," he said.
Connections, caring, commitment
When he's not training for a competition, George directs his positive energy back into his community.  He volunteers three days a week with the Harvest Project and helps with the lunch program at the John Braithwaite Community Centre.  In his spare time, this inspirational individual enjoys swimming, bowling and Bollywood dancing!
George's strong connection to his community and commitment to others has proved be a winning combination.  The NVRC continues to play an important role in his adventurous journey.