Creating a dementia friendly community
Meet community crusader Helen Murphy
Image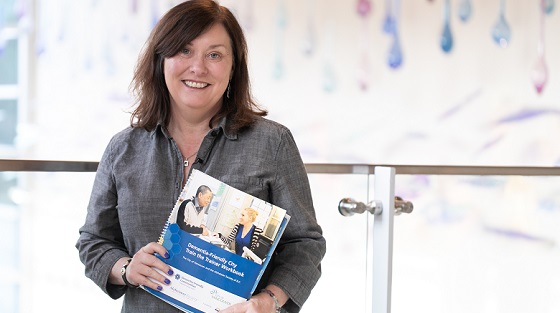 "Why are we here, if we don't try to make a difference?"
This is the call to action from Helen Murphy, one of our community's finest champions for making the North Shore an inclusive and dementia-friendly place. She provides training to North Shore municipalities and organizations including NVRC to become dementia-friendly, and she volunteers tirelessly to create new programs to support people living with dementia. 
The rise of dementia
An estimated 70,000 people in BC are living with some form of dementia, and this figure is expected to double by 2031. A dementia diagnosis can lead to social withdrawal due to psychological, social and physical barriers. There is a profound need, therefore, to create dementia-friendly communities. People with dementia and their caregivers benefit from awareness programs, education, training and community support.
Helen's story
The Irish are known for their passion and tenacity, and Helen Murphy embodies both of these qualities in spades. She works and volunteers tirelessly in our community for Alzheimer's and dementia education, outreach and support. 
Helen's love of elders started with her own grandparents, with whom she lived growing up. She never forgot the words of her grandmother, who was a community midwife and someone she greatly admired: "We can always do something. We can make a difference." 
Helen's Auntie Babs had dementia. Helen recalls being frightened by the illness and then being inspired to help people with dementia lead the best lives possible. 
Having worked as a Recreation Therapist in a Day Program in Ireland and as Activity Director for an elder residence in Vancouver, Helen is passionate about community outreach and programs that create positiv¬e impacts for those living with dementia and their caregivers. 
Training the community for dementia-awareness
Trained by the Alzheimer's Society to recognize and support people living with dementia, Helen now provides training for North Shore organizations to train its own staff as part of the City and District of North Vancouver and West Vancouver's Dementia-Friendly North Shore Action Plan. Helen is a strong supporter of community recreation centres as "safe and inclusive places for everyone in the community".  
Image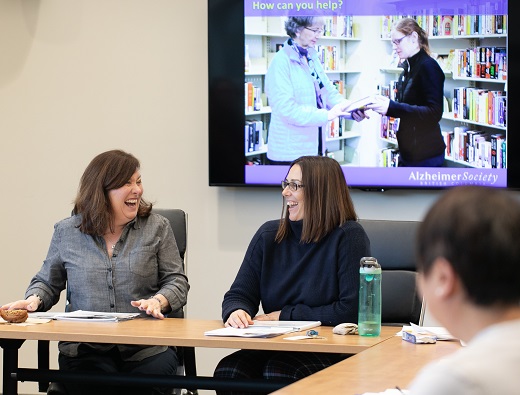 NVRC has several staff who have become Dementia Friendly Trainers and are focused on training fitness centre supervisors, aquatic supervisors, many programmers and volunteers. Those who have undergone the training are better able to notice community members with dementia and to support them for continued participation in NVRC programs and services. The overall goal is to keep community members engaged, connected and active for as long as possible. 
Dementia friendly training has yielded heartwarming results. Recently, a NVRC staffer found an 83-year old woman with Alzheimer's wandering Lonsdale Avenue, cold and lost. The staffer managed to take her into Harry Jerome Community Recreation Centre, and from there help her return home. Another case involves a community member who couldn't remember he could swim but, once helped into the pool by NVRC lifeguards, found his body remembered how to move in the water and now he is swimming regularly. Stories such as these highlight what it means to live in dementia-friendly communities.   
Art as therapy 
Helen is also a champion for the arts as a way of bringing people together and lessening social isolation for older people. During the 2018 Culture Days weekend, she led an intergenerational felt-making workshop at Delbrook Community Recreation Centre and continues to do workshops with NVRC.
"If we bundle sticks together, we are stronger" – African saying
Helen's latest project is "Dementia Friendly Neighbour", creating signs for people to place outside their homes to identify places of safe refuge and help.  Her ultimate goal is to create a community that is wise, inclusive and socially integrated. "Why are we here," Helen asks, "if we don't try to make a difference?"
She's also started two Alzheimer's Cafés in Vancouver and hopes to start one on the North Shore.
The NVRC applauds Helen Murphy for her tireless contributions toward making the North Shore a dementia-friendly community and an even better place to call home.