Born to Swim and Teach
Jordy shares his expertise and enthusiasm for swimming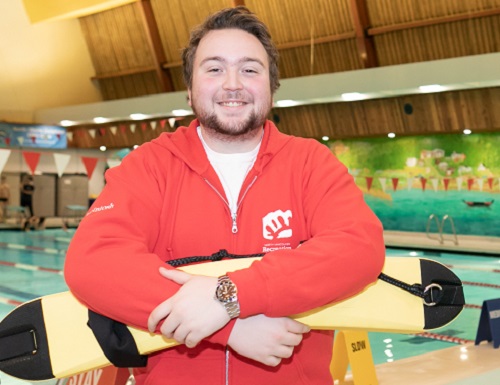 Jordy McIntosh estimates he's spent more than a quarter of his life in swimming pools.  His parents thought swimming was an important skill to have and first introduced him to lessons at Ron Andrews pool when he was just six months old.  At age 7, Jordy joined the Cheena Swim Club and over the next ten years he trained and competed at all levels.  Now 18, Jordy is a lifeguard and swim instructor at Ron Andrews Pool while attending Capilano University and playing the drums professionally.  
Jordy was inspired to become a swim instructor and lifeguard early in life.  He was always at the pool and looked up to his swimming teachers and coaches and liked chatting with the lifeguards.  The pool was where he felt most at ease and in his element. 
"It just seemed a natural progression to become a lifeguard and instructor," he said.  "The people I met at Ron Andrews were awesome.  I made new friends, and realized I liked helping people. Now I get to take this thing I've loved for so long and share it with others. It's very rewarding."
Skills for life
Jordy knows how swimming has made a difference in his own life and in the lives of others. 
"Swimming has given me skills that I apply in the rest of my life," Jordy said.  "I've learned teamwork, leadership, communications, concentration and the ability to multi-task.  It introduced me to teaching, which I love, and my plan is to become a music teacher and continue to drum."
Teaching
He works hard to make lessons fun and create a positive learning environment for his students. He recalls one particular ten year-old girl who didn't want to participate in the swim lessons.  She was completely shut down and Jordy was determined to help her break out of her shell.  He told jokes and worked to show her how fun swimming could be.  At the end of the lesson set her mom gave him a thank you card that said he had completely changed her daughter's perspective on swimming and that she'll be back for more lessons.  It was a proud moment for him.
Lifesaving 
Jordy also emphasizes the more serious benefits of swimming lessons, not just to change lives but to save them.  As a young teen he drew upon his CPR training from his Bronze Cross course when he came upon a woman who was not breathing.  He performed three rounds of CPR before the paramedics arrived on the scene.  The woman had experienced a cardiac incident and survived with no damage to her heart.  Jordy was grateful he had the skills and training to make a difference when needed.  "It's very empowering to know how to save lives," he said.  "The outcome could have been so different." 
What's Next 
When he's not in the pool Jordy can be found playing his drums and preparing to attend CapU's Jazz Education Program in the fall.  While he finishes his four year degree he will continue to lifeguard and teach swimming at Ron Andrews Pool, inspiring other young people to acquire skills and confidence to carry them forward through life.