Karen's Fitness Journey 
Reaching the hard to reach
When Karen Harmon talks about fitness, you can't help noticing her passion. She loves to share stories about the transformative power of being physically active when she recounts her own journey and the changes she sees in her fitness class participants.
Born in North Vancouver, Karen has spent the last 35 years teaching fitness to thousands of people in our community and she's committed to bringing fitness to residents who are hard to reach. 
Karen's Story
Fitness helped Karen through her toughest times.  In her 20's, she was a single mom of two little girls, struggling on welfare and living in low-income housing.  Teaching fitness classes kept her positive and connected with others.  It also gave her the confidence to go back to school and become a special education assistant in the local school system. Through it all, she never stopped teaching fitness.  
She remembers, "Even though I was having financial struggles and was alone, I still kept exercising. And going to teach my classes really helped me put that foot on the floor and get out of bed every morning. I eventually went to university and was not in that situation forever. It was a short period of time, but it could've gone another way and it didn't. I attribute my success to the exercise." 
Reaching those who are hard to reach
While teaching mainstream classes, such as spin cycling and boot camp at the North Vancouver Recreation & Culture (NVRC) and the West Vancouver Community Centre, Karen helped to create a number of innovative fitness programs for youth with special needs, individuals recovering from addiction, marginalized people and seniors. 
She says, "My life experiences have given me a heart for the underdog and I'm committed to welcoming beginners into my classes and helping them along.  My motivation is seeing people happy."  
For the last seven years, Karen has been leading NVRC's Active Living Program, which reaches out to residents who face barriers to fitness.  Candidates may be struggling to find affordable housing, dealing with addiction and/or living with a physical or mental health issue. The program is funded jointly by NVRC with the support of a grant from Vancouver Coastal Health. 
As an extension of the fitness class, Karen does community outreach including attending the Coffee Time program through a partnership with a local church where she gives a short talk about how to live a healthier life through fitness.  She then extends an invitation for a free 45-minute Active Living class, which she describes as a "friendly, encouraging and light workout".  With uplifting music and clear instructions, each class offers easy to follow functional exercises and ends with 20 minutes of stretching and relaxation.
Stories of transformation
Karen's goal for the Active Living Program is to serve those who can benefit most from physical activity and connecting with others.  "I think one of the best things I can do as a fitness instructor is to meet people where they're at and being sensitive and accepting. It's important because everybody has a different story to tell. Everybody is coming from somewhere and you have no idea what their struggles have been that day. So, it's not up to me to judge them or to be expectant of them to exercise a certain way. It's for them to feel comfortable feel that they too, can accomplish something."
Karen feels privileged to be able to help others learn to enjoy fitness and the benefits it brings. She says, "I have witnessed healing, gratitude, increased self-esteem and confidence.  Everyone who attends has seen results and changes in their mental, emotional, social and physical well-being."  Karen also sees the improvements in participants' physical fitness levels. She adds, "They have increased core strength, flexibility and cardio endurance – they stand up taller."
Karen can recount many special stories of transformation in the lives of participants.  She recalls a very special transformation from early on in her fitness career. It changed her life and outlook on helping others.   There was a young woman in one of her classes who barely participated at first. Her hair hung in her eyes and she was dressed in jeans and wore a lot of heavy jewelry.  By class four she was in exercise clothes, no jewelry and had her hair tied back off her face.  One year later, Karen ran into the young woman and didn't recognize her. The woman ran up to Karen and said, "I just want to thank you.  I've never stopped exercising. It's helped me with many struggles in my life. I'm one year sober now and jog 10 kilometres a day.  I attribute my success to your fitness class."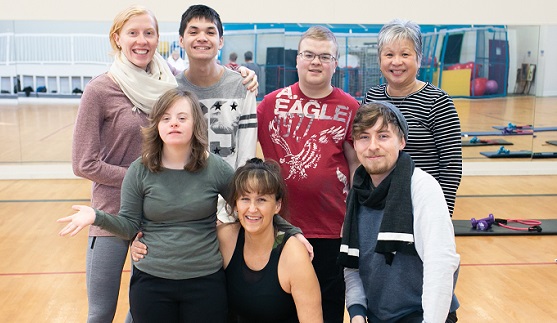 Working with NVRC
Karen is very proud of her work with NVRC. She says "I love my relationship with NVRC because they're very passionate about our community." She feels that her vision to make fitness accessible to everyone in the community is completely aligned with that of the NVRC.
"Together we are reaching the unreachable."
Karen's big heart holds tremendous hope for the marginalized people she works with. She has big dreams too. "My hope is that every community centre in Canada could have some fitness classes like the ones NVRC has. We reach out to people that would not normally go to a fitness facility and I would love to see other community centres do the same. I think it would change the world."
Karen's accolades 
In 2018, the British Columbia Parks & Recreation Association (BCRPA) awarded Karen Fitness Leader of the Year.  In 2017 and 2018 she presented at BCRPA's annual BC Fit conference, including a presentation on NVRC's Active Living Program.  In 2018, she also published her memoir called Looking for Normal.
Karen continues to work in West Vancouver schools with children from K-12 who have special needs.  Of course, she continues to teach many fitness classes because, for Karen, "fitness is life". NVRC is so glad she's living her vision here on the North Shore.