Yoga Strengthens Family Connections
Lois & Nancy's Story
Image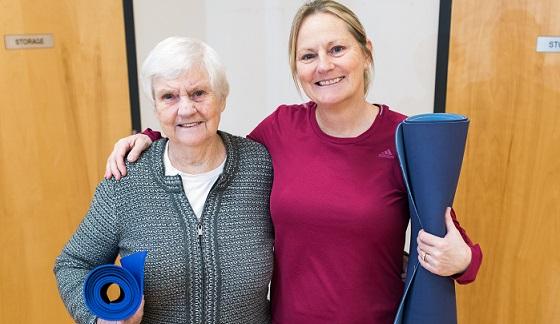 As she eases herself onto her yoga mat each week, 86 year-old Lois Grendel looks forward to ninety minutes of gentle stretching.  However, her 57-year-old daughter Nancy knows the health and social benefits for both of them extend far beyond the physical improvements they've experienced.
"It's a friendly, comfortable environment," explains Nancy, who is one of the youngest participants in the class.  "I came here for my mum, but I've really benefited as well. It's been good for both of us."
Flexing and connecting
Active and fit, Nancy plays soccer every weekend.  She was seeking an activity she could do with her mother, who has dementia.  Concerned that Lois needed more exercise and mental stimulation, Nancy wanted to get her out of her assisted-living apartment and keep her connected to the community where she's lived for more than sixty years.  Nancy was so focused on her mother's needs, she was surprised to find how much she benefited from the class.
"I'm not very flexible and this class has really helped me with that," Nancy said.
Lois enjoys the physical and social aspects of the class.  "It's good exercise and nice people," she said.  It gets me moving.  If I didn't go I wouldn't exercise."
Both Nancy and Lois appreciate the friendly, supportive environment and look forward to their weekly class at the John Braithwaite Community Centre, which includes a mix of people with different physical and cognitive abilities. Over time, participants have come to know and help each other if needed.
Image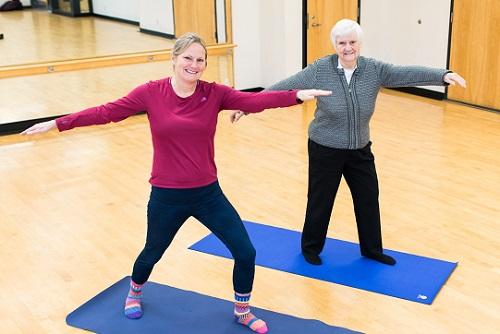 Brain and body benefit
"Mum has memory challenges.  I like that this class works her brain and her body.  She has to follow instructions to do the exercises," Nancy said.  "Everyone is very supportive and Flora, our instructor, explains everything so well. There are always a few laughs during the class and everyone feels better at the end."
The class has become a place where both women connect with each other and their community.  The health benefits are far-reaching, as greater flexibility reduces Nancy's risk of injury on the soccer pitch and Lois' improved balance means she is less likely to fall.  This weekly outing, followed by lunch together is something they both look forward to.