Maintaining an active mind, body, and spirit
Dr. Mark Lysyshyn offers insights into a healthy community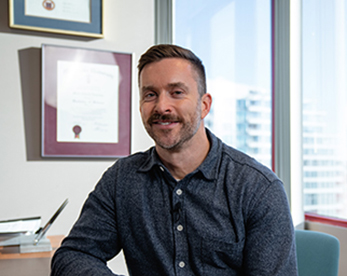 Many North Shore residents are spending too much time tuned into screens and not enough time connecting with each other or the nature that surrounds them.  These are the observations of Dr. Mark Lysyshyn, Medical Health Officer, Vancouver Coastal Health (VCH).  
"It's so tempting in today's society to stay in and focus on our devices.  We're tired from work and school. The TVs, computers and phones are always there," he said.  "But everyone would benefit by getting out there and being active with people who bring you support and love."
There are many options for being active on the North Shore, trails for hiking and biking, urban pathways for walking and talking.  Dr. Lysyshyn believes the NVRC also plays a big role in facilitating stronger community connections and improved population health by offering programs and services that are accessible to everyone.  
"New immigrants, seniors, young families, and others may face language, physical or financial barriers to participating in private programs," he said.  "The NVRC welcomes everyone, is affordable and has a wide range of programs for all interests and abilities. Historically, sport has been very competitive, focusing on a select segment of the population with the talent and finances to be great.  NVRC is focused on making people comfortable, still pushing them to be their best, but in a way that works for them.  We don't just want elite athletes, we want everyone to be active throughout their lives."
A partnership approach
VCH recognizes the value of community collaboration and works with NVRC, the school districts and other municipal programs and services to support people across their lifespan.  This builds healthy communities through a wide range of fitness, social and cultural programs.
 "As a health authority, we see people at specific points in their lives," Dr. Lysyshyn said.  Organizations like NVRC see and support people at all stages of life.  We leverage these connections and work together to support the mind, body and spirit of our residents throughout their lives.  This helps to improve health outcomes and maintain quality of life."
Research confirms the strong correlation between mental health, physical health and social connections.  It all fits together, which is why we need to focus on emotional and physical wellness to achieve healthy outcomes.  
"We have data that examines the mind/body connection," Dr. Lysyshyn explained.  "It shows us that in order to thrive you need to be socially and physically well."
The family connection
One of the challenges on the North Shore is the high cost of real estate and the barrier it presents to young families who want to live here.  Many people who grew up here can't afford to stay, which means they move away from aging relatives and are not able to participate in keeping them healthy and independent as they age.  This creates physical and emotional hardships for families.
"This is an important consideration as our population ages," said Dr. Lysyshyn.  We are putting more and more resources into health services for seniors.  Another important way we can support older people is through programs and services for young families so we can keep families together." 
Youth mental health concerns are on the rise and participation rates in physical activity are on the decline.  This does not align with the North Shore's reputation as one of the healthiest communities in Canada, and is another example of how physical and mental health go together.   VCH and NVRC see this as a priority for programs and services in the community.
North Shore residents are fortunate to have a wide range of opportunities to be active, get out in nature and connect with one another.  This supports good mental and physical health and contributes to healthier communities.