The season of feasting and drinking is upon us. While making merry with family and friends can be wonderful and connecting, it can also mean overindulgence, weight gain and lethargy. Why not balance holidaymaking with some fitness-keeping? 
Take the 12 Days of Fitmas challenge
Set a physical challenge for yourself this holiday season to stay healthy and stress-free. This can be anything, as long as it's physically active and gets your blood pumping. To put my money where my mouth is, I've decided to undertake the following 12 Days of Fitmas (in no particular order). I invite you to join me!
Catch up with a friend over coffee and a walk
Nothing says you care about someone as much as spending time with them. Invite a friend for a cup of java to go and get out for a stroll together.
Dance to some Christmas tunes
Here are some great dance remixes of Christmas standards you can groove to while you bake some shortbread: Billboard's Best Christmas Remixes.
Attend a yoga class
Stretch it out and relax the mind. It'll do your nervous system good during the busy holiday season. NVRC offers great drop-in options at multiple locations. Check them out here.
Go for a swim
Whether you do laps or prefer a leisurely swim, working out in water is a wonderful way to keep fit and calm – and did someone say hot tub afterwards? Check out the public drop-in swims offered by NVRC here.
Get up more
You've probably heard that sitting is the new smoking. Research has linked prolonged sitting with a host of health concerns, including high blood sugar, high blood pressure, back problems and various diseases. Make a point to take a break from sitting every 30 minutes. Stand while talking on the phone or watching television.
Do 20 jumping jacks before breakfast
Jumping jacks are a great full-body exercise that requires no equipment and can be done almost anywhere, anytime. It increases circulation, aerobic capacity and strength. 
Go for a jog or brisk walk around the neighbourhood 
Get out for a quick jog or walk around your neighbourhood, swap seasons greetings with neighbours and enjoy some Christmas decorations.
One-minute planks
Incorporate one-minute planks into your Netflix time. Get up off the couch and plank for one-minute intervals while enjoying your favourite show.
Download the free ParticipAction active app
ParticipAction is offering an easy and motivating app to help you fit more physical activity into your busy life and win prizes this month! Get the app here.
Go for a Spin
Rev up your heart and sweat out some extra calories. Drop-in sessions are available Mon-Sat at Harry Jerome Community Recreation Centre. View the fitness class schedule here.
Skate
Robson Square downtown offers free ice skating from December until February (corner of Robson and Howe Streets). Admission is free and rental skates are available at $5 a pair (cash only). Find hours here.
Check out the Park & Tilford Hi-Light Festival
Go for a magical evening walk through Park & Tilford Gardens and enjoy their annual festival of lights with over 150,000 lights on display over three acres of beautiful public gardens. Entry is by donation with proceeds going to support North Vancouver Fire Fighter Societies. Friday evenings feature live entertainment. Open Nov 29 – Dec 31, 2019 from 5pm – 9pm at 333 Brooksbank Avenue, North Vancouver.
Happy Holidays!
Here's to wishing you and yours a delightful and active holiday season!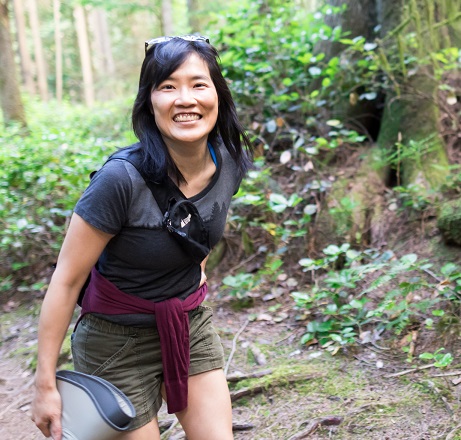 Wiley H.
Wiley is a long-time North Vancouver resident. She works as a technical writer and is the current newsletter editor for the North Shore Writers' Association. She spends her free time feeding her twin passions of creative writing and hiking. She recently discovered a potential third passion - the pottery studio at the Delbrook Community Recreation Centre.