Summer 2020 is definitely going down in the history books as a difficult one. But, for all the challenges brought on by the ongoing pandemic, North Vancouver residents can still be grateful for so many activities still available to us in our own backyard. Here is a list of fun suggestions while we patiently – and safely – ride out the storm.
Go on a self-guided art tour – outdoors and free
North Vancouver is home to over 150 unique, public art installations that can be found in community plazas, municipal buildings, commercial developments, parks and nature trails. Go on a walking or biking treasure hunt to admire them all. Here's a full listing plus map.
Take a hike!
An abundance of trails can be found nearby, ranging from easy to strenuous. Here's a roundup of local hikes. Also, check out the free trail All Trails app. Note: Day passes are now required to access Mt. Seymour and Cypress.
(Brandywine Meadows)
Stroll, bike, inline skate, wheel the North Shore Spirit Trail
This waterfront trail connects neighbourhoods along the North Shore and is accessible to people on foot or wheels. Currently, it runs 13km from Park & Tilford Gardens to Ambleside Park. Here is a recent blog on the spirit trail. For more details on the Spirit Trail including maps and future plans, click here.
Check out an NVRC outdoor summer programs
Join a community recreation and culture program outdoors! There are over 50 different outdoor classes each week from low and high interval fitness classes and breathe yoga to sketching in nature and family dance and fun in the park.  Click here for more information.
Reserve some fitness centre time
The fitness centres at Delbrook, Harry Jerome and Parkgate are now open for pre-booked, physically distanced workouts. For registration and guidelines, click here.
Canoe, kayak or paddle board 
Deep Cove, Cates Park, and Ambleside are great spots to go for a paddle. Rentals are available from various North Vancouver outdoors stores, Cates Park Paddling Centre and Deep Cove Kayak Centre.
Pitch and Putt 
Pitch and putt is a great, sociable activity that is compatible with physical distancing for groups of up to four. Murdo Frazer and Ambleside Par 3 are both open from 9am – 7pm this summer.
Pack a picnic and chill out at a park
The North Shore is home to dozens of regional and local parks. Pack a picnic and a blanket, and enjoy an easy day at the park. In addition, from June 21 to October 15, 2020, the City of North Vancouver has legalized responsible drinking in nine parks from 11am to 9pm. Click here for the parks listing.  
Support local businesses
Take a break from the kitchen and show some love to our local business owners with a takeout meal. Or, treat yourself and a friend to a fancy takeout coffee and go for a walk to catch up.
Take a dip in local waters
The hot weather has finally arrived. Cool your heels in a creek, lake or ocean. A couple of favourite family swimming spots include Mystery Lake (Mt. Seymour) and Whyte Lake (West Vancouver).
Unplug for a day or weekend – take an offline holiday
Give your nervous system a break and disconnect from your electronic devices for a day, maybe even a weekend. Notice your surroundings. It's okay to be bored. Stay with your feelings. Breathe. Dream.
Enjoy some hammock time with a good read 
There is nothing quite as de-stressing as a swing in a hammock with a great book. Visit your local library for a new gem or reread a great classic. If you're looking for new titles, here is a list of Canada Reads recommendations for 2020.
Put together a jigsaw puzzle
Clear a space on your counter and start a jigsaw puzzle. It's relaxing, absorbing and great exercise for the brain!
Stargaze
Look up at the night sky, watch for shooting stars (meteor showers) and catch the International Space Station traversing overhead. Here's NASA's Spot the Station guide.
Camp in your own backyard 
Set up a tent, mosquito net – or not even – in the yard, and sleep under the stars.

Take a wellness class for free 
Cultivate greater awareness, gratitude and happiness. Yale University psychology professor Laurie Santos is offering her popular class The Science of Well-Being online for free.
Paint a wall in your house
If you're getting tired of staring at the same walls in your house, why not give them a fresh coat of paint? It's a good way to brighten up your space – and perspective. 
Stretch outside
Grab your mat and do some yoga outdoors – on the grass, on the deck, at the park. Breathe and relax. 
Play some music 
Practice your musical instrument or learn a new one from online videos. Sing! Or, simply play your favourite tunes. It's a great mood lifter! 
Set up a photoshoot
Select a location, pick a theme, get creative with props and costumes, and click away. Make a photobook from your photoshoot.
Here's to an unforgettable summer. Be safe and stay well.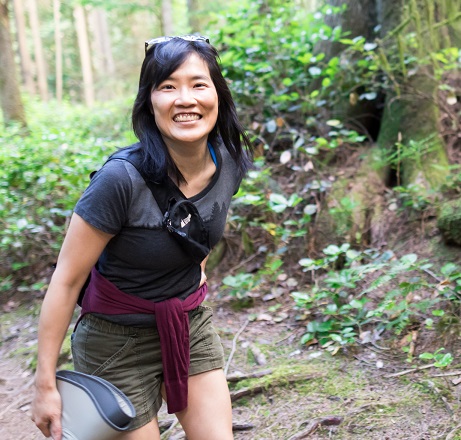 Wiley H.
A long-time North Vancouver resident, Wiley works as a technical writer and is the current newsletter editor for the North Shore Writers' Association. She spends her free time reading, hiking and discovering new things to try at North Vancouver Recreation & Culture!