NOTE:  This blog article was written by Ella as part of a special Youth Blogging Project with Seymour Heights Elementary School.
One of my hobbies is playing guitar and I have lessons every Saturday at VAM (Vancouver academy of music). I play classical guitar and my guitar is a Yamaha. Some people play in a group or a band but I play solo. Here are four reasons why I enjoy playing guitar.
Performing
To start with I enjoy playing guitar because every winter and summer I get to perform. The performances are at VAM in the auditorium. Sometimes after these performances there's a potluck. I enjoy these performances because I like the challenge of playing a song the best I can. I also enjoy potlucks. An interesting thing about me is that students like to practice before going on but I just get up and wing it, this means I jut get up and play.
Learning new things
Another reason why I enjoy playing guitar is that I've been playing for six or seven years. I started of when I was five or six and I didn't know anything. Now I'm eleven and I know so much. For example I can read music, it's like understanding another language.
It's relaxing
My third reason why I enjoy playing guitar is that it's relaxing to play song I know by heart. For example I know songs by memory but I have to keep practicing my old songs so I can remember them . Right now I'm playing Pakington's pound and Waltz by heart.
I look forward to it
Lastly I enjoy playing guitar its something I look forwards to. It all starts with me rolling out of bed because it's Saturday and I want to sleep in but I can't but when I to VAM I'm fine. My lessons are at 9:45 when I'm not late. My favourite part of my lessons are when my teacher complains that I'm not playing a song fast enough and she picks up her guitar and says " Come Ella we're going super fast" I like this because at the end it can be funny.
In conclusion I have discovered that playing guitar is fun and relaxing.  It challenges me to play increasingly difficult pieces of music and I learned how to read music. Having a great teacher who likes to have fun together really helps too.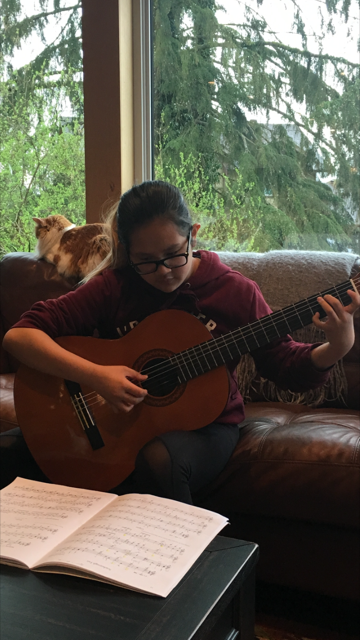 Ella is 11 years old and goes to Seymour Heights Elementary School when she's not playing guitar (which is most of the time) Ella enjoys reading and watching Netfilx.