I could see the look of shock on my client's face when I confessed to her I didn't like working out.  
"What, but you're in the fitness industry, shouldn't you love working out?" she said.  I admitted that if I could get the same health benefits visiting a coffee shop as I would at the gym, you probably wouldn't find me at the gym.  I'd take a coffee and a daily paper in a heartbeat.  
Of course, the health benefits of working out far outweigh those of a coffee.  Hence I exercise quite regularly.  But after two decades in the fitness field, I have found a disconnect between many industry professionals and the general public; the vast majority of the public would take a coffee break over an exercise break.  
The fitness industry often attracts individuals who love working out.  But I think it is important for us to remember that exercise for many can be a grind.   As one of my clients recently pointed out to me, "Rob, you are the worst part of my week."  Working out is tough and it requires dedication and pushing yourself beyond your physical comfort zone.  
It doesn't surprise me many people would choose to go home and have a glass of wine after a hard day at the office. But part of a successful fitness routine includes some form of regular exercise.  Regularity is the key-- and this is an issue for many of us.  The fitness industry estimates that 60% of the population who begin an exercise program will drop out within half a year.  These are individuals who are already convinced exercise is a good idea.  They don't need to be persuaded, they need help staying on track.  Unfortunately, this is difficult when exercise is not a highlight of their day.  
Fitness professionals need to recognize this disconnect and ensure they take it into account when they design programs for their clients. 
Here are some of my recommendations for those looking to overcome exercise drudgery and to ensure that they are not part of the 60% who fall back into old inactive patterns:
Remove the guilt and excuses for not working out
I highly suggest you book your workouts on consistent days.  For example, pick every Monday, Wednesday and Friday at 4pm.  When the days are set, it removes the decision on whether to work out or not.   So if it isn't Monday, Wednesday or Friday at 4pm, you are not going!  This removes the guilt on days you are scheduled to be off.  We don't think about going to work every morning, we go because we are scheduled to go (retirees you are off the hook on this one). We don't feel guilty about not going to work on weekends because we're not scheduled to go.  I suggest you do the same with your fitness routine.
Keep your workouts short and sweet and strive for 3 sessions a week
My workouts are quick.  I get most of my cardio from cycling to work and my weight routine is rarely more than seven exercises of only two sets.  I pick exercises that use multiple muscle groups at once.  A fitness professional can help you integrate some of these exercises into your routine and get rid of the single, less effective muscle group exercises of yesteryear.  Three workouts a week, in my opinion, is ideal.  You will get better results than you would with only two workouts a week.  But seeing me 4 times a week is just too much - my wife can attest to that.
Remember how you feel after an exercise routine
It is a rare occasion that I hear someone say they wish they had not come in and completed their fitness routine.  Remember that positive post-exercise feeling to help keep you motivated.
Consider a training session with one of our trainers
Working with a fitness professional is a great way to add some new exercises and ensure you're working out with proper form.  Also, we can provide you with accountability and a new goal.
My recommendations apply to everyone - whether you are an 18 year old training for the hockey team, or an 80 year old managing a walk up the arena steps to watch your 18 year old grandson play his first game of the season.
Truthfully, it's a rare person who can't wait to leave the house to go the gym.  You are not alone.  Set a realistic schedule, stick to it and enjoy the time off when you are not scheduled to come in.  Plus, seek some advice from our staff on exercise options and strategies to keep you on track.  That's why we're here.
North Vancouver Recreation and Culture kinesiologists and fitness professionals are available to help you develop a personalized workout program based on your current fitness level and your goals. Visit Personal Training to learn more.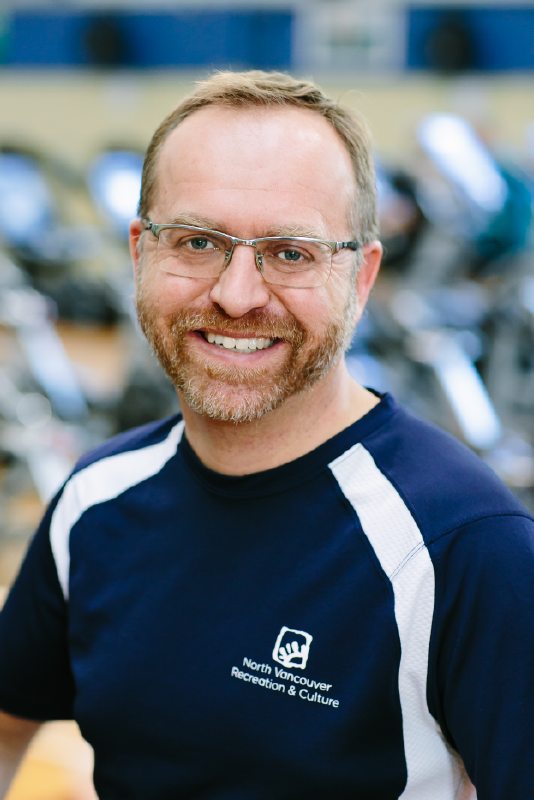 Rob W. is the NVRC's Fitness Centre Supervisor at Harry Jerome Community Recreation Centre.
He is often found cycling to work from his home on Bowen Island - just a little bit of a grind!