We have all been through a lot in the past year. As the global pandemic and dark winter wear on, we could all use a ray of light. And there is no better way to brighten up someone else's day – and our own – than with kindness. Although challenging during a pandemic, there are safe and thoughtful ways to reach out to people and convey care. Time and time again, research shows the giver of kindness receives as much benefit as the recipient. 
A couple of years ago, I received a random act of kindness. A perfect stranger paid for my lunch after I placed my order at the counter and then discovered I had forgotten my wallet. The stranger's spontaneous generosity absolutely made my day and reminded me how good people can be. It also made me realize how small acts of kindness can make us feel cared for and cared about. Compassion and kindness underpin our humanity and build a deep sense of community. Right now, that community is what every one of us is sorely missing. 
The stranger who bought me lunch did a lot more than fill my stomach that day. I was shown how wonderful it is to receive a kindness from another human being. The gift of compassion is contagious. Periodically, I pay that kindness forward at coffee shops and buy coffee for random strangers. The recipients always respond with surprise and gratitude. Even though it is a small gesture, it brightens up someone's day. And, their delight always brightens up mine. 
Why not cheer someone up with a simple act of kindness today? Here are a few suggestions for how to spread some joy right now – safely!
Call someone 
Clear some time and dedicate that uninterrupted time to someone you can't visit physically right now. Be attentive and make sure you listen more than you speak. One of the best gifts in the world is to be truly heard. 
 Write a letter and mail it
Express your care and love for someone in a letter. We can all use a good dose of encouragement right now and it is lovely to find a handwritten letter in the mailbox!
Deliver a meal 
Make and deliver a home cooked meal to someone's front door. We are all a little tired of our own cooking right now, so receiving a meal made by someone else is a real treat. You could even set up an exchange! 
Leave a flower or plant on a friend's doorstep
Share a bouquet from the store, trim a sprig of winter berry or propagate a baby plant from your houseplant (e.g., spider plant or jade plant are easy to cut and grow in water). Be creative and spread some beauty.
Sing or play an instrument outside
You don't need to be a great musician to delight someone with your musical ability. Practice a favourite song and serenade someone outside their front door or under their window.
Knit for someone
If you know how to knit (there are many tutorials online), knit someone a scarf to keep them cozy and warm this winter.  
Say hello and smile
The power of a smile cannot be underestimated. Even behind a mask, a smile softens the face and twinkles the eyes. Simply saying hello to your neighbour or someone at the grocery store and making eye contact can bring a sense of community. 
Thank those who provide service
Go out of your way to thank our essential workers who serve on the front lines. Leave a thank you note for your letter carrier or parcel delivery person. Say thanks to the workers at your grocery store, doctor's office, library, community rec centre …
Show gratitude to your family
Too often we take the people closest to us for granted because we see them every day. Think of something you appreciate about your family and tell them how much you appreciate them. It is amazing that what we think is obvious may not be obvious to others! It is always wonderful to be appreciated!
Be kind to yourself 
There is perhaps no more important time than now to be kind to yourself. Even though there is light at the end of the tunnel, we still have tough months ahead of us. It is perfectly normal to have some low days. So, don't forget to be compassionate with yourself and remind yourself that we will get past this – because we will!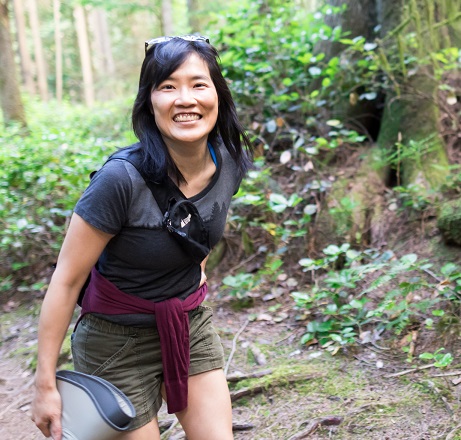 Wiley Ho.
A long-time North Vancouver resident, Wiley works as a technical writer and is the current newsletter editor for the North Shore Writers' Association. She spends her free time reading, hiking and discovering new things to try at North Vancouver Recreation & Culture!