Drumming together in peace – and fun!
There's nothing more primal than the beat of a drum. The deep, rhythmic rumbling emanating from the second floor of the Delbrook Rec Centre on Sunday afternoons drew me in to sign up for a beginner's class. After just one session, I was hooked.
The beauty of Djembe (hand drums)
Not having taken formal music training, I was daunted by the idea of starting music lessons at midlife. But I needn't have worried. Walking into my first class I joined a circle of other nervous newcomers who ranged in age from young adults to seniors. 
 
Russell Shumsky, our instructor and seasoned professional drummer with more than 33 years of playing and teaching experience, set the class immediately at ease with his friendly offbeat wit. He reassured us that no experience was necessary and that "Believe it or not, through learning music structure from me, you will experience the most incredible emotional freedom."
The djembe is a traditional West African rope-tuned drum, made of wood and goat skin. The name is derived from the saying "Anke dje, anke be", meaning "Everyone gather together in peace."
It is one of the easiest instruments to pick up because you play with your bare hands and there are only 3 techniques to learn: bass, tone and slap. In less than an hour the class was able to pick up basic rhythm sequences and engage in "call and answer" where Russell would drum a pattern and we would repeat after him.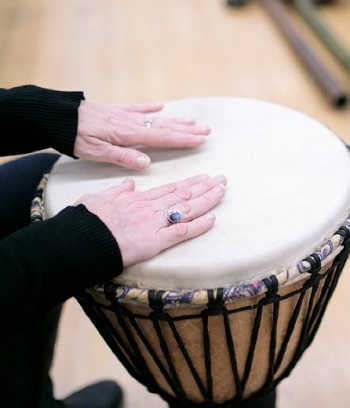 Exercising physical intelligence
"Trust your physical intelligence," Russell instructed. "Relax and let your physicality take over." Russell explained that while we need to concentrate on the rhythm, we should not overthink the sequences. In fact, overthinking led to mistakes and mistiming. Drumming became far simpler when we relaxed our grasping brains and allowed our bodies to absorb the rhythm instead. 
 
Repetition and laughter also help, and the class did a lot of that too. Every basic pattern was repeated until our bodies gradually got used to them and took them in as second nature. 
Active meditation, healing therapy
During class I felt simultaneously excited and strangely relaxed. I was in deep concentration, focused on bouncing my hands off the drum skin in unison with everyone around me. All thoughts became suspended as I felt the vibrations from the drum enter my body, creating a powerful and uplifting sensation. It is immediate, instinctive, tribal. 
When the group synchronized – all twelve drums beating together around a circle – the feeling was elating. We became a flock of soaring birds, flapping our wings in unison, hearts thumping as one. The smiling faces around me confirmed the intent of the djembe: Everyone gathering together in peace. No wonder drumming has been called an active meditation and drumming circles described as healing therapy.
In an hour of drumming, a group of random strangers had transformed into a community circle. It's energizing and fun.
I've been practising at home – drumming on my coffee table, kitchen counter and bed covers. You can practice anywhere!
Benefits of music and banging on drums
After class I researched the effects of learning a new musical skill and found these incredible benefits:
Physiological:
Music increases the production of dopamine "the feel-good chemical", elevates mood, and decreases blood pressure, anxiety, depression and insomnia. Studies have shown that musicians have better-connected, more sensitive brains over the general population, enjoying superior working memory, auditory ability and cognitive flexibility. Listening to music (especially upbeat music) produces many positive health benefits, but making music is even better!
Creative:
Music is a great source of creativity. Listening to music and playing music both spark creativity. People who play music can come up with creative solutions to problems in different areas of life. It is also a potent non-verbal form of expression. 
Social:
Whether you are part of an orchestra, choir or drumming circle, playing music with others has a special power: human connection. Playing music in a group requires you to cooperate with the people around you, focus, and listen to others. When the group comes together in rhythm and music, it is exciting and intoxicating. It's been described as a "natural high". Compared to people who don't engage in music, studies have shown that music participants exhibit far more voluntary pro-social behaviours such as empathy, kindness, helpfulness and generosity.
African Drumming at Delbrook
Delbrook Community Recreation Centre offers three levels of African Drumming classes. Drums are supplied at no extra cost. 
Level 1
is an introductory class and requires no previous experience. As skills are built up every session, registration is limited after the course begins.  The next course starts Sunday, January 12, 2019.
Register now
.  If you don't get a chance to try djembe this winter, make a note to check it out later…or follow the drumming up the stairs to the second floor of Delbrook on a Sunday afternoon!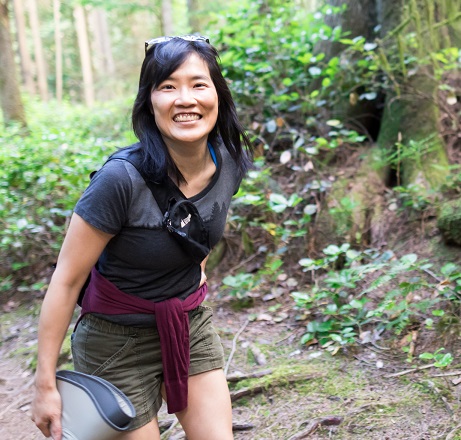 Wiley H.
Wiley is a long-time North Vancouver resident. She works as a technical writer and is the current newsletter editor for the North Shore Writers' Association. She spends her free time feeding her twin passions of creative writing and hiking. She recently discovered a potential third passion - the pottery studio at the Delbrook Community Recreation Centre.