After an exhausting week, I never feel like rushing out of the house, first thing on a Saturday. But crawling out, second thing – that's another matter entirely!  
On Saturday March 4, we ventured out to take in the 7th annual North Shore Art Crawl. Our first stop was the Delbrook Pottery studio at the Delbrook Community Recreation Centre. Both of our boys had said they wanted to try throwing clay on a wheel, so we went to see how it was done. I figured it would be a great way to test their interest, before booking them in a full course of their own.
Sale Day
Out in the hall, studio members were selling their work. That's where we met Barb de Jong, whose rakú pieces shimmered in a range of colours. She explained that there are "many recipes for the glaze, which is fired at 1800-2000 degrees Fahrenheit." It's a delicate and lengthy process, which involves handling your almost-finished work when it's still red hot. You can only see the beautiful colours when you've "scrubbed off your pottery to remove excess carbon." 
Learning the ropes
Inside the studio, four potters were hard at work, focusing intently on their wheels. We went over to chat to Sean, who was busy shaping a new piece of clay. Next to him, his earlier projects were still drying out. Our little guy, who is six, stood at his knee, mesmerised. He asked him about the different tools he was using, What does this one do? When are you going to use that one? Can you use this one now? Sean was a star, patiently explaining each step of his process.  Sean also showed us how he used a sponge to keep his work wet, to clean the wheel and smooth off the inside of his work. Joel watched with rapt attention, as Sean shaped the outside walls of a vase.  
A break from it all
After our chat with Sean, we stopped by to see Claire. I asked Claire if she had an awful lot of pottery at home; she laughed, saying that her cupboards were pretty full! Is making pottery addictive, I wondered? Both Sean and Claire talked about how beneficial the studio was for them. With busy and often stressful office jobs, they described how working with clay was a great way to wind down. It's a form of meditation, really. "I come here after work and just watching that wheel go round and round… it's hypnotic!" Sean said. 
I can definitely see how it would feel therapeutic after a day in front of a screen, surrounded by people and noise. I watched the potters' hand as they wiped the wheel over and over, scraped their work and simply sat, breathing, their hands barely moving as the wheel motors hummed gently in the background. What a beautiful way to spend time alone, with your hands in a pile of Albertan mud!  
We'll meet again
Joel wanted to talk to everyone, so it was pretty hard to leave. Our last stop was at Stuart's wheel, where he showed us the big bowl he was making. A ten-year veteran of the studio, his serving dishes are elegant, with crisp, straight lines. Some are gorgeously hand-painted with vivid flowers. As much as I felt like a heel, it was time to go. It's wonderful to see your child so passionately engaged, but the other boys were waiting outside, and it was cold. Having announced, "I want to be a potter AND an artist," our boy added that we'd need to buy a studio full of equipment for our  home. Having let him down as gently as I could, I said I'd find a way for him to try a potters' wheel for himself, very soon.
It was so wonderful to see kids all fired up over a new activity. I can't wait to have my own cupboard full of original creations!
Interested in pottery?  Learn more about North Vancouver Recreation & Culture's pottery programs for all ages and levels.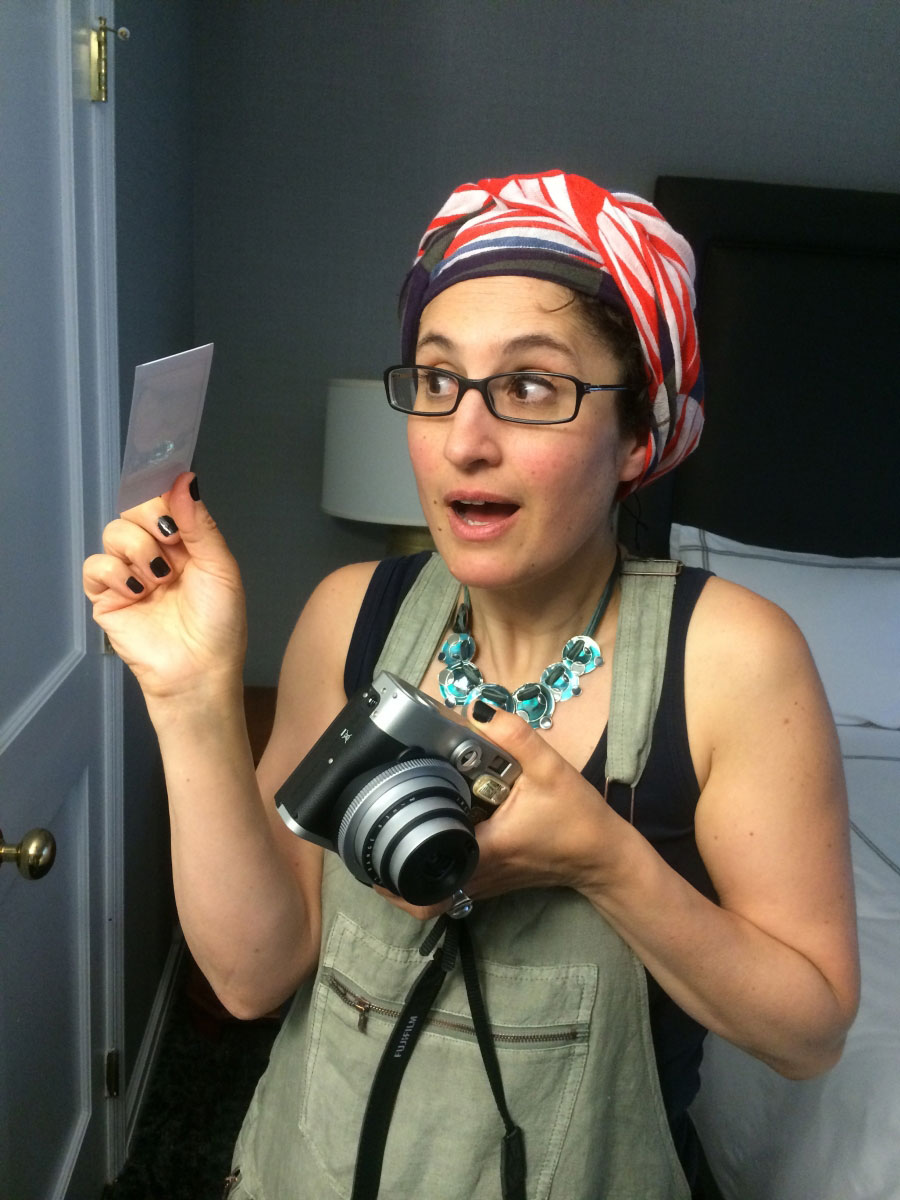 Shula K.
Shula is a writer, broadcaster and artist. Her writing has appeared in  the Globe and Mail, the Guardian Newspaper (UK) and on national CBC radio. Read her articles in the Jewish Independent, where she is a regular contributor.