I'm the first to admit that I struggled with cold feet when it came to enrolling my child in swimming lessons. This was partly based on my generally anxious nature, and partly due to my own traumatic experience with a careless instructor at a young age. Eventually, I came to terms with the fact that swimming is an essential skill for children, and I knew that I needed to stop projecting my own experience onto my daughter. 
This wasn't easy, but I felt better when, in speaking with many other parents, I discovered a commonality. Almost every parent I have spoken to on this topic has experienced anxiety regarding their child's first swimming lessons. So if you're feeling uncertain or even terrified about getting your child into the water, you're not alone. And there is hope! If I can do it, believe me, so can you. 
Indeed, since taking the leap and enrolling my six-year-old in swimming lessons with NVRC early this Fall, my anxiety surrounding water safety has decreased significantly. At first, there was a definite unease, but that's to be expected when you're putting your child's safety in someone else's hands. As the lessons progressed, I began to trust Levi, my daughter's very capable instructor. I could see that my daughter trusted him and felt comfortable with him as well, (see the photo of the two of them in the water, in which her eyes are closed and she's totally zen) and that's incredibly important. I learned the hard way that trust is a key component in any successful child-instructor relationship. As Levi puts it, "Trust with students comes naturally as they realize that you're not some big bad person that wants to separate them from their parents, but instead someone that wants to teach them how to do their back-floats."
While skills, education and certifications are certainly important in a swimming instructor, I strongly believe that a friendly, gentle and empathetic disposition is equally important. It seems that NVRC recognizes this, as every staff member I've encountered has all of the aforementioned traits. Levi is kind, patient and professional, and, perhaps most importantly, he makes sure the lessons are lighthearted, fun and punctuated with laughter. I appreciate this because I think that when education is fun, kids absorb information like a sponge and excitement inspires them to continue learning.
Having said that, of course the instructor's education and training play an equally meaningful role in reducing parental anxiety with respect to swimming lessons. It's comforting to know that NVRC requires all swim instructors to obtain both LSI (lifesaving instructor) and WSI (water safety instructor) certifications, as well as Standard First Aid or CPR-C. I don't know about you, but knowing that my child's swimming instructor is also a qualified lifeguard brings me a sense of relief. 
In a nutshell, decreasing the perfectly normal parental anxiety attached to your child's swimming lessons is as simple as education and trust. Educating yourself on the certifications and strict qualifications necessary for all NVCR swim instructors will help ease any safety concerns. And as we've highlighted, a trustworthy, reliable and kind instructor makes all the difference. When you can breathe and let go, (feeling safe in the knowledge that your child is in good hands), so can your child. Thanks to Levi and NVRC, my daughter and I have learned to exhale, trust, and jump into the water headfirst.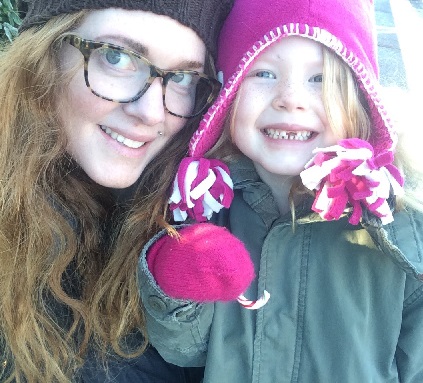 Stephanie E.
Stephanie  is a professional writer and photographer residing in North Vancouver with her husband and five-year-old daughter. She grew up in Ontario, but considers British Columbia to be her true home. Having attended the journalism program at George Brown college in Toronto, Stephanie's writing career has included music journalism works with the likes of Canadian Musician Magazine and Professional Sound Magazine, and she has written blogs and content/copywriting for various fashion, beauty and lifestyle publications and brands around the world.
Stephanie owns The Imperative Image, an affordable photography service for professionals. As a wellness advocate and a proud North Shore resident, Stephanie is thrilled to contribute to the NVRC Active Living Blog.