What is aquafit?
Aquafit is simply an exercise class in water. Like most fitness classes, it involves warmup, cardio, strengthening and flexibility components. Aquafit classes are led by an instructor and often accompanied by music. Different exercises and even dance moves make classes fun and invigorating.
Unlike land-based classes, Aquafit involves no impact, which makes it an ideal workout for:
Joint-friendly running – running underwater is great for strength and cardiovascular training without any strain on the ankles, knees or hips
Cross-training for high-impact athletics – working out in the water provides excellent cross training and prevents overuse injuries
Full body workout – all muscle groups are worked out in a supported environment
Rehab training – pool therapies and exercises are great for joints or stroke recovery
Anyone with chronic pain or limited mobility – the warmth and buoyancy of the pool greatly aids in range of motion exercises and lessens pain
Anyone who wishes to become more comfortable in water – exercising in waist-deep water or using flotation aids are great ways to gain more confidence in the water
Hydrotherapy benefits
Hydrotherapy, also known as water therapy, involves submerging one's body into water at varying temperatures. Aquafit classes, swimming, hot tubs and steam baths are all excellent forms of hydrotherapy which boasts many health benefits, such as:
Relieves muscle tension – the buoyancy of water supports aching muscles and eases movement, improving range of motion
Decreases pain – warm water suppresses sympathetic nervous system and decreases nerve ending sensitivity
Decreases joint compression – build strength without stressing the joints
Promotes relaxation – warm water naturally relaxes muscles and stimulates the release of endorphins, nature's own stress fighter
Encourages detoxification and lymphatic drainage – hydrostatic pressure, turbulence and buoyancy help the flow of blood back to the heart
Improves mood – enhances quality of life
Immerse yourself in soothing waters and aquatic fun
NVRC offers a variety of drop-in aquafit classes at Delbrook, Harry Jerome, Karen Magnussen and Ron Andrews for different fitness levels, including mild, moderate, women's only and arthritis aquafit.  Visit our
drop-in schedules
page for class locations and times.
Try an aquafit class and discover the healing powers of exercising in water (or jump in the pool for an invigorating swim). Afterwards, enjoy a soak in the hot tub or a steam and sauna. The hydrotherapy will ensure you finish your workout feeling refreshed and relaxed.
Here's a summary of the many amenities available at NVRC's 4 pool facilities: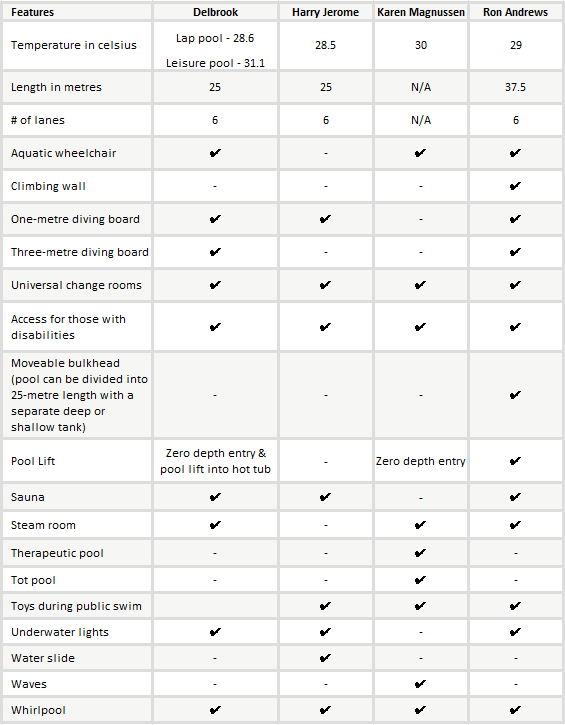 * Pinnacle Hotel Pool
Registered lengths swimming opportunities are available at the Pinnacle Hotel pool. All participants must be pre-registered to participate. Register online, over the telephone, or in person at any North Vancouver Recreation & Culture facility. Call 604-987-7529 for more information.
Specialized programs at Karen Magnussen's therapy pool
The pool at Karen Magnussen is equipped for specialized hydrotherapies. It has a graduated (beach) entry that starts at zero depth and is heated to a balmy 30°C (85°F), making it the perfect pool for registered Fitness Specialty Rehab programs:
Stroke Rehab - This class is designed for anyone recovering from a Cerebral Vascular Accident (CVA), frequent TIAs or head injury affecting mobility. Exercises focus on balance, strength, gross and fine motor skills. See previous blog article on the Changing Lives through Water Therapy.
Water Joints - A rehab program designed for those newly diagnosed with joint degeneration or injury or those recovering from recent joint replacement surgery.
For more information on these life-enhancing programs, view our Health Management
webpage
or contact the Karen Magnussen Community Recreation Centre at 604-983-6550.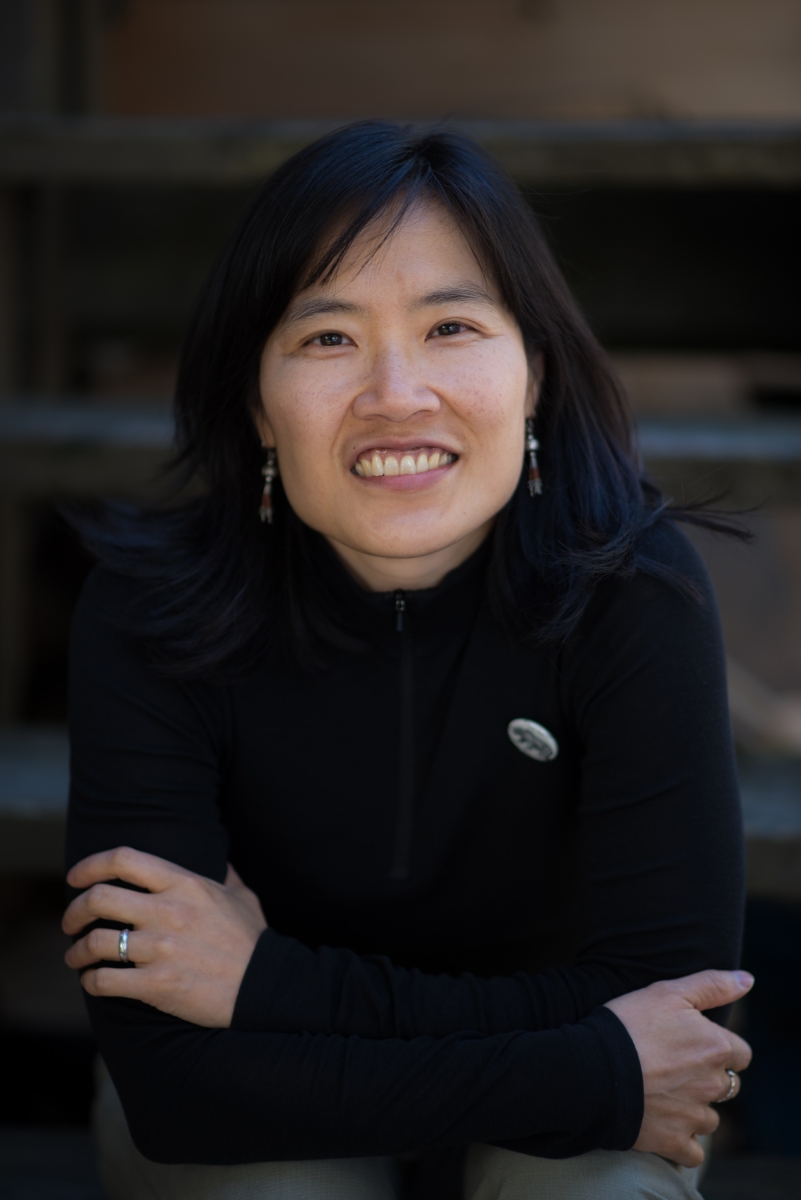 Wiley H.
Wiley is a long-time North Vancouver resident. She works as a technical writer and is the current newsletter editor for the North Shore Writers' Association. She spends her free time feeding her twin passions of creative writing and hiking. She recently discovered a potential third passion - the pottery studio at the Delbrook Community Recreation Centre.