How being disconnected created a powerful art experience.
Last weekend my family and I went on a road trip. We packed as minimally as we could for the overnight trip but, like most people, we brought along our smartphones.
The personal phone has become an indispensable tool for navigation, information, entertainment and photography. However, increasingly, our phones are distracting us from our immediate surroundings and each other.
Road trip to Seattle
We planned our road trip with our extended family, three generations in all. It was a feat and a treat to get everyone together, including cousins and grandparents. Everyone crammed into one vehicle and drove down to Seattle. We checked out various attractions, including museums, art galleries, restaurants and the waterfront. 
Chihuly Garden and Glass Gallery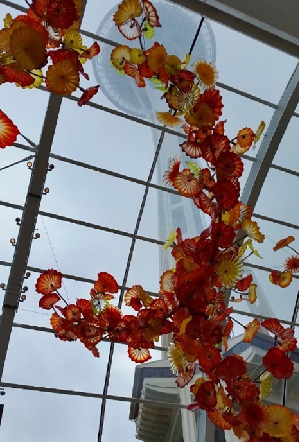 The highlight of the trip for me was the Chihuly Garden and Glass Gallery in downtown Seattle, right next to the Space Needle.
To say that I was overwhelmed by the giant, vibrant blown glass installations would be an understatement. 
Dale Chihuly is a genius who drew his inspiration from nature. Many of his art installations are 2 to 3 storeys tall. 
Using a palette of 300 colours, Chihuly likes to create works that "overwhelm the senses of the viewers". Incredibly, even though Chihuly lost the sight of his left eye in a car accident mid-career, he carried on to create some of his most iconic works after the accident. 
Now, aged 77, he continues to create and teach the next generation of glass artists. His story, like his art, is breathtaking. If you find yourself in Seattle, this gallery is a wonderful way to spend a few hours.
Busy taking pictures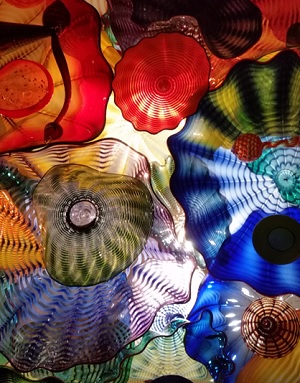 Of course, I took pictures. A lot of pictures. I dodged and weaved around the other tourists also intent on capturing all that beauty. We did an odd dance around each other, pointing our phones at displays, tapping, and quickly moving on to the next exhibit. 
Everyone seemed to want to capture the moment for later viewing instead of appreciating the exhibits in real time. We rushed from exhibit to exhibit with our phones, making sure we didn't miss documenting any pieces.
Then my phone died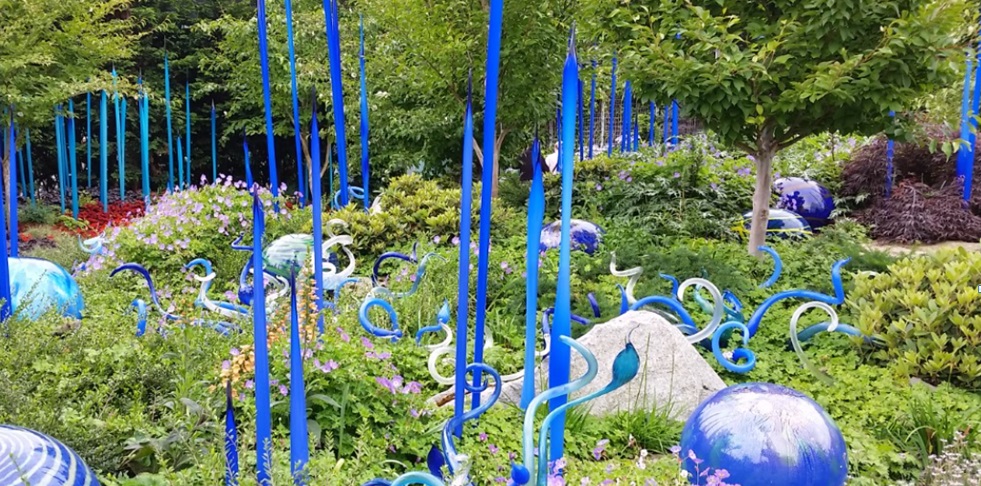 Right after I took this picture my phone died. I was exasperated with myself for not charging my phone the night before – I still had half the exhibit to go! 
Then an interesting thing happened. I started to see the art work – actually experience the art in the moment. Freed from taking photos, I became immersed in forms and colours. I absorbed specific details. Tubes of transparent aquamarine reminded me of swimming in the ocean on a sunny day. Bulbous sculptures with glossy curves resembled iridescent soap bubbles in a garden full of living plants and buzzing bees. A mound of purple glass transformed into a tower of rock candy. 
I also took notice of the people. 
Most people had their phones out, taking pictures. Some took selfies, then got distracted with reviewing their shots, deleting, or even modifying them on the spot. A few viewed the art only through their phone displays. This struck me as tragic and comical and made me confront my own habit of taking photos of beautiful things rather than really experiencing them. When we rely on the camera to record details, we don't tend to notice or remember them later. Also, like most people, I rarely go back to examine my photos, especially when superior, professional versions of them exist on websites!
There were a few people without phones or cameras. They stood statue-still in front of the art displays, in deep concentration. They seemed to be communing with the beauty. It occurred to me that this was true appreciation.
Reclaiming deep noticing
The initial irritation over my phone dying turned into a valuable reminder to reclaim the moment and the magic of experiencing life as it happens. Rather than trying to capture the moment, I was liberated to simply enjoy it. And I did. 
I want more of that – to be less distracted and to notice details.
But, in order to nurture deep noticing, we need to stop being in constant recording or documentation mode. We need to take holidays from our smartphones. For all the wonders of the handheld device, it also reduces our focus in the moment and distracts us from our surroundings and each other. 
So, I've decided to challenge myself to weekly phone-free outings. Once a week, deliberately, I will go out without my phone. I want to deeply notice my surroundings again, be lost in my own thoughts, and pay full attention to the people I choose to spend time with. 
Are you up for the challenge? Join me in taking phone-free breaks once a week. I promise it will feel amazing!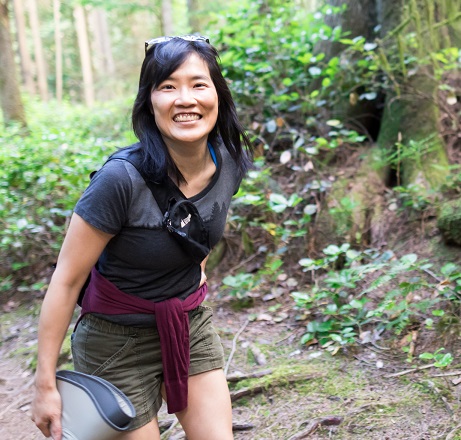 Wiley H.
Wiley is a long-time North Vancouver resident. She works as a technical writer and is the current newsletter editor for the North Shore Writers' Association. She spends her free time feeding her twin passions of creative writing and hiking. She recently discovered a potential third passion - the pottery studio at the Delbrook Community Recreation Centre.