How Terry Stewart translated a lifelong love for the arts into a fruitful retirement.
The  first thing one notices upon meeting Terry Stewart is his youthful energy. Also, his dapper dress and great sense of humour. After a long and successful legal career, Terry retired in 2018 at the age of 75. A lover and maker of art, Terry recently switched from woodcarving to a new medium for him: clay. Now a member of the Delbrook Pottery Studio, he says, "I've died and gone to heaven in this place – there's even a good coffee shop downstairs." 
A long and rewarding career
In a law practice spanning 48 years (40 of them full-time, 8 part-time at Digby Leigh & Co. in Edgemont Village), Terry was co-founder of two law firms, Norton Stewart, Business Lawyers in 1971 and Stewart & Winch LLP in 2008, both of which continue in practice today. Terry has acted on behalf of thousands of clients and numerous charitable entities without ever having a complaint/letter from the Law Society of British Columbia. Terry says he feels "gratified to have gotten along so well with clients in a profession that can be fraught with conflict for all parties". Terry's work ethic and contributions have garnered him much respect and admiration in the legal community. 
When asked what he misses about working life, Terry waxes nostalgic about the great friendships he's forged over the years, the value of dedicated work, as well as giving back to society. 
"Also," he laughs, "wearing fancy ties to the office." Terry has a penchant for sharp dressing, something, he says, helps to keep the spirits up. 
Art after work
When Terry retired in 2018, he was able to devote his energy into other passions in his life, namely his family, working out, and art. A lifelong lover of the arts, Terry is particularly drawn to Indigenous art of the Pacific Northwest Coast. His interest in Indigenous art and sculpting began early. Terry's mother was born in Port Alberni where there was considerable interaction between Indigenous and non-Indigenous people. As a result, Terry was exposed to the region's history and culture, for which he developed a lifelong fascination and affection. While attending UBC, Terry fished amongst Indigenous fisherman in the summers in Ucluelet for BC Packers. Subsequently, Terry acted as a lawyer for numerous fishermen in his early career.
Terry has deep appreciation for northwest coastal art. He is especially grateful to have been able to study under the late, great Nisga'a carver Norman Tait, Norman's partner and fellow artist Lucinda Turner and, more recently, the Tsimshian master carver Terry Starr. Under their tutelage and over many years, Terry learned to carve beautiful masks, bowls and his own creations.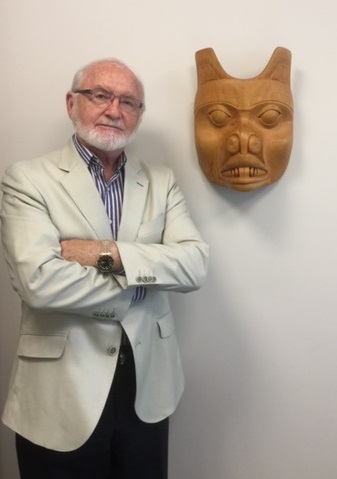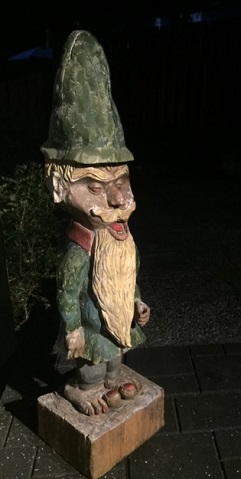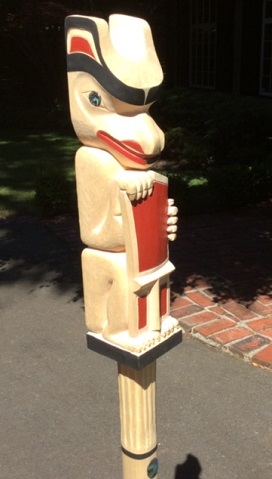 Switching mediums
After almost nineteen years of fine woodcarving, which requires the carver to hunch over a block of wood for long hours (over many weeks or months typically required for a single carving), Terry developed nagging neck problems. Last autumn, his close friend Cory Steuart encouraged Terry to try the clay medium at Delbrook Pottery Studio. After taking an introductory class, Terry was hooked. Having thus transferred his love of sculpting from wood to clay, Terry is completing his first sculptural piece, the bust of a fallen gladiator, which he is calling "The Agony or The Ecstasy?" He explains with a smile that the "or" and the "?" are both essential, as he believes interpretation of art is up to the beholder.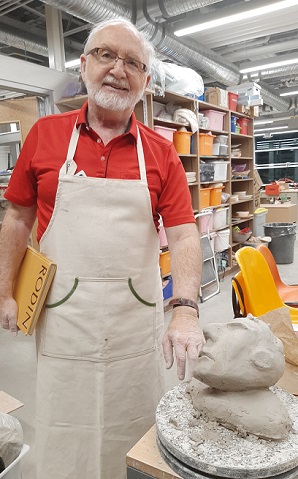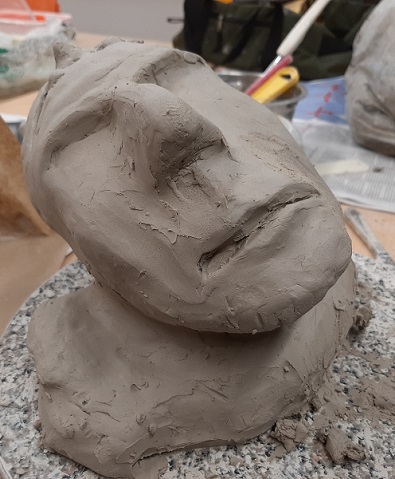 As Terry works, he keeps an artbook on Rodin nearby, a gift from his wife Brigitte when he was called to the bar. "I've had this book for fifty years," he says. "I keep it close. I like studying it because there's just so much to learn."
Therein seems to lie the secret to Terry's success in life: abundant curiosity. 
The makings of a fruitful retirement
When asked what makes for a good retirement, Terry pauses thoughtfully before replying, "I think it's important to have many interests and hobbies." 
Terry credits his love for athletics and art for keeping him active and engaged. He works out three times a week at the gym in the Delbrook Community Rec Centre, a facility he describes as "terrific – there's even a good coffee shop in the building." At his recent discovery of a third source of pleasure in the building – the Pottery Studio – Terry quips, "It's like I've died and gone to heaven."
Among his many blessings, Terry counts great friends and a wonderful wife with whom he shares numerous interests, including art and travel. Together, they've lived on the North Shore for 47 years and raised three children, and are now proud grandparents of six grandchildren.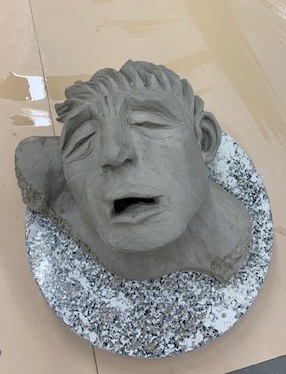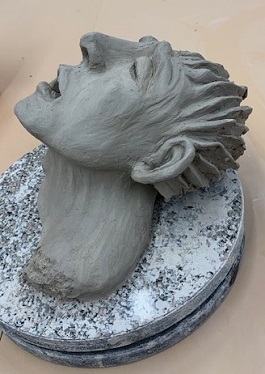 Terry's latest artwork (above): "The Agony or The Ecstasy?" With a sense of humour that keeps him from taking himself too seriously, Terry insists on the "or" and "?" in the title for his bust of a fallen gladiator. Terry believes the interpretation of art is up to the beholder.
When asked what his next project will be, Terry responds, "Another bust. Maybe two. You have to keep practising." Unlike carving, which Terry describes as a process of taking away, sculpting in clay is more of an additive process. His eyes sparkle as he enthuses about the potential of his new medium, clearly excited about new discoveries he has yet to make. 
Terry says he is enjoying the great community at the studio and staying in the moment with his art. It is apparent from his passion for art that it will keep him going strong in his retirement.
Advice for active living
"I would encourage young people to get away from the TV and their smartphones, and to a pursue passions and interests which will become great investments for their future lives." Terry smiles as he concludes, "And, like the Sinatra song, try to have only a few regrets." 
Wise counsel, indeed.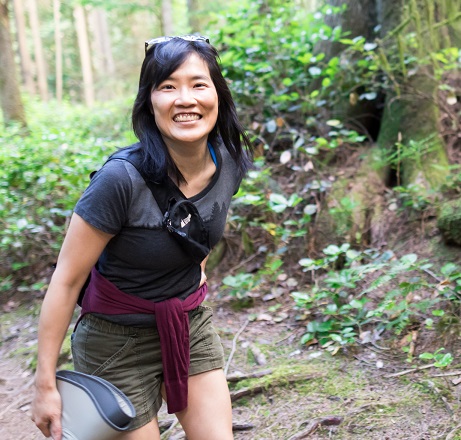 Wiley H.
A long-time North Vancouver resident, Wiley works as a technical writer and is the current newsletter editor for the North Shore Writers' Association. She spends her free time reading, hiking and discovering new things to try at North Vancouver Recreation & Culture!