Art in the Garden turns 20 this year, bringing with it double the amount of music! The event will take place on May 25 & 26 from 12 – 5pm  each day. Bring your family and friends along and enjoy a memorable experience of art, crafts, live music and the best gardens on the North Shore. 
8 Reasons #ArtintheGarden is Good for You
1. Digital Detox
Step away from the digital world and practice the art of being present by visiting 14 gorgeous private gardens filled with art and crafts from 32 artists and artisans and 112 hours of live music.
2. Nature is a proven stress-reducer 
Research has proven that surrounding yourself with nature can be one of the most powerful stress-relievers, breath in the scent of those spring blossoms and stand in awe of an unusual monkey puzzle tree.
3. Looking at Art Can Make You Happy
Heighten the activity of your brain's frontal cortex and stimulate the pleasure centre by looking at art.  You might enjoy the experience so much, you'll want to buy some work and take it home - add beauty to your life.  
4. Music is Medicine for the Mind
Listening to music encourages the production of dopamine, making us feel more positive and even elated.  Art in the Garden 2019 has double the amount of live music than the years before, including jazz, folk, country acoustic roots and world fusion.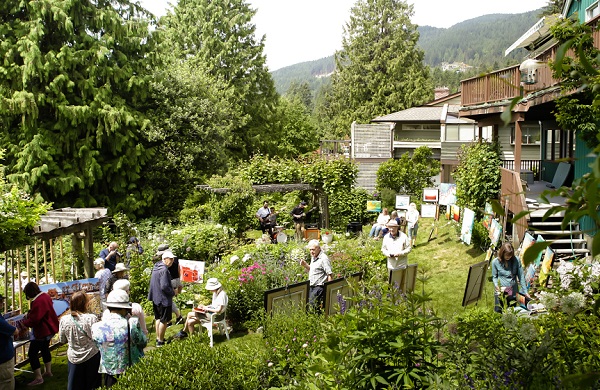 5. Gardens Nourish the Spirit
If you're an amateur or a master, you'll likely learn something new in this year's garden tour. Each host gardener lives and breathes gardening and would be more than happy to inspire, advise or impart knowledge, sharing that 'gardening glow'.  
6. Supporting and connecting with your community is recognised as a key factor contributing to a longer life. 
Get to know your neighbours, meet some local artists and feel part of the community. Lovely!
7. Art in the Garden is good for your bank balance
Only $2 per garden or $20 for an all-garden discount pass and children under 12 enter for free making this one of the most affordable family outings you'll go on this year!
8. Leave the hustle of the Lower Mainland and stand a chance to win a weekend away on the Sunshine Coast.
Fill in a survey at your last visited garden and stand a chance to win a rejuvenating weekend for two at the luxurious Painted Boat Resort Spa & Marina. Guaranteed to boost your mental and emotional health!   
For more information, visit North Van Arts.