How potter Barbara Brown is surviving the pandemic and studio closure.
Art can be powerful therapy for stressful times. For Barbara Brown, an enthusiastic potter and member of the Delbrook Pottery Studio, the closure of NVRC facilities has been challenging. More than missing her favourite art medium, she misses her clay community that has become her second family. While she waits for the doors to reopen, Barbara has been channeling her creativity into other artistic outlets, including sewing masks and scrub caps for hospitals and non-profit organizations!
Meet Barb the potter
Barbara "Barb" Brown has loved pottery since she was a little kid watching her older brother at a pottery class in the early 1970s. She says, "I was fascinated by the idea of turning mud into art." She always wanted to try the art form but life got busy. About ten years ago, Barb got her chance to pursue her passion. She took classes from Louisa Leibman at the old Delbrook Pottery Studio and became a member of the studio soon after. She was hooked.
Barb describes the pottery studio as a welcoming space for all ages, backgrounds and skill levels. Members tend to be very generous with their knowledge, encouragement, and sometimes tools. "The community of potters at the studio is a wonderful thing," Barb says, and considers the other members to be great sources of inspiration and support.
Pursuing a passion and finding a sanctuary
Barb's pottery work has steadily improved over a decade of regular practice. In recent years she has been able to dedicate more time to clay, spending three days a week at the studio, six hours a day. She has thrown hundreds of pots over the years. All that practice is now reflected in her skillful, beautiful creations today.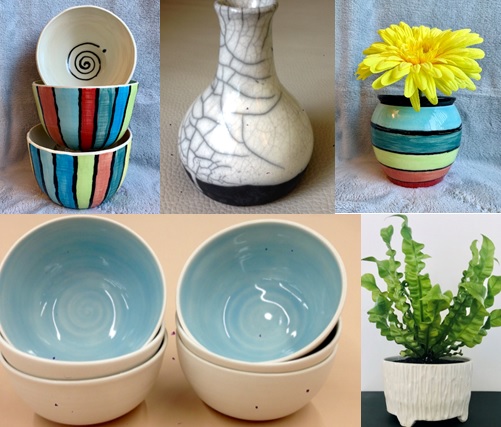 A few examples of Barb's beautiful and functional pottery
Barb considers pottery a therapeutic art, saying she can suspend a lot of life's difficulties and let go of daily stresses at the pottery wheel. 
"Pottery is my artistic yoga. It helps me maintain good mental health. On the wheel, I am calm and in the moment." Barb believes she has found her community and a tremendous sense of wellness, peace and joy at the Delbrook pottery studio. "It's my sanctuary."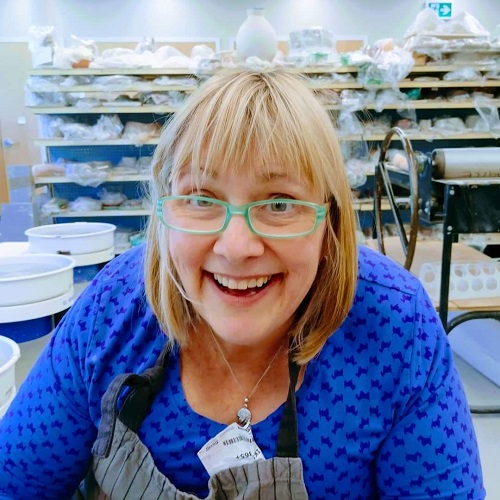 Barb Brown in her element on the wheel at Delbrook Pottery Studio
Then the pandemic closed down everything
In mid-March, the NVRC facilities had to shut their doors, in accordance with provincial health and safety recommendations.
"I bought some clay for hand-building (pinch pots) but it wasn't the same." Barb says she has been missing the studio terribly. "I miss the community component – all the great people I've bonded with over the years. I really miss them."
"At the beginning, I was shellshocked like everyone else," Barb says. "Gradually, I realized this is going to take a while. I asked myself 'What now?'" 
In March and April, during the early weeks of the outbreak in Canada, there was talk about a severe shortage of PPE (personal protection equipment), especially face masks. The dire situation spurred Barb to help. "I felt like doing something useful," Barb says. So, she dusted off her sewing machine. "I just started sewing."
Textiles to the rescue 
At first, Barb sewed masks for family and friends. Then, she found out about "Sewing for COVID", a Sew Awesome initiative by a local mother and daughter duo, to make masks, surgical caps and gowns for hospitals and organizations in need. They provided Barb with approved patterns for masks, caps and gowns. Barb got to work. When the sewing stores ran out of elastic, Barb had to get creative. She fashioned ties from stretchy T-shirt material. Barb made and donated 20 masks and 10 scrub caps to the Sew Awesome project.  

 
Barb's colourful assortment of masks and scrub caps
Skills of self-sufficiency
Barb learned to sew when she was young. Taught by a mother who was born in The Great Depression, Barb has been sewing since she was eleven years old. She credits her mother for teaching her how to sew and knit, which Barb says has given her "skills of self-sufficiency – to make things and also to make do when things get tough."
Barb remembers as a teenager not being allowed to buy brand-name clothing, but that her mother would always agree to buying fabric. "I used to make all kinds of clothes," Barb laughs. "I've even made my own bathing suit!"
The ability to make things from scratch has come into fashion and Barb finds the trend heartening. "My big revelation during this time is self-sufficiency. What was old-fashioned is now fashionable again. There is renewed interest and value in the handmade. I love seeing younger people at fabric and yarn stores."
In the last few months, Barb has also discovered a sewing community, independent fabric stores, and many sewing patterns available online, in pdf form instead of the old tissue format. She has even taught herself how to crochet from a book and from watching videos. Laughing, she says, "You can teach yourself anything on YouTube."
Having been a creative maker all her life, Barb is getting through this difficult moment by continuing to create. 
"For me, the role of art is meditative," Barb says, "It takes you out of your head and into the moment. We live in a world that is data-driven, information juggling that doesn't provide a lot of satisfaction in the completion of something. With crafts, you start with nothing and create something functional and beautiful. Take pottery, for example, you're taking dirt and transforming it into art. This allows for a sense of accomplishment." 
Barb has sold her pottery in several art shows. In recent months, she has made and shared hundreds of masks. "It's tactile therapy," she laughs. "It's also nice to see people enjoying and using something I made." Currently, Barb is taking a break from masks to sew herself some summer clothes, a T-shirt, shorts and capris. When asked what she hopes to do after that, Barb replies, "I hope to get back to the pottery studio soon!" 
The first thing Barb plans to throw when she returns to the pottery wheel is a cylinder. "If you can throw a cylinder, you can make anything," she explains. She pauses thoughtfully before concluding, "Yes, it's sometimes important to get back to the basics."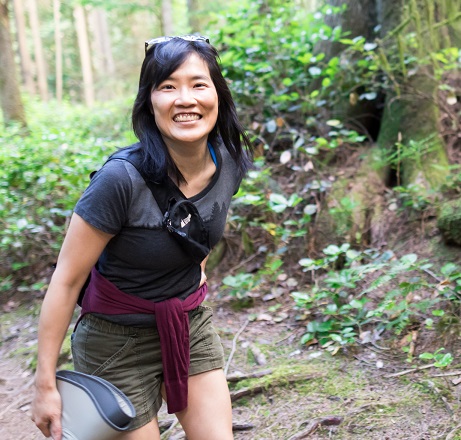 Wiley H.
A long-time North Vancouver resident, Wiley works as a technical writer and is the current newsletter editor for the North Shore Writers' Association. She spends her free time reading, hiking and discovering new things to try at North Vancouver Recreation & Culture!