Visual Artist Miriam Aroeste rediscovers the beauty in nature.
Miriam Aroeste has been walking 10 km every day since the start of restrictions imposed by the current pandemic. She has been exploring trails, lakes, rivers and parks all over Metro Vancouver. At first it was a way to get some exercise and perspective during this challenging time, but Miriam has found magic and inspiration from walking in unexpected places: "We live in such a gorgeous place and it is uplifting to be in nature. I just follow beauty."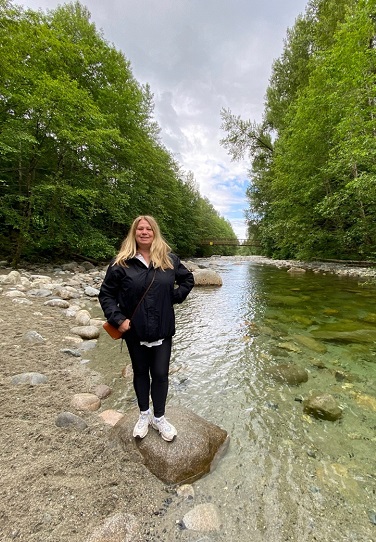 Meet Miriam
Miriam Aroeste is a successful visual artist, art consultant and curator. Her conceptual paintings are studies in colour and movement, inviting the viewer to feel, explore and connect with energy. Her work has been exhibited locally and internationally, and is collected and admired all over the world. 
Born and raised in Mexico City, Miriam lived, trained and worked in Rome and Paris before she settled in Canada. She studied film in Italy and worked as a script writer and production manager where her energetic determination came in handy. She later studied Visual Arts and Photography at Emily Carr University and became a full-time artist and professional photographer. 
After falling in love with Canada on a trip to visit her brother, Miriam moved here thirty years ago and has called North Vancouver home ever since. She and her husband have raised a family in the Blueridge community where they still reside.
Miriam speaks over five languages and loves music and dance, especially flamenco, which she says "requires the body to move in many different directions simultaneously – your hips this way, your arms that way, your head another way. If you dance flamenco, your brain is on fire."  Miriam loves every form of art – visual, performance, literary – and enthuses about them all, saying, "Art is simply essential."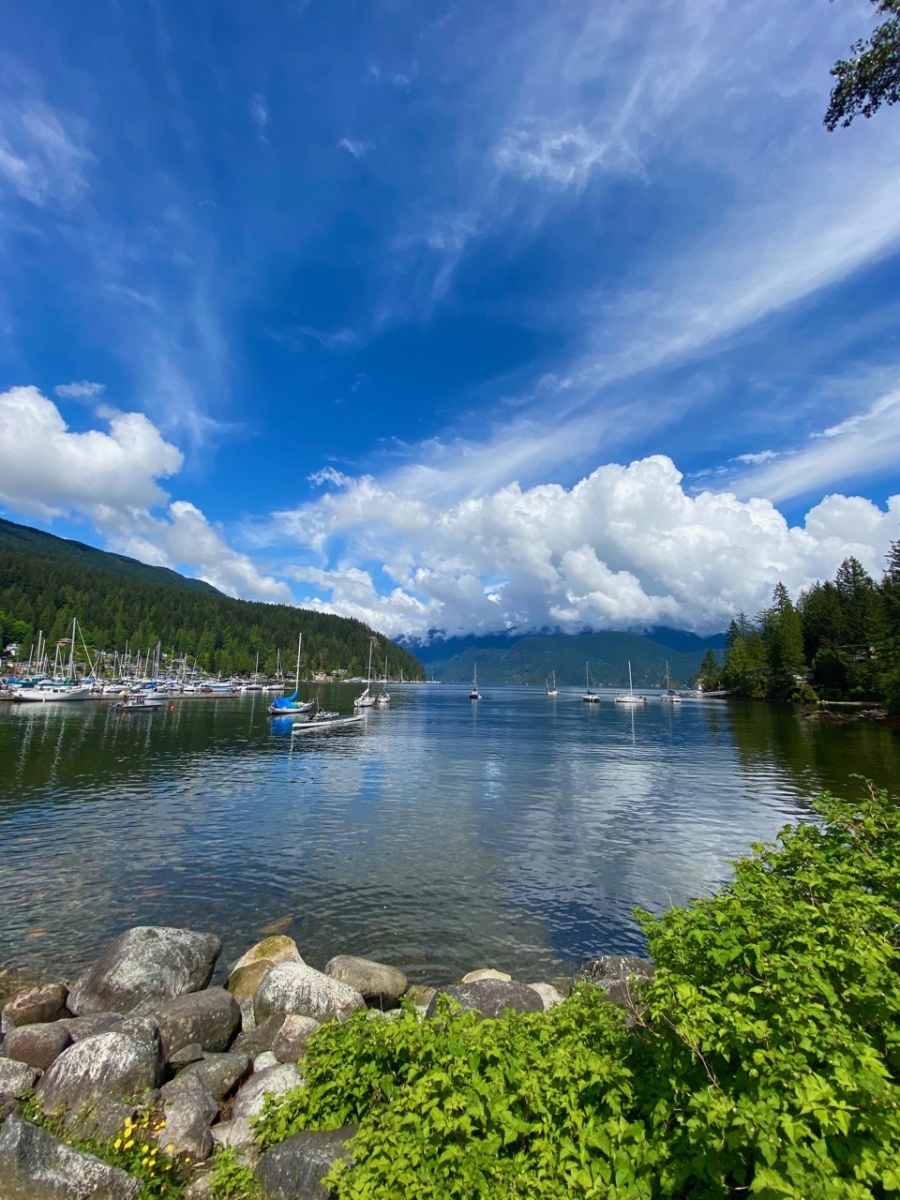 The need for nature and beauty in times of crisis
"A few months ago, when the pandemic began, I started walking," Miriam says. First, she walked trails in her neighbourhood as a way to get into nature and find some perspective. Then she started to select the most beautiful places to walk. She finds walking engages all the senses: "Moving your body in nature, breathing deeply, is such a natural way to stimulate happiness." On her walks, Miriam finds beauty everywhere. "We live in such a gorgeous place and it is so uplifting to be in nature. I just follow beauty."
Getting Walking
Miriam downloaded a free step-tracking app that recommended 10,000 steps a day (approximately 8 km). After a few weeks she found she could walk 10 km and that became her daily target. Soon she was curious about finding other trails and downloaded AllTrails, a free app that provides trail guides in your vicinity. Then she discovered PictureThis, yet another free app that identifies plants and flowers. Miriam has been an urban explorer ever since, traipsing all over North Vancouver, Vancouver and the Lower Mainland – so far. Now, she receives regular calls from friends and acquaintances wishing to join her on her daily walks, something which makes her happy: "If I can inspire just one more person to walk and see the beauty that surrounds us, I am content. For people who live alone, I encourage them to reach out to friends and say 'Let's go for a walk.'" 
On her walks, Miriam often takes photos with her phone. Sometimes she strays off the beaten path because a particular view will grab her. She laughs, "I choose my walks but sometimes the walks choose me. Sometimes I feel like Forrest Gump. I start walking and walking and I cannot stop." Miriam has taken hundreds of beautiful photos on her walks, many of which feature the sky, as she explains, "I am in love with clouds. They are incredible and endlessly changing." She is not sure what she will do with all the pictures yet, but the gleam in her eyes hints that the creative wheel is turning.  
Facing the challenges of the pandemic's impact 
Despite being a successful artist, Miriam faces the same challenges as all people in the arts right now. She describes the disappointment of cancelled exhibits here in Canada and overseas since the pandemic hit, "All my scheduled shows have been cancelled. Some galleries are even closing. It's terrible." She took a pause to ask herself, "What can I do? There is always something to do." Miriam started reaching out to clients and previous contacts. She says things have slowly started to improve for her. "There are always opportunities out there," says Miriam, "I realized I just have to be more creative." 
Miriam credits her daily walks for being a big source of self-healing and inspiration. For several months she has been committed to a daily practice of walking and going into her studio to work. She says the time to reflect and encounter beauty on her walks have both motivated and informed her paintings. At the beginning of the pandemic, she was drawn to using a grey and black palette, which is unusual for her.
Gradually and more recently, she has found her way back to the vibrantly colourful palettes she loves and which are her trademark. "Art," Miriam says, "is our way of expressing our deepest emotions." She points to the murals, memes, vignettes, protest posters that are being created daily and says, "Even now, or especially now, with what we are going through, art plays an incredibly important part for expression and healing."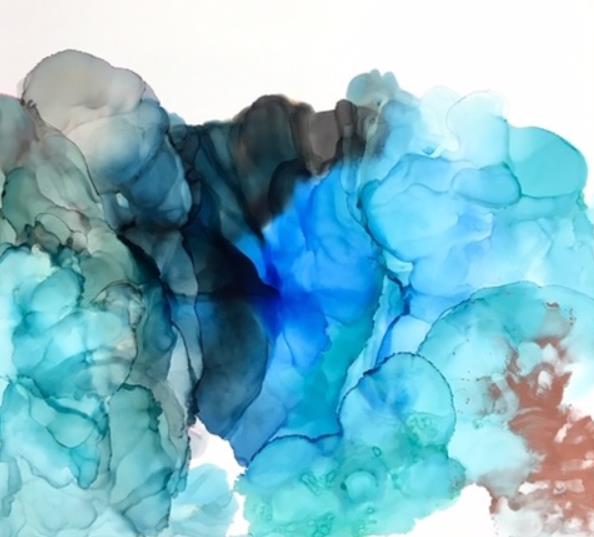 Imagining with you (Miriam Aroeste)
Be gentle right now and keep going
Despite her resilience, stress sometimes overwhelms Miriam too. She shares her favourite antidotes for overcoming anxiety and inertia: music, dancing, walking and doing what you love. She is also an advocate for the power of a good cry: "Sometimes, it's necessary to just have a good cry. Let it out. Go for a walk in the woods and holler or weep. The forest is a good listener." 
Miriam reminds us all "to be careful with ourselves. We must be gentle right now but that doesn't mean doing nothing. This moment we are more still. It is a time for reflection but also a time for reinvention."
Miriam's artwork can be viewed on Instagram at miriamaroeste.art and her website miriamaroeste.com. Miriam welcomes visitors to her studio at 1000 Parker Street by appointment. She can be reached here. 
See gallery below for more of Miriam's original paintings and photographs.
North Vancouver Guide to Great Walks & Trails 
NVRC's Get Walking PDF guide introduces you to 20 favourite North Vancouver walks through stunning forest trails, quaint neighbourhood crescents and magnificent urban parks. Work your way up from easy to moderate to advanced walks as you increase your fitness and stamina. Featuring walking tips, photos, maps, ratings and step by step directions, this guide is all you need to start walking today.
Download a copy of the North Vancouver Guide to Walks & Trails now.