"I believe the outdoors is for everyone," says Taryn Eyton, outdoors enthusiast, adventure writer, blogger and now author of Backpacking in Southwestern British Columbia, an essential guide to overnight hiking trips. Her new guidebook features 40 overnight backpacking trips to destinations easily accessible from Vancouver. "The key to enjoyment is getting out there knowledgeably and responsibly."
About Taryn Eyton
Born in New Westminster, Taryn Eyton grew up in an active family that spent a lot of time outdoors. Growing up, she played soccer, biked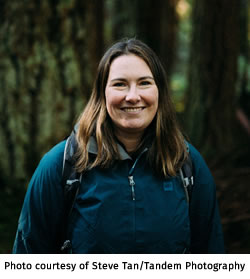 and hiked with her father. Her love of the outdoors has only grown with time. Taryn shares her experiences and expertise of the outdoors in her blog, Happiest Outdoors. 
A freelance travel writer, Taryn also writes for Tourism Vancouver's blog and NVRC's Active Living blog. Taryn is grateful for the opportunity to play outdoors and, in the tradition of outdoors enthusiasts, wishes to pass on the knowledge she has gained over the years. This month, she launched her first guidebook Backpacking in Southwestern British Columbia.
An avid collector of guidebooks and maps, Taryn saw a need for a guidebook on accessible overnight backpacking trips close to Metro Vancouver. "I wrote the book I wish had existed when I first started backpacking. I've been thinking about a book like this for years." 
Taryn laughs when she recalls her first backpacking trip. After finishing her undergraduate degree, she and her boyfriend (now husband) Greg went backpacking on the notoriously tricky West Coast Trail. "I can still remember how heavy my pack was, how tough I found the trip because I wasn't prepared. There was deep mud everywhere. I got really tired and just broke down crying from being overwhelmed. But I finished the trip. After that I was hooked!"
Since then, Taryn has been on countless backpacking trips. She is a passionate advocate for responsible trail use, practicing Leave No Trace backpacking (www.leavenotrace.ca). Taryn is a certified Leave No Trace Master Educator and has volunteered to teach wilderness ethics education for over a decade. "Unfortunately, there are a few popular destinations in BC that are getting loved to death and becoming damaged or polluted by misuse. I want to help protect the wilderness by sharing what I know, to minimize human impact on the outdoors and to keep places wild." 
To that end, Taryn was very deliberate to include in her guidebook only areas that have a land manager (managed by provincial parks or adopted by stewardship groups). She also included a section on outdoors ethics, including how to be prepared for self-rescue, respecting other people on the trail, camping clean, and how to handle wildlife encounters.
Backpacking in Southwestern British Columbia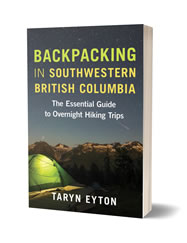 The culmination of Taryn's many years of research and passion is Backpacking in Southwestern British Columbia, a gorgeous guidebook that covers 40 backpacking trips within easy driving distance of Vancouver. Packed with practical information and enticing colour photos, the book describes trails to mountain peaks, alpine meadows, waterfalls, old-growth forests, and more. Trips range from 1-3 nights with options to expand, depending on time and fitness level. There are destinations suitable for beginners all the way to advanced. 
Every featured backpacking trip includes:
Elevation, distance, and time information
Route descriptions and trail maps
Points of cultural and natural history
Tips on where to camp and where to find water 
Pre-planning hints about fees, permits, and reservations
Suggested side trips and points of particular interest. 
"There is a big range of hikes in this book," says Taryn. "Most are in the moderate range with some easier ones for beginners and some challenging ones for experienced backpackers. My goal with this book is to feature some of amazing local wilderness that is accessible to almost everyone."
Taryn started the project in earnest in 2017, on weekends and vacations when she wasn't working. Taryn spent three years researching, documenting terrain, conditions, amenities and taking photos. In early 2020 at the start of the pandemic, she wrote and revised the content of the book. She says, "I know the pandemic has been really hard for many people, but last year I was able to just put my head down and work. It was the most productive time for me." For her next book, Taryn is planning a backpacking cookbook that will include easy to prepare, yummy, light, and nutritionally dense recipes. She hopes to bring that book out in May 2022.
Where to find a copy of Backpacking in Southwestern British Columbia
Taryn Eyton's Backpacking in Southwestern British Columbia is available at independent bookstores, outdoor outfitters, online retailers, and at your local library.  
If you'd like to purchase a personalized and autographed copy, order directly from Taryn at: Shop | Happiest Outdoors. 
Since Mother Nature has a way of altering trails and access roads every year, Taryn will provide regular trail and road conditions updates here: Backpacking in Southwestern British Columbia Book Updates page.
Taryn reminds us all to "Be prepared and enjoy the outdoors safely and responsibly!"


 
Here are some of Taryn's excellent Active Living blogs on local outdoor gems and activities:
Biking the North Shore Spirit Trail 
Explore Capilano River Regional Park 
Explore Lynn Headwaters Regional Park 
Explore Mount Seymour Provincial Park 
Explore the Lower Seymour Conservation Reserve
3 Great North Shore Hikes for Hot Days 
Three Waterfall Hikes on the North Shore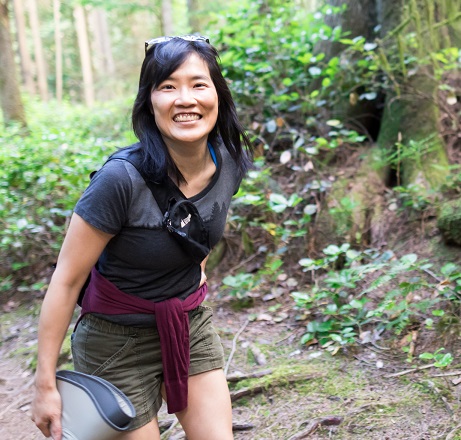 Wiley Ho.
A long-time North Vancouver resident, Wiley works as a technical writer and is the current newsletter editor for the North Shore Writers' Association. She spends her free time reading, hiking and discovering new things to try at North Vancouver Recreation & Culture!