Winter weather in North Vancouver can be…"challenging". People in other parts of Canada only hear about the rain, but don't realize that the clouds and lack of sunshine are just as much of a factor in the "winter blahs" as the rain. Doctors tell us that regular exercise is one way to combat winter weather—and I also add snowshoeing to my personal list. Something about snowshoeing makes me feel like I am beating winter—mentally and physically. 
Embrace winter weather
Ski and snowboard die-hards often say "rain in the city means snow in the mountains". Last winter and (so far) this winter they are right! My advice: get up there and experience it. Snowshoeing is basically like hiking, except you're "above" the hiking trails, on top of the snow.  But—as always--make sure you are properly equipped, and prepared.
Snowshoes and/or spikes
The biggest mistake you can make in the snow is to not have the proper footwear and grip. Hiking shoes or boots are NOT enough for most snowy alpine trails. Invest in (or rent) a pair of snowshoes that will give you grip, and help you float on top of the snow instead of sinking deep into it (called "post-holing", which is exhausting, and dangerous). For hard packed and icy conditions on steep trails, slip-on micro-spikes can be a better option than snowshoes. But if you can only afford one option, go with snowshoes. I also use a pair of old beat-up ski poles which really help keep you stable on uneven terrain—especially the downhill parts. 
Dress for winter
Having the right clothes/gear can make the difference between enjoying the experience, and "enduring" it. Remember: layers, layers, layers. Bring more clothes than you think you'll need…you'll usually be happy you did. Pack an extra pair of gloves, and a hat/toque/beanie—whatever you need to stay warm. A waterproof jacket and rain pants are smart to pack (or wear) in case of snow falling while you're in the alpine, as the weather can change in a hurry. Gaitors are another good investment—they fit over your boots and keep the snow from creeping in and getting your feet wet. And never forget sunglasses on a sunny day! The sun's glare is magnified by the reflection off the snow. I always pack a headlamp as well, for trips before sunrise, or late afternoon/evening ventures.
Be prepared
On any backcountry excursion—and especially snowshoeing--you should pack an emergency/first aid kit. North Shore Rescue has a detailed list of what everyone should carry--their "Ten Essentials" (including the obvious--food and water). I also check alpine weather forecasts before heading up (Mt. Seymour's website has a link to a reliable alpine forecast).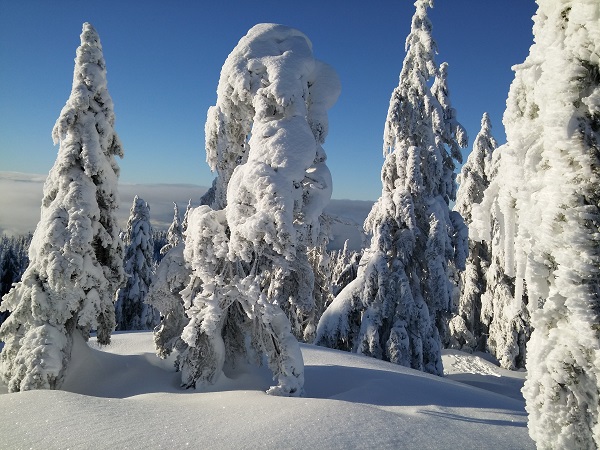 Where to go?
Mt. Seymour and Grouse Mountain and Cypress have excellent "in boundary" areas for snowshoeing (Seymour/Cypress require a paid ticket, Grouse a gondola ticket or pass). Groomed, well-marked trails around alpine lakes give you options for easy or harder excursions. Snowshoe rentals are available at all resorts. Seymour and Cypress also give you access to provincial park back-country trails, via their downhill skiing parking lots. The 2 km Dog Mountain trail at Mt. Seymour is one of most popular trails on the North Shore, passing First Lake, and ending with fantastic views of the Lower Mainland below.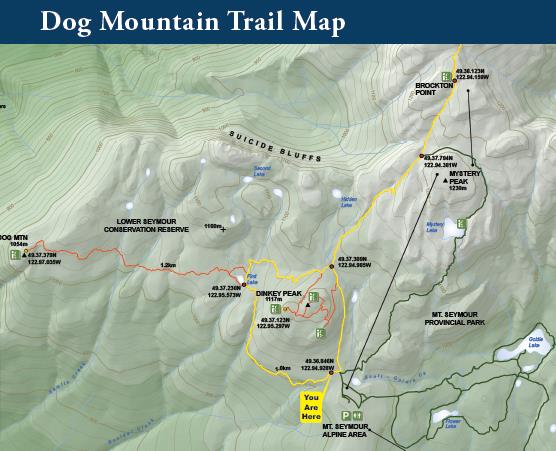 Map: Metro Vancouver 
Snowshoe Tours
For those who want to try snowshoeing with a guide, Mount Seymour offers lots of options for snowshoe tours.
Advanced Trails
For a real challenge—and again this is NOT for beginners—BC Parks has a 4 km marked trail to the first peak of Mount Seymour. It starts with a gradual uphill slope to the left of the main downhill ski runs, steeper trails past Brockton Point, then very steep into the alpine above the treeline. Good fitness is necessary, especially near the peak. The wind can also be challenging—and bone chilling if you aren't dressed properly. 
Grouse Mountain has many easy trails through Munday Alpine Snowshoe Park, plus harder options to Dam Mountain (the "Snowshoe Grind"), and Thunderbird Ridge, for the price of a gondola ride. Or purchase a "locals" annual pass to gain access to the alpine for year-round hiking and snowshoeing.  
Mike H.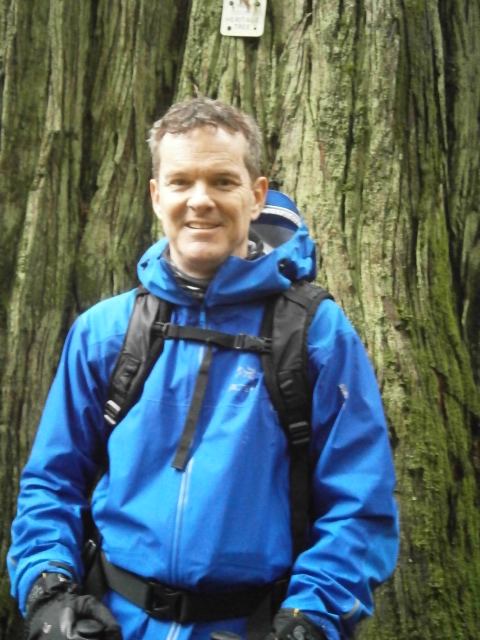 Mike Hanafin is an avid hiker and snowshoer with a passion for old-growth trees, and discovering hidden gems in the North Shore forests.