People told Anita Rudge that her son Jayden would never learn to swim.  They said his autism was a barrier that would make it impossible for him to be able to take swim lessons.
As a single mother of a young boy with autism spectrum disorder, Anita didn't let the naysayers hold her son back.  Instead, she went to her local community recreation centre in North Vancouver and asked about lessons.  What she found was a team of professional swim instructors who offered special adapted swim lessons and understood that some children need a different approach to learning.  They believed that Jayden could overcome his fear of the water and excel at swimming.
Jayden's Journey
At the age of five, Jayden was non-verbal and his family was learning to accept he may not learn to speak. Then in kindergarten, during a music therapy program, he found his voice and began singing "Let it Go" from the movie Frozen.  Later he told his mom that he had had many words inside but just couldn't get them out.  Anita said it was a miracle. Now at age 8, Jayden is a lively and social boy who is in grade 3 at Eastview Elementary School.
When it came to swimming, at first Jayden was scared to put his fingers in the water.  Fast forward three years after many sets of private one-on-one swim lessons and Jayden now swims in the deep water and underwater with confidence.  Every weekend you can find Jayden and his younger brother Ashton, playing energetically in the wave pool at Karen Magnussen which has become their second home.   
Adapted lessons & Financial Assistance
Anita knows the adapted lessons at NVRC made all the difference in helping Jayden learn to swim.  The one-on-one lessons with caring and knowledgeable swim instructors allowed Jayden to learn at his own pace and master skills in his own time.  The family has also been able to access more swim lessons thanks to the NVRC's financial assistance program that helps individuals and families on low incomes access and participate in recreation and culture programs.
The swim meet 
Long time NVRC instructor Jimmy Cho knew that Jayden was motivated by rewards and told him "If you swim well, you can do races!" and that was all Jayden needed to keep focussed on his swimming. Recently, Jayden competed in a swim meet and at the age of 7 competed against 6-12 year olds and placed third in the 50 metre kickboard race earning a bronze medal which he is extremely proud of.  "I had tears in my eyes," said Anita, who credits Jimmy for having motivated Jayden to participate in the swim meet.  
Skating Too
Jayden has also learned to skate at Karen Magnussen arena.  He may have failed the Learn to Skate Level 1 and Level 2 classes the first time round, but he eventually passed and is now in Level 3.  Learning to skate helped to develop Jayden's leg movement skills which in turn, led him to be able to ride a bike.  He's also now able to go on skating field trips with his school.  Skating has also given him some positive 'cred' with his classmates.  His peers couldn't believe he could skate and when he did, a number of the girls came and held his hand on the ice and his face lit up like a Christmas tree.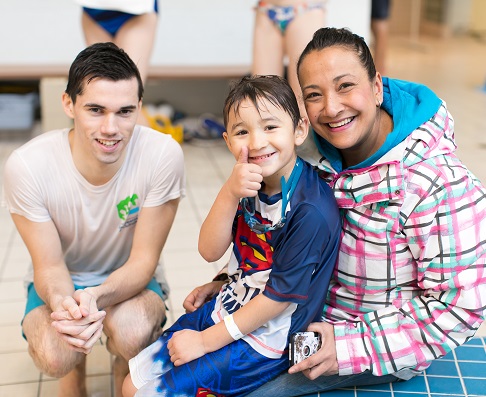 Anita's Journey
Jayden's mom Anita has been through a lot having once lived in a home in West Vancouver and been a successful working manager.  Now she's a single mother whose full time job is taking care of her two children with special needs.   She's become a strong and passionate advocate for her children, "People say you don't have the money as a single mom to pay for programs for your kids.  Many parents give up.  We just don't give up."  
When asked what the Karen Magnussen Community Recreation Centre means to her, Anita replied, "You guys saved me because it was depressing being a single mom with two special needs kids.  But you got me out here and feeling I'm doing something productive.  This is our social life."  
And the benefits to the kids?  
Anita can't say enough about how coming to Karen Magnussen has made a difference in her boys' lives, "The routine and schedule help my boys to self-regulate their behaviour." Anita says, "Jayden's social development has been amazing thanks to the Rec Centre.  People at the Canucks Autism Network (CAN) have asked, 'How come your boys are so social?' and I tell them it's because we go to the Rec Centre.  This is our second family.  The instructors are so accepting and the boys have made friends here."
Inspiring Others 
Anita is most proud of how she and Jayden have inspired other parents to get their children into swimming and skating lessons despite their disabilities.  "Lots of kids are following in Jayden's path.  We didn't mean to be role models - it just happened because we overcame barriers," said Anita.  She remains grateful to the staff at NVRC, "People at NVRC believed in my kids and what they could achieve even when I didn't at first. Now I won't let any barriers stop me."
To learn more about private and adapted swim lessons, visit our swimming webpage.