The "magic hour" describes the time just as the sun sets that imbues everything with golden, ethereal light. It changes from moment by moment as the light shifts and transitions into different hues and dimensions. The Magic Hour at the Presentation House Theatre provides a uniquely captivating, full-body theatrical experience. Running until Aug. 22, 2021.  Don't miss it!
As I entered the Presentation House Theatre and checked in for my scheduled entry, I felt giddy. I was inside a theatre again! 
Like most of us, I hadn't been to an indoor show in a long time. After a year and a half of social distancing, the idea of being in a room full of strangers can be anxiety producing. But this show does not take place in a crowded place. In fact, it is a theatre experience unlike any other. There are no others, just you as the audience and participant. The very format and substance of The Magic Hour reflects, and respects, our collective moment of uncertainty as well our need for imagination and delight. Designed specifically with public health and safety measures in mind, audience members walk through the show one at a time.
The Magic Hour is a collaboration by many artists, including award-winning theatre director Kim Collier and playwright Kendra Fanconi. It is billed as "an immersive theatrical experience, a light-charged story of finding beauty in small moments and possibility within domestic isolation. The destination of this curious and magical journey is a reflection on an unprecedented year – and a step forward into a brave new world."
Guided by gorgeous lighting, stagecraft, and narration, I entered one unique space after another. It felt like I was suspended inside a moving art show within an unfolding story. As I moved from room to room, a beautiful voice gently nudged me to reflect on what has happened to us in the past year – individually and collectively. Images, sounds, words, video, music worked together to create an atmosphere of wonder, whimsy, beauty and even frustration of a day in a life during a pandemic, the smallness of our individual experiences within the vastness of our shared world. 
By the end of the approximately 40-minute show, I felt alert to surprise and possibility. I was enchanted and delighted. Which, I suppose, is what magic is. 
Afterwards, I had the pleasure of chatting with two of the show's artists, playwright Kendra Fanconi and lighting designer Brad Trenaman, for a behind-the-scenes peek into an unusual creative process during an unusual time. 
Bringing people back together gently
"Normally, the theatre is a collective, a space that we experience together," says Kendra Fanconi who wrote the script. "But after such a long shutdown of indoor shows, Kim (Collier) and I wanted to bring the audience gently back to the theatre, and it seemed generous to do that individually. We wanted to highlight wonder and beauty and different ways of seeing the world. The lockdown has been an extreme experience. We wanted to create a rich embodied experience with sensual and sensory gifts."
With the deftness of the audio, video and stagecraft, the show succeeds in the artists' aim to evoke physical and emotional sensations. Beyond the sensory, the show also seeks to ask complicated questions of what it means to be alive at this critical moment in human history.
"The COVID crisis is intersecting with many other crises simultaneously," explains Kendra. "Racial, economic, climate crises are all hitting us right now. There is a sense of danger from strangers resulting in a new otherness that is destructive rather than constructive. As theatre creators, we are asking how the human species can move past this and make a new culture for our future – a much-needed culture of care." 
The show probes the audience to consider what our actions mean individually and collectively, as well as how we might imagine a better, brighter future. It projects the audience billions of years into the future to help situate our present moment, simultaneously illuminating the importance and the ever-changing nature of the now. Throughout the show, the audience is continually prompted to be present, to notice the world and the ways in which we are capable of harming it and the ways we need to care for it.  
"Theatre is all about ideas," Kendra says, "Our aim in creating this show is to stuff your pockets with ideas. The show is full of surprise and delight, and I hope that's what people take away."
The challenge of collaborating during a pandemic
Last winter, at the height of the most restrictive public health regulations, an artistic collaboration magically coalesced. With theatres shut, theatre artists and partners were struggling to find work. But Electric Company Theatre, Innovation Lighting and Presentation House Theatre managed to team up for an inspired way to bring audiences back inside the theatre. 
Acclaimed artistic producer and director Kim Collier conceived the COVID-safe theatrical experience behind The Magic Hour, which catalyzed a massive artistic collaboration between artists and theatre partners. Much of the early work had to happen remotely. Based in Toronto, Kim toured the space at Presentation House Theatre by Zoom. After the site was decided, the story and script evolved from there. As it became clear that lighting would be instrumental to the unfolding of the story, lighting designers were involved early.
"That's when I came in," says Brad Trenaman, one of the two lighting designers for the show along with Bryan Kenney from Innovation Lighting (Bryan initially came up with the idea for an immersive show and pitched it to Kim). "The Magic Hour came together in an organic, evolving process." 
Brad explains that quite often in theatrical design the set comes first and then lighting but in the case of The Magic Hour, the two lighting designers were involved from the get-go because lighting would not only be crucial to the storytelling but also to guiding the audience through the various spaces. There were other anomalies too.
Brad describes the unique challenges of collaborating during a pandemic. "All the artists worked closely together but often apart," he says. "Everyone was amazing, coming up with ideas and working together. But, any time something changed such as the soundtrack or narration, every department had to adjust to keep all the elements of the show synchronized." 
The lighting and set design took about six weeks to pull together. Brad recalls having to install equipment during the heat dome in late June. "We had to work with masks on, on the third (top) floor of the theatre. It was really uncomfortable…but it was also so great to be back collaborating with other theatre artists. I've missed the camaraderie. It felt great to be working again to build a show. And now it's wonderful to be back."
Indeed, it is great to be able to return to in-person theatre. Bravo to the entire creative team of The Magic Hour for bringing theatre magic back to our community! 
Don't miss the show, on now through August 22nd. For ticket information, visit: The Magic Hour | World Premiere Aug 3 - 22, 2021 - Presentation House Theatre (phtheatre.org)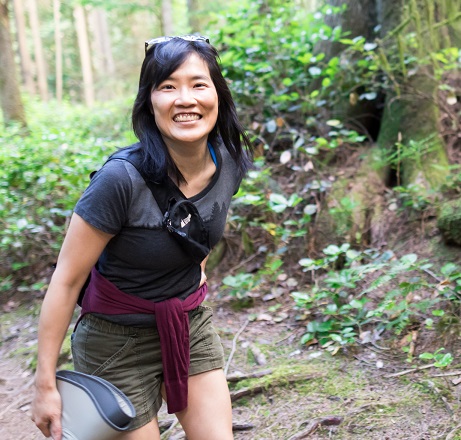 Wiley Ho.
A long-time North Vancouver resident, Wiley works as a technical writer and is the current newsletter editor for the North Shore Writers' Association. She spends her free time reading, hiking and discovering new things to try at North Vancouver Recreation & Culture!