While many of us consider the outdoors an open and welcoming space to recreate, for some it is not that easy. Certain members of our community, such as new immigrants, refugees, racialized and marginalized groups, often face cultural, financial and skills barriers to being able to enjoy the outdoors. Colour The Trails aims to change all that by removing barriers for Black, Indigenous, racialized and LGBTQ2+ members of our community, so that the great outdoors can feel safe and truly inclusive for everyone.
Meet Judith Kasiama, adventurer and founder of Colour The Trails 
Currently based in Vancouver, Judith Kasiama was born in the Democratic Republic of Congo. Fleeing genocide, she and her mother and three siblings migrated to South Africa, Australia and the US, before arriving in Canada as refugees eleven years ago.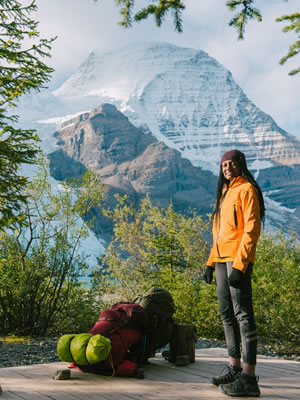 "My love for the outdoors started in the Congo," says Judith. "My family were farmers with lots of access to nature. We were very connected to the land. But then we had to move and I lost connection to that. In 2010, I watched the Winter Olympics from Hamilton and decided I had to move to Vancouver!" Judith laughs, saying she still has to get used to the cold every winter but is grateful to be able enjoy winter sports like skiing and snowshoeing. Summer is her favourite season though, and she has become an avid mountain biker and backpacker. 
"We all benefit from being out in nature," says Judith, "but people from BIPoC communities often face multiple barriers. I want to change that." In particular, she explains first-generation immigrants often don't have the same advantages as people who grew up with outdoors activities as part of childhood. Due to historical, cultural or financial reasons, many newcomers don't automatically enroll in swimming, skating, sports and camps. This is especially true for adults who often have to work a lot and don't have time to pursue outdoors activities. This creates barriers to the outdoors. In addition, there is low representation of people of colour in outdoors spaces. "When we don't see ourselves represented in certain settings, we are less likely to put ourselves out there." 
Four years ago, Judith decided to start Colour The Trails www.colourthetrails.com. Without a funding source, she had to use her own savings to get it going. But she had a strong vision.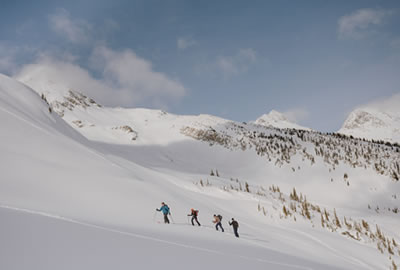 "My goal with Colour the Trails is to make the outdoors accessible to adults of colour who might lack the confidence or skills to play outdoors. I want to break down the barriers especially for them."
By partnering with anti-racist brands, businesses, and organizations, Colour The Trails is now able to provide subsidized outdoor adventures, run skills clinics, and offer members deep discounts to rent or purchase equipment from brand partners. The group has grown over the years with programming expanded to include activities for every season, from mountain biking, rollerblading and kayaking, to skiing and ice climbing. "We have so much fun together," Judith says. "It doesn't matter if you show up not knowing how to do something. We learn and laugh together."  
Colour The Trails Membership
A community of Black, Indigenous, racialized and LGBTQ2S+ nature seekers, Colour The Trails invites new members and allies to join in outdoor adventures! Activities and equipment required to participate are provided at a subsidized cost. All that is required is to show up with an open heart and mind. 
The cost of membership is just $12 per month and entitles members to:
Priority access to booking events;
Access to events that are deeply subsidized; 
Learn new skills through regular skills clinics, e.g., intro to skating, skiing, climbing, mountain biking;
Rent or purchase outdoors equipment at deeply discounted prices; and
Make new friends and create community.
Find out more here: Membership | Colour the Trails
Upcoming adventures and events at Colour the Trail 
Exciting adventures are being planned with activities changing with the seasons. Current pandemic-safety protocols are in place to keep everyone safe, including limited capacity (10) per outing.
Here is a sample of just some of the exciting events they offer: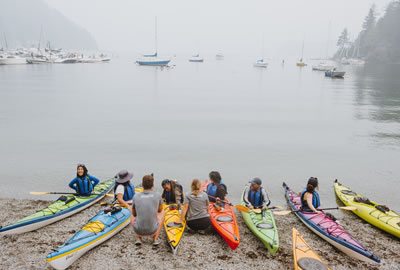 Intro to Kayaking in Deep Cove 
Intro to Mountain Biking  
Zip lining in Whistler 
Backpacking trip
For a full listing of events near Vancouver, check out: British Columbia Events 
Plans for Colour The Trails
As with all great entrepreneurs, Judith has a long-term vision for Colour The Trails. "My goal has always been to inspire communities to get outside and get active, and for individuals to connect to their childhood joy, that feeling of being free and having fun. I want to create community and visibility for people like me." 
Judith hopes to attract new community leaders and to grow Colour The Trails sustainably across North America and beyond. New groups have already started in Alberta and Colorado. With her degree in international development and genders studies, Judith says, "One day I hope to partner with other organizations to bring the movement to the Congo, help disadvantaged girls and show how it's possible to create sustaining jobs in the outdoors industry, be it education, communications, product design or guiding. Role models and representation are so important to inspire others to come out. I want to give back to my community."
For the moment, Judith is focused on an adventurous summer ahead, including mountain biking and backpacking. She invites more people to join her: "Come out and join a group event. Feel the vibe. We are a joyful group. It's fine if you don't know skills. We are all learning together. Be open, be curious. Try something new and amaze yourself!"
All photos: Pavel Boiko Photos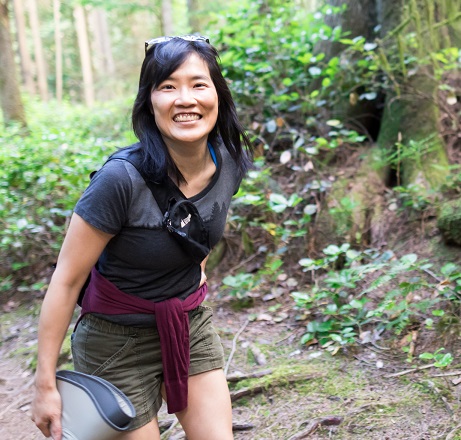 Wiley Ho.
A long-time North Vancouver resident, Wiley works as a technical writer and is the current newsletter editor for the North Shore Writers' Association. She spends her free time reading, hiking and discovering new things to try at North Vancouver Recreation & Culture!