NVRC operates youth centres for North Vancouver youth (preteens and teens) at Delbrook and Harry Jerome Community Recreation Centres. Each location offers a comfortable lounge and access to gyms and other facilities. Supervision is provided by youth leaders who are passionate about leadership and giving back to the community. More than just a place to hang out, it's also a place where friendships are made. "If you show up with an open mind," says Ryan Ghuman, a youth leader at Harry Jerome Youth Centre, "you will make new friends, guaranteed." 
NVRC Youth Centres are safe and inclusive spaces
The atmosphere is relaxed at NVRC youth centres. Both Delbrook and Harry Jerome facilities are furnished with comfortable couches and amenities like foosball, table tennis, pool, and video games. Trained youth leaders provide supervision, friendship and mentorship to teens and pre-teens, who are welcome to drop in during open hours. 
The type of activity at each session is largely directed by the participants. Some just want to relax, hang out and chat. Others might dive into games. If there is interest and gym space available, spontaneous basketball games happen. In the warmer months, pop-up lounges in various parks become additional places to hang out. As the youth centres are there to serve youth, new ideas and suggestions are welcome. For example, at the Delbrook location, a free peer-tutoring initiative is being piloted. 
NVRC Youth Centres provide many benefits, including:
A safe space for youth to hang out besides home and school
A casual atmosphere for making new friends and social connections, which is vital for mental health
Supervision is provided by youth leaders who often have years of experience in coaching youth. They are relatable and naturally become friends and mentors to the youth participants
Free access to games, snacks, and events, e.g., video game tournaments, basketball games, swim parties, gym time, movie nights
Get help – or help others – with homework. At Delbrook, free tutoring in various subjects is being offered every other Friday afternoon, from 4-6pm.
Youth can learn leadership skills and become future youth leaders. They can help shape youth programs in their community by joining the award-winning Capilano Youth Advisory Committee.
Meet youth leaders Ryan Ghuman and Seena Heidary
NVRC youth leaders approach their jobs with professionalism, enthusiasm and compassion. Most have extensive experience coaching sports and facilitating connections between youth. When youth leaders Ryan Ghuman (at Harry Jerome) and Seena Heidary (at Delbrook) are asked what they enjoy most about working with youth, they both mention connection. 
Ryan, who was born and raised in North Vancouver, says, "I love this community and I want to help build it up. When I run into kids from the youth centre around town and they want to talk to me, it feels great. It's been fun connecting with youth and helping them connect with each other." 
"I wish there were youth centres like these when I was little," adds Seena, who began coaching soccer when he was 15 and has been involved with youth since. "My goal is to be a good example to the kids and help them become the best possible versions of themselves."
The youth leaders say when new kids arrive for the first time, they are often shy but gradually open up and have such a great time they don't want to leave. Youth leaders help facilitate peer connections through activities and sports, and they forge relationships with the youth too. "It's a very comfortable vibe here," says Seena, "we make sure everyone feels included. We build trust with each other, and that trust builds meaningful connections." Ryan agrees, "The kids know we are on their side. We are someone they can talk to and listen to their problems." 
Both Ryan and Seena extend a warm invitation to interested youth and their parents to come and check out the youth centres for themselves.  
For hours and contact information, visit the youth page on our website.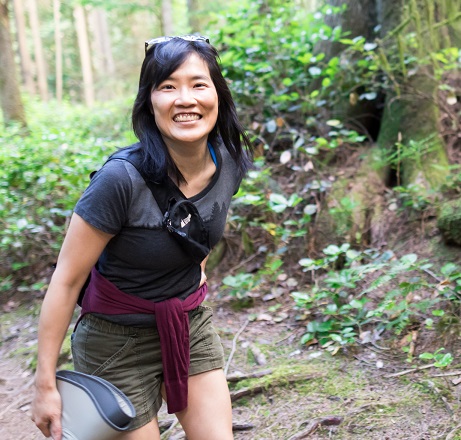 Wiley Ho.
A long-time North Vancouver resident, Wiley works as a technical writer and is the current newsletter editor for the North Shore Writers' Association. She spends her free time reading, hiking and discovering new things to try at North Vancouver Recreation & Culture!