As part of National Volunteer Week (April 24-30, 2022), NVRC is showcasing some of the wonderful volunteers who donate their time, energy and compassion to make our programs hum, as well as define what it means to contribute to community. Janice, a long-time volunteer, shares her thoughts on what volunteering means to her. 
The art of giving and receiving
Volunteering has been called empathy in action for good reason. Much more than time and effort, giving of ourselves involves the heart and spirit. Janice is a volunteer who embodies the spirit of caring for one's community. A resident of North Vancouver for 41 years, Janice is a firm believer in giving back in whatever way she can. 
Janice says, "I have time that I can donate. Many programs wouldn't run as well without volunteers. And I benefit from the experience too."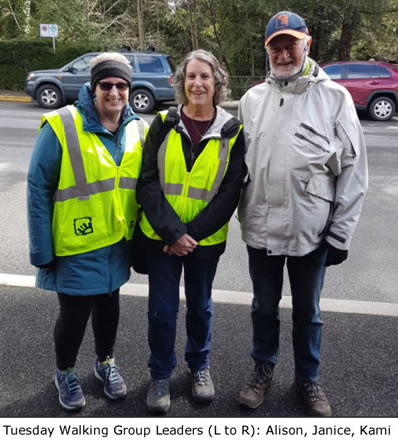 Over the years, Janice has canvassed door-to-door for the Heart and Stroke Foundation and the Canadian Cancer Society, and volunteered for the Girl Guides. A mother of three daughters, she started volunteering when her girls were little. She began as a Brownie leader for 6-8-year-olds. "It was the standard line that got me involved," jokes Janice. "They said the group was full but if I could volunteer as a leader, they could guarantee a spot for my daughter." Janice ended up staying for many years in several roles, including as a Brownie Leader, District Leader, Division Secretary, and Ranger Leader for teens. 
Then life got busy. When Janice got promoted at work into a management role, she had to put in long hours and found herself with limited capacity to continue with the Girl Guides. "There were only so many hours in the day and they were largely consumed with work and family."
In 2017, after retiring from an absorbing career in IT, Janice turned once again towards volunteer work. "I wanted to give back and was also looking for opportunities to interact with others.  When you are working, a lot of your social connections are at work and I missed that with retirement." 
Janice considered returning to the Girl Guides, which she says is a wonderful organization, but guiding requires a large time commitment often in the evenings and weekends. So, she looked around a bit and decided to contact the NVRC. 
It was the summer of the grand opening of the new Delbrook Community Rec Centre. She became an ambassador for Delbrook, providing guided tours of the new facility. "The ambassador position is flexible where you can sign up for as many tour time slots as you want. It's a great way to meet new people. It's positive, as people are engaged and eager to see what is new in the community." Janice enjoyed the experience so much that she has volunteered to be an ambassador for the brand-new Lions Gate facility.
Today, Janice is an active volunteer as a Walk Leader in NVRC's weekly walking program. Rain or shine, the group sets out on foot every Tuesday afternoon to explore trails all over North Vancouver. In her role, she administers first aid, if needed, and ensures no walker is left behind. "I meet new people of all ages and abilities. We walk and talk. It's friendly and very social. It's a great way to get my exercise, fresh air, and get to know my community."
In addition, Janice volunteers with Sendial, a grocery shopping and delivery program for individuals with a medical condition, age-related frailty, or mobility and disability which prevent them from shopping in-store. "I saw an ad in a Thrifty Foods flyer asking for volunteers. As I experienced my own dad aging, not able to deal with technology easily and struggling with everyday life, I felt compelled to help others who may be experiencing the same thing. So, I applied."
When praised for all she does for her community, Janice turns the discussion from giving to receiving. She says, "I benefit from volunteering. It gives me a purpose, an opportunity to meet other people, and even challenges me to step outside my comfort zone. And, it's nice to know when you've contributed to someone else's well-being."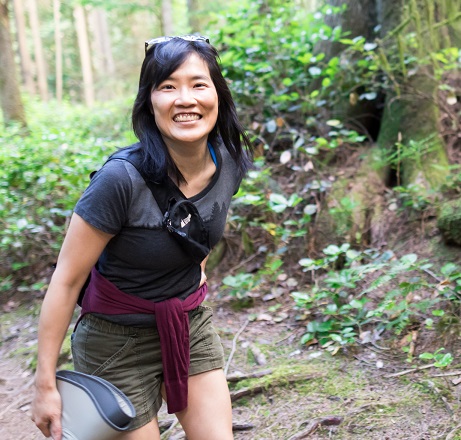 Wiley Ho.
A long-time North Vancouver resident, Wiley works as a technical writer and is the current newsletter editor for the North Shore Writers' Association. She spends her free time reading, hiking and discovering new things to try at North Vancouver Recreation & Culture!