When I first came across North Vancouver Recreation & Culture's Public Art Map, I immediately had two thoughts. First, I reflected on how cool it is that North Van is so full of public art that a brochure on the subject is warranted. My next thought was a question - how soon could I get started on visiting each and every art exhibit listed in this in-depth brochure? And so began my family's public art quest.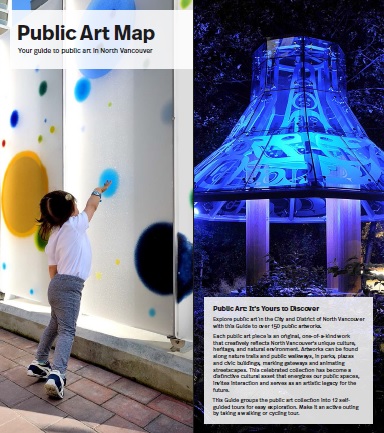 The Public Art Map
The Public Art Map is a fantastic guide - it's bursting with locations around the city where a gorgeous, diverse array of public art can be found. My family and I decided to declare an "art weekend", dedicated to visiting several of the locations conveniently listed in the map. Because the 41-page brochure is so packed with public art, we were only able to see a small portion, but that's great, because it leaves so much more to discover throughout the spring and summer!
Bruce Voyce's 'Lightwave'
One of the most interesting things we discovered about public art in North Vancouver is that it pops up almost everywhere. Bruce Voyce's 'Lightwave' (Ppge 20 in the Public Art Map) is a shining example of strategically placed public art. This 25-foot high sculpture features elegant spirals and panels that glow with ambient, multi-coloured light that constantly changes. 15 feet away, an adorable metal flower sculpture waits for you to speak into it (it's fitted with a microphone) and watch how tonal changes affect the light show. This public art installment is situated in the commercial/industrial landscape of Marine Drive, creating an intriguing and unexpected contrast to the businesses surrounding it.  
Heywood Park Mural
Nearby, in beautiful Heywood Park, a vibrant and evocative mural graces the Field House, next to the bubbling, salmon-laden McKay Creek. The quiet, earthy vibe fills the body and mind with calm, and that's the perfect place to approach viewing the serene, colourful mural from. Painted images of birds, water, trees and various other forms of nature and wildlife take on even more profound meaning when you learn that they were taken from the journals of children learning about the environment.
More and More Art!
These are just two examples of the dozens of art works found in the Public Art Map. You're likely to be as astonished as I was when you find out just how much public art North Vancouver has to offer. The rugged terrain of North Vancouver is expressed in the 'Marine Drive Bus Shelter'. 'Veil' the beautiful neon sign featured at central Lonsdale's Centennial Theatre is a dazzling rainbow affair. The 'Handsworth Welcome Pole' is a stunning, culturally significant Traditional Coast Salish welcome figure greeting students and visitors alike at Handsworth Secondary School. The 'Rain Catcher' on West 29th street is not only visually arresting, but also environmentally impactful, as it assists in managing storm water by funneling rainwater from a creek bed to a holding tank. 
Get Out and Explore Public Art
I could go on and on, and eventually, I plan to, since we're determined to visit every single location in the Public Art Map. But for now, I suggest you pick up a copy and set off on your own "public art treasure hunt" the next chance you get! It's a wonderful way to connect with your community, celebrate the enriching experience that is visual art, and maybe even inspire the creative artist inside of you. I know that since we returned from our public art crawl, we've been creating art as a family - and that alone is worth its weight in gold.
NVRC's Public Art Map is available at all North Vancouver Community Recreation Centres.
To learn more about public art, visit our webpage.