Meet Comic Veteran Richard Side.
There's no debating Richard Side is a funny guy. Creator, writer, performer and former producer of CBC's The Debaters who guided it creatively for the first 12 seasons, Richard has put together nearly 800 debates and worked with numerous comics. Where does all that creative genius reside? Right here in North Vancouver!  (Richard pictured above on right and below on left with the host of The Debaters Steve Patterson).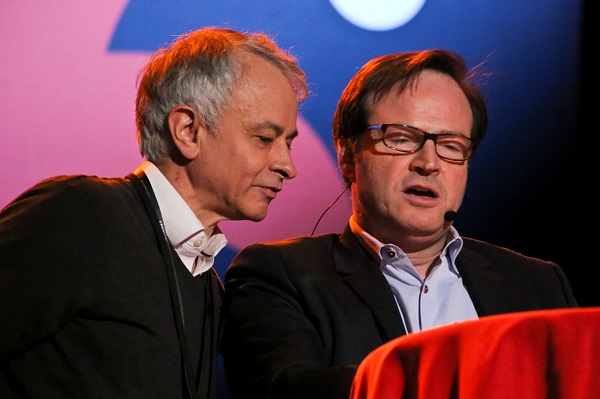 "I got roots, baby"
Richard Side has called Lynn Valley home for 18 years and counting. Besides having raised a family here, he says his connections go way back. 
"I'm not bragging or anything," brags Richard, "but my great grandmother lived on Chesterfield in the early 50s. And my grandfather, who arrived in Vancouver as a boy in 1910, once told me he would take the ferry over to North Van to pick berries on Grouse Mountain!" For emphasis, he adds, "That's over 100 years ago! I got roots, baby!"
Kidding a-Side (ouch!), Richard loves the North Shore. Beyond the story of his grandfather coming over to pick berries over a century ago, Richard's favourite recent story about North Vancouver is from last year when archaeology students from Capilano University dug up remnants of a Japanese loggers' village near Rice Lake. "It's fascinating," Richard says. "The story of North Van is truly a story of diversity."
Richard is deeply grateful to be able to call North Vancouver home. "I would like to take this opportunity to express my gratitude to the Squamish, Tsleil-Waututh and Musqueam peoples on whose unceded traditional territories I have had the privilege to work and raise my family."
Work and play
When asked what he enjoys most about living in North Vancouver, Richard says he loves being able to "stroll out your door and be in the wilderness within minutes. It feeds the imagination." He pauses as if to take in fresh air, then sheepishly adds, "Not that I actually do it very often… but there is something magical about knowing I could if I weren't so lazy."
"Lazy" is not the word that springs to mind when reading the long list of accolades attributed to Richard's work. Besides still producing The Debaters format for live theatre performances under the banner "Debaters Live on Tour," Richard's other comedy credits include stage shows that have been produced in multiple countries (Suspect, A Game of Murder, Adventures in the Nth Dimension, Scat in the Hat). He has also worked and performed for TV and film (Improv Comedy Olympics, Winnipeg Comedy Festival, The Western Alienation Comedy Hour, Silverwing, Big Sound, and the Will Farrell movie Elf). In his past life as a Vancouver Theatresports improviser, Richard won tournaments at Montreal's Just for Laughs Festival and here in Vancouver with celebrated teammates Ryan Stiles and Colin Mochrie. "Not that we're name-dropping, but let's face it, it can't hurt."
When asked how he keeps his creativity flowing, Richard says, "I have my best creative moments after a swim. I love to swim in the ocean in the summer – at Dundarave, Cates Park and Lions Bay. The water is chilly and clears the head."
 
Richard Side – clearing (and chilling) his head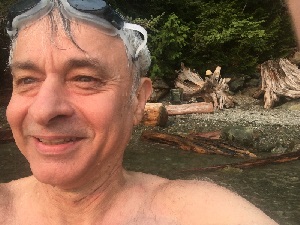 Pet peeves 
When asked what's odd about living here, Richard thinks for a bit and says, "It's funny that North Van keeps creating housing density and building upward to grow the population, but we still only have a few bridge lanes and a limited number of sailings on the Seabus for these new residents (plus all those ferry and Whistler travelers) to get across the inlet. Hilarious!!!" He says he's kidding, of course, but that it does sometimes feel like a practice joke. 
He realizes it rains a lot on the North Shore but that doesn't seem to bug him. Euphemisms, on the other hand…
"'Hate' is such a strong word," he says, "but if somebody calls torrential rainfall 'liquid sunshine' one more time, I may entertain that feeling!" 
Wonder if CBC's The Debaters will ever debate 'liquid sunshine' versus 'cats and dogs'?
The Debaters are coming to Centennial Theatre Feb 10 & 11, 2020!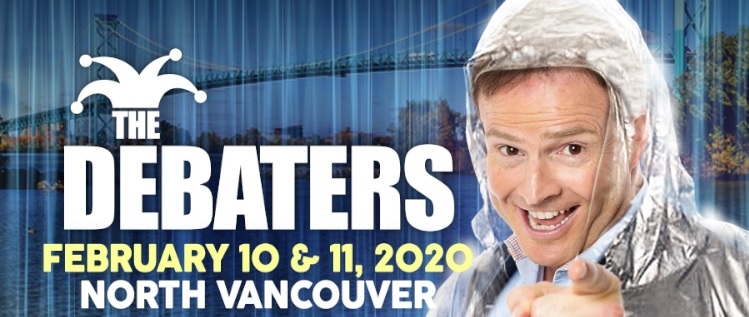 See Richard's creation with host Steve Patterson at the Centennial Theatre in February for two live shows of The Debaters!
It is an amazing live comedy show with tons of terrific talent. Part stand-up, part quiz show, the live performances are always zany and entertaining with the audience deciding the winners! You will hear all the great content that goes on the radio and into the podcast plus all the hilarious content that never makes it to air. 
When asked to give the show a quick plug, Richard quips, "Everybody should go! It is a must-see comedy event! And I get a royalty, so support your local creators!" 
Unfortunately - both shows are sold out!  Watch for The Debaters Live on Tour this fall.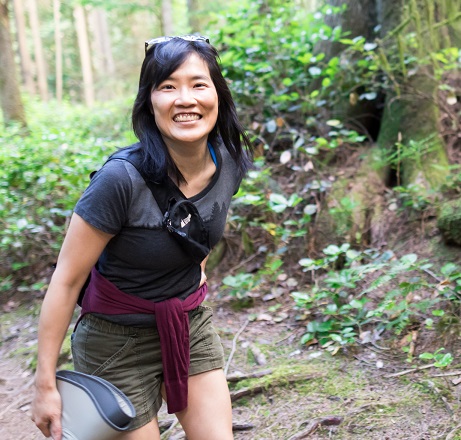 Wiley H.
A long-time North Vancouver resident, Wiley works as a technical writer and is the current newsletter editor for the North Shore Writers' Association. She spends her free time reading, hiking and discovering new things to try at North Vancouver Recreation & Culture!