Spring has sprung
Don't you just love spring on the North Shore? The snow has finally melted (touch wood), it's above two degrees and the birds have returned. I can hear the flickers hammering out their love songs on the street lights and the jays – handsome but noisy – are at the bird feeder again. The earth is coming back to life and in spite of the rain, there is a feeling of excitement in the air. 
Spring Break?
Of course, a big part of the excitement is a result of this two-week break from school. Even if you do school at home, as we do, you can't fight the feeling that something is brewing. Our kids are bright-eyed and bushy-tailed, tempting  me away from their school books with eager reminders that everyone else is on spring break, mommy! Oh, sure, why not have a four-hour play-date at 10:00am on a Tuesday!
Getting creative
We often do art during play dates with friends, so our friends weren't all that surprised to see my big bag of art supplies on Friday. It's a great way to keep kids and adults busy and focused at the same time. It is an opportunity to share the joy of creating something beautiful, and always leads to wonderful conversations between parents and their kids. While parents are learning to talk to their kids about their art, the kids are playing, experimenting, testing new ideas and making their mark. There's no such thing as an art session going "wrong."
The goods
This time, I showed up with plaster of paris (a staple), silicone kitchen moulds (likewise), cardboard, textured paper and scrapbooking patterns (I'm a huge fan of recycled art materials; the textured paper is a cast-off from the printer I use for my business).
It's about layers
I like to work with layers. I encourage kids to make their own canvases by covering old bits of card with fabric scraps or pretty papers. Even magazine pages will do. Then, we paint or stencil over the top, either with store-bought stencils or shapes we've cut out ourselves. The best bit is making plaster of paris objects using kitchen moulds. I have to confess, I'm a mould-a-holic. You can do awesome things with them! This time we broke out the Spring themed tray and made ducks, eggs and bunnies. Cute as anything and so small, they set in minutes. Tomorrow, when they're dry, we'll paint them and glue them onto the home-made canvases.
Everything's a canvas
It takes 30 minutes for the plaster characters to dry, during which Rhyan – whose mind is never still, but always buzzing and fizzing with creative ideas – decides to pull out the face paints. In a child's imagination, it is always springtime. There is always something germinating! Within minutes, two of the kids have painted their own faces. Using my iPhone camera as a mirror, Joel's focus is unshakeable. He's making sure that the designs on either side of his nose are symmetrical. Rhyan's eyes twinkle at me from underneath a brown forehead. Her nose is black and she has red circles on her cheeks. 
Our work done, we gather up our materials and drive home while the others head downtown. Rhyan's face is still painted.  I'm a little disappointed that I missed an opportunity to go to Save On looking like her. Next time.
Art Programs
North Vancouver Recreation & Culture offers a great range of registered art and pottery programs for all ages.  View art programs and pottery programs.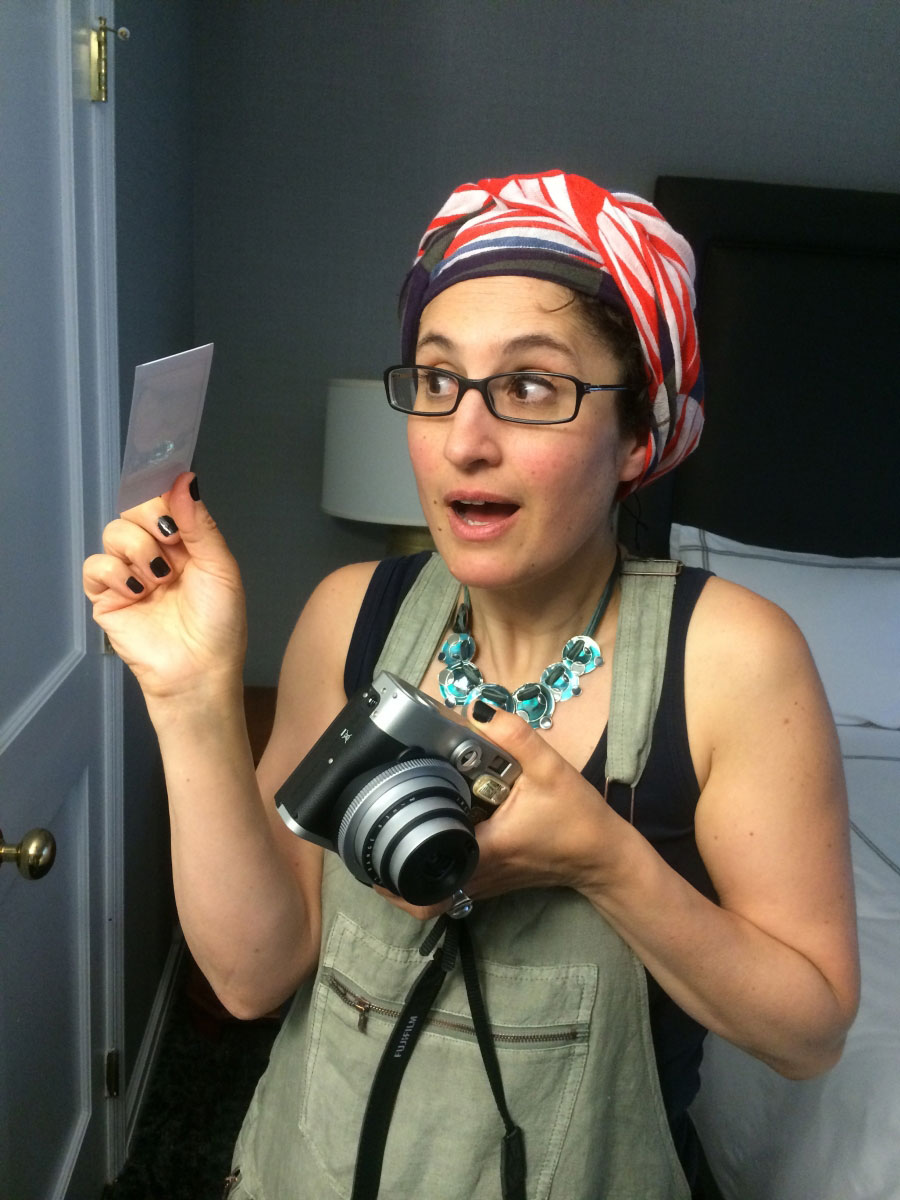 Shula K.
Shula is a writer, broadcaster and artist. Her writing has appeared in  the Globe and Mail, the Guardian Newspaper (UK) and on national CBC radio. These days you can hear her on Roundhouse Radio 98.3FM in Vancouver and read her articles in the Jewish Independent, where she is a regular contributor. Shula lives in Lynn Valley with her husband and two boys.