NVRC launches innovative program to help people with Parkinson's.
An exciting new program is coming this fall (2019) to help people living with Parkinson's disease (PD). Dancing With Parkinson's delivers dance classes designed to improve mood, aid movement and increase social connections. Participants report huge boosts to their physical and emotional wellbeing. If you or someone you know has PD, read on!
An innovative, global phenomenon
Dancing with Parkinson's originated around 2001 in Brooklyn, New York at the famed Mark Morris Dance Group. It has since grown into an internationally acclaimed program with classes in more than 100 communities and 16 countries. 
Dance classes are specifically designed for people living with Parkinson's. Classes engage the imagination and inspire the body to move. The aim is to provide a creative and artistic experience where movement skills are practiced in a welcoming and joyful environment. Confidence will develop through the fundamentals of dancing, including balance, flexibility, movement sequencing, rhythm, and spatial and aesthetic awareness. 
Structured like an actual dance class, each participant is encouraged to bring their own personality and physicality to the movement phrases.  Classes start in chairs and progress to standing and moving through space. For those who prefer to sit, all movement can be modified for the seated position. 
No dance experience is required. Caregivers, partners and friends are all invited to attend.
An award-winning instructor
Megan Walker Straight
 will be leading the program. Megan is a professional dancer and Dance for PD® trained instructor who has been awarded the Stanley J. Wertheimer Fellowship three times (2015-8) for her in-depth study and teaching by the Brooklyn Dance for Parkinson's Group/Mark Morris Dance Group in New York City. 
Megan is passionate about helping people with PD nurture community and relationships. She believes "dance can offer strength and extension, courage and expression … and time to be present with your body as it remembers to soar."
Participants of Megan's classes praise both the program and her inspiring instruction. Here's a sample of the many great reviews of her classes:
"I had read that Dancing with Parkinson's was a highly recommended therapy and I was excited when I learned that it was being offered. The Dancing with Parkinson's group experience has exceeded my expectation.  It makes me feel good in every way - physically, mentally, and emotionally.  Research shows that the brain can be changed by doing new activities and I strongly feel that I am benefiting from the weekly dance classes with Megan.  Dancing requires concentration and coordination, which I am certain are helping my brain.  Megan is very inclusive and makes the class fun, challenging and rewarding." – B.W. 
 
"I can strongly recommend both Dance for Parkinson's and Megan as an instructor. The companionship and support that is generated in the group is quite amazing. You will find that you look forward to every session with eager anticipation. You will notice the positive impact each session has on your symptoms." – R.S.
Classes begin this September 2019
Dancing with Parkinson's will be offered on Thursdays starting September 12, 2019 .  Registration is required. 
Thursdays, September 12 - October 17, 2019 (6 sessions)  10:00am-11:00am at Memorial Community Recreation Centre - Capilano Room  Course #18451  Register now
Thursdays, October 31 - December 12, 2019 (7 sessions)  10:00am-11:00am at Memorial Community Recreation Centre - Capilano Room  Course #18452  Register now
Thursdays, January 16 - February 27, 2020 (7 sessions)  10:00am-11:00am at Memorial Community Recreation Centre - Capilano Room  Course #18453  Registration for winter programs begins November 20, 2019
The amazing benefits of dance for the brain
Neuroscientists have been studying the effects of movement to music on the brain and have found that dancing provides wonderful benefits for people with PD. Unlike other exercises, dance engages cognitive areas affected by PD and leads to greater neuroplasticity (new neural pathways). Specifically: 
Dance develops flexibility and instils confidence – participants report powerful reconnection to the way they used to be. 
Dance is a stimulating mental activity that connects mind to body – participants often forget about having PD and their bodies spontaneously start to move to the music and rhythm.
Dance breaks isolation – participants find the weekly sharing and connections enormously healing. Many say the joyfulness and positive effects linger for hours or even days after dancing.
Dance increases community – it's uplifting and helpful to find others going through similar struggles. 
Watch these videos on the innovative approach of Dancing With Parkinson's:
Living with Parkinson's
Over 100,000 Canadians live with Parkinson's disease (PD) today. PD occurs when brain cells that make dopamine, a neurotransmitter that coordinates movement, stop working. This leads to a myriad of symptoms, including tremors, slowness, stiffness, walking and balance issues, speech and writing difficulties, and depression. 
Research indicates that PD is likely caused by a combination of genetic and environmental factors and tends to affect people over 60, with men at greater risk of developing the disease than women. 
It's an illness that unfortunately touches many lives. While some lead active lifestyle (see
Cory's Story
), others seem to quietly succumb to the disease. 
Medical research continues to look for a cure. In the meantime, health professionals advocate the following ways to take control of your journey with Parkinson's:
Exercise regularly; 
Eat a healthy, balanced diet; and
Build a support system and stay socially active.
Dancing With Parkinson's is an innovative program that can help participants connect to their bodies and their community in joyful and uplifting weekly classes. 
Sources: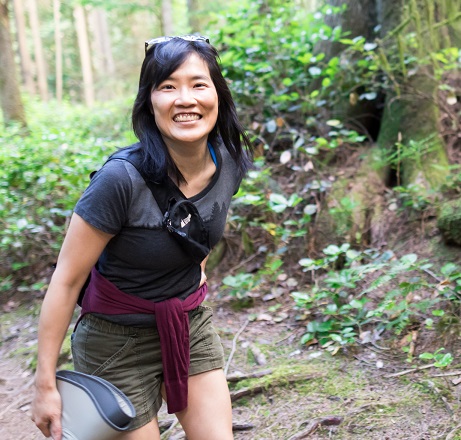 Wiley H.
Wiley is a long-time North Vancouver resident. She works as a technical writer and is the current newsletter editor for the North Shore Writers' Association. She spends her free time feeding her twin passions of creative writing and hiking. She recently discovered a potential third passion - the pottery studio at the Delbrook Community Recreation Centre.